Porto is a coastal city in northwest Portugal which left a deep 'cityprint' on my heart. Although best known for its port wine production, and breath snatching scenery, it has so many other endearing attributes too.
Narrowly winding cobble-stoned alleys, the wide enchanting Douro river, riverside entertainers and cafes, fascinating markets selling fresh produce to locals and tourists alike. A historical city easily navigated on foot - where every turn you take leads to another exciting and magical discovery.
And when the hunger pangs kick in, you settle at a sidewalk table at a backstreet gastronomical gem, and order Porto's version of sandwich - the francesinha.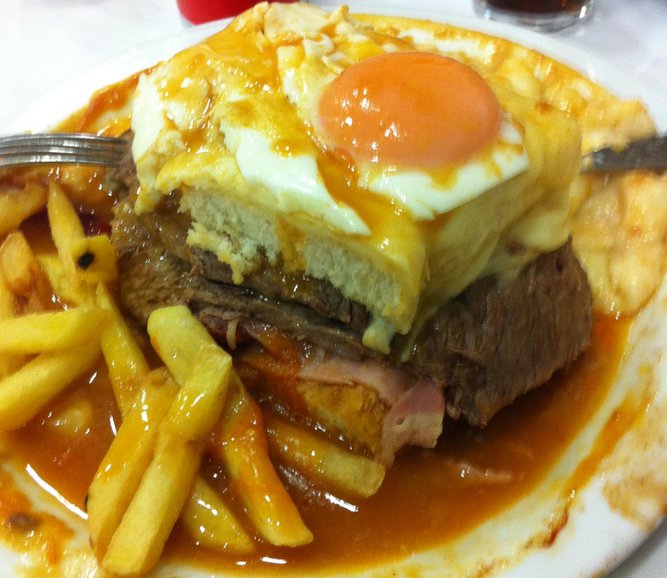 A Porto sandwich - the Francesinha
The francesinha is not for the faint hearted. A combination of bread, ham, fresh sausage and steak (or roasted meat), all compressed into a sandwich form and smothered in melted cheese with a fried egg to top it all off. Add to this a hot thick tomato and beer sauce and chips and you have one mean plate of food.
There is really no logical way to approach this door-stopper - you just bravely dig into this masterpiece while waiters with jugs of the sauce move around, offering a top up when the bread combo has soaked up the initial gravy.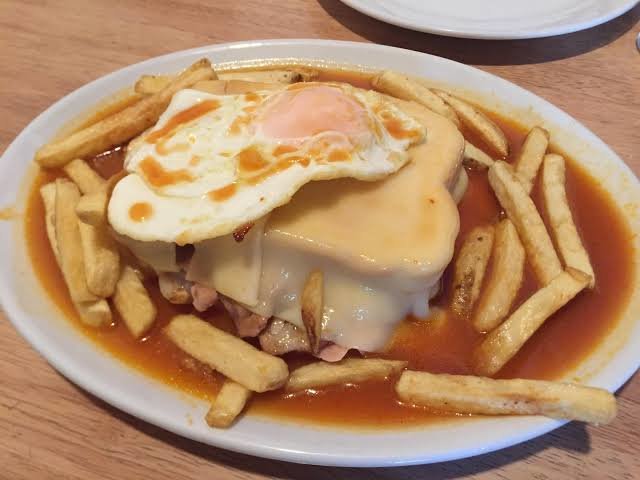 Typical Porto lunch - a francesinha
To many this may sound like a heartattack on a plate. But this is one time where you need to throw caution to the wind and live dangerously. The francesinha hits all the right flavour notes and is probably the ultimate comfort food.
Forget about calories and cholesterol and all things dark - this is one delicacy (which is definitely not delicate) - which you simply have to eat at least once during your lifetime.
I guarantee you'll walk away (slowly) with a satisfied smile on your face.