Did you ever go on a trip and have one long-term stopover? When it happens to you, what do you generally do?
Are you feeling positive, ready to explore the city that will host you for the next few hours, or are you irritated by the fact that you will have to waste an exaggerated amount of time at the airport?
We find out how to spend 24 hours in Kuala Lumpur.
In our trip to India (flying from Perth) last February, we decided specifically to stop 12 hours at night in Kuala Lumpur on the outward journey, and 12 hours in daytime on the return journey, and we must tell you that we could not have made a better choice.
When and if such a thing happens to you, our advice is to take advantage of it, so you can explore a place that you would not have thought of visiting. Obviously you should first inquire about the possible speech "visa"
If you have to apply for a "Travel visa"For only a few hours, it is not convenient, but in some countries, such as Malaysia and Singapore, for us Italians, it's not require any type of visa, so come on, take a look!
How to Get from The Airport to The Center of Kuala Lumpur
---
We got to Kuala Lumpur on January 30th at 22.15pm, and after passing the immigration checks, we were finally ready to begin our "mini" journey.
After getting a bit oriented at the airport trying to understand if it was better for us to take a taxi or the train and to withdraw the necessary cash for the evening, we were finally ready for the adventure.
After a few minutes of reflection, we opted for the train named KLIA EXPRESS (with 55 RM will take you to Sentral), definitely cheaper than the taxi, and we found ourselves in the main station of the city, which we thought was in the center, instead we found ourselves about 5 km from the Twins Towers, the symbol of Kuala Lumpur.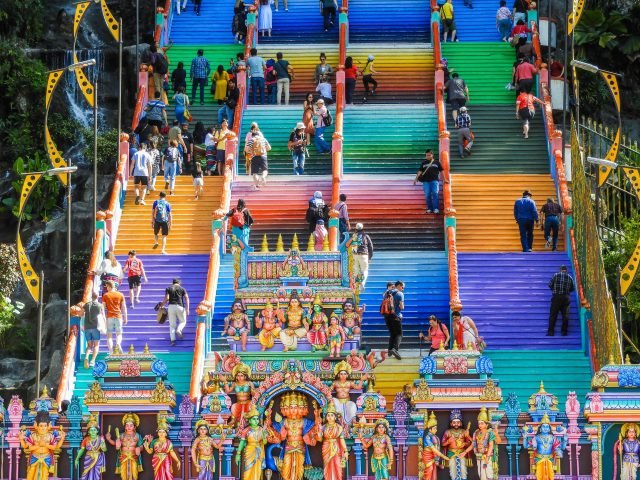 Batu caves stairs
How to Spend 24 Hours in Kuala Lumpur at Night
---
Having neither the Internet nor a map, the best way to spend 24 hours in Kuala Lumpur was to rely on instinct and a sense of orientation.
Imagine seeing the two towers in the distance and you trying to reach it like mice in a maze of streets, which at that late hour of the evening, were devoid of people to ask for information.
During the walk, surrounded by a completely new humidity, here comes hunger, followed soon after by despair, as it was becoming increasingly late and any hope of finding an open restaurant, even the dirtiest ones, it was slowly fading.
But here, as a sign of destiny, our path crosses the one of John, a fifty-year-old Malaysian gentleman, who shows us the way on which we would find restaurants.
Once we walked on the way to the restaurants, we not with surprise that John was following us.
At that point, even if the restlessness hovered in the air, we took courage, and asked him to join us. It could only be the best choice.
We met a fantastic person! Solar, kind, with whom we shared many of our thoughts and adventures; he decided to take us to this "restaurant", he ordered the typical dishes for us, and we found ourselves chatting over a plate of noodles of his trip to Italy in the 90s, about how Malaysia has changed over the past 20 years, customs and customs, religion and politics, in short, it has delighted us with so much culture, that we felt we were the richest and most cultured people.
Petronas Tower
---
In all this, however, we have not been to the restaurant all the time, on the contrary, he offered himself with pleasure to accompany us at Petronas Towers thus completing the first part of how to spend 24 hours in Kuala Lumpur.
Obviously, having arrived in Kuala Lumpur at night, the attractions of the city were all closed, but we still decided to take advantage of it to make a city ​​tour, taste the typical cuisine and take some photos.
Having met John, however, we had the opportunity to know much more about this city, not only on a historical level, but also from the citizen's point of view.
He explained to us how he did not believe it was possible that such an imposing and expensive structure as the ones would be built in Kuala Lumpur Petronas Towers, which take their name from the national oil company, yet after just 2 years of work, from 1994 to 1996, here they are popping up in the center of the CBD, giving the city a new face, a face that points to economic and cultural development.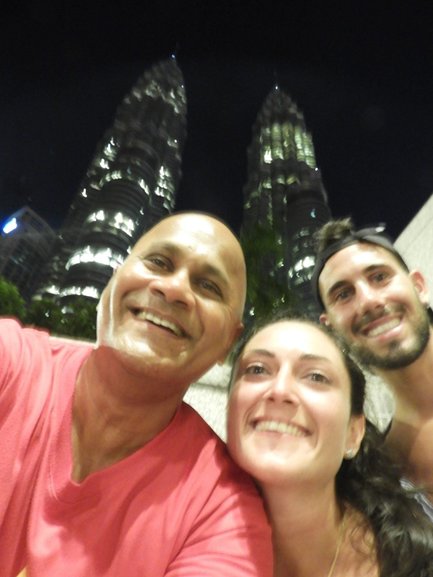 Religions
---
He told us about the difficulties of the last few years concerning the different religions that are present in this country; in fact the main Religions are 3.
Islamism, which has become the most common religion with 53%, followed by Buddhism with 17% and Hinduism with 7%.
The problem is that although Malaysia guarantees freedom of worship, in recent years Islam has been increasingly imposing itself as an absolute religion, gradually crushing other beliefs, creating increasingly frequent conflicts.
How to Spend 24 Hours in Kuala Lumpur by Day
---
On our return journey from India to Perth we still had 12 hours to go to visit Kuala Lumpurthis time, however, during the day.
After careful research on the main attractions of the city, we decided to dedicate our "mini trip" to discovering the Batu caves, although many had advised against them, especially for the distance from the airport. We, however, undeterred did not let ourselves be conditioned.
After discovering GRAB, an alternative method of traveling economically, which works a bit like Uber, we ordered our cheap taxi, and off to Batu caves, of the limestone caves that house several inside them Hindu temples.
If you are an Instagrammer or a travel enthusiast, you cannot fail to have seen a photo of this fantastic place at least once. We were no longer in the skin.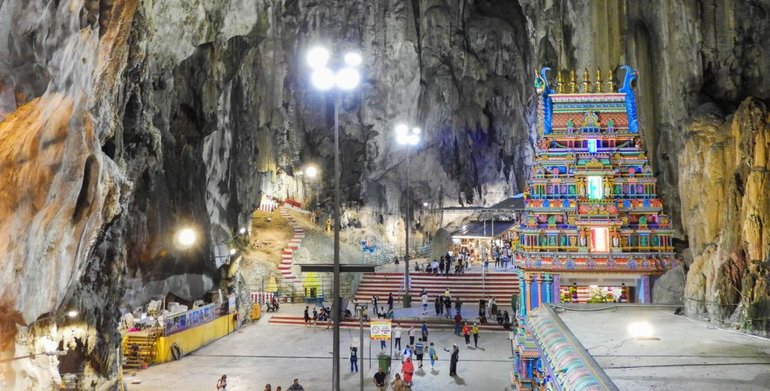 Batu Caves
---
Arrived at our destination, we find ourselves in front of this staircase of 272 steps with rainbow colors, and we were amazed by the majesty of the statue of God Karttikeya, protector of the spiritual growth of aspiring devotees. An imposing and amazing 43-meter-high gold-colored statue.
Entrance to the site is free, but you must remember that being a place of worship, if you wear short shorts, they will ask you to rent a sarong for the cost of 5,00 Malaysian Ringitt, which would be 1,10 €.
Once the ascent to the staircase has begun, you will begin to see the first monkeys that run left and right among the people intrigued and amused.
At first glance these little monkeys seem really nice, but alas there is not too much to trust, because not only are they spiteful and short-tempered.
Our advice is therefore to hide in a backpack everything that could attract their attention, and to keep your camera and phone tight!
Of course it must be said that one of the attractions of these caves are these little monkeys, which climb everywhere, giving the whole a truly exotic and magical air, accompanied by the scent of incense and the bright colors of the Hindu temples.
After the staircase, with the breath and the droplets of sweat that begin to descend along the forehead, here we finally enter the interior of the mountain, to discover these very high caves, which will leave us breathless for their beauty.
The environment is divided into 2 large caves, with several Hindu temples inside, souvenir stalls, many tourists and many macaques. The particularity of the temples of this religion are the colors, bright and bright like nothing in the world, which catch your eye and also your heart. This mystical-looking place will leave a mark on your soul.