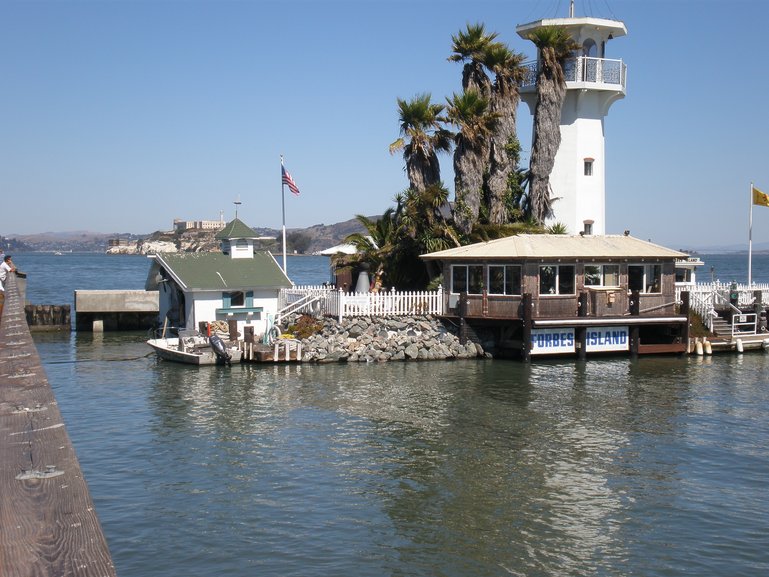 1] The California Line Cable Car ride.
2] The ferry boat ride from the Ferry Terminal at the end of Market St. to Sausalito and back
3] The Victorian houses
4] San Francisco from on high San Francisco is very hilly. There are several good views looking down on the city from a variety of high points.
The Fairmont My favorite was the bar at top of the The Fairmont Hotel which may or may not be a bar today. First of all, there is are good views from the all glass express elevator connecting the bar to the striking lobby at the Fairmont. The Fairmont is almost directly across the street from the the Top of the Mark, another top San Francisco overlook, but the Fairmont has taller windows than the Top of the Mark. Both are on the top of Nob Hill, San Francisco's highest hill with great 360 degree views. Worthy of both day and night visits.
The Top of the Mark is an expensive bar (cruise ship prices) on the 19th floor of the Mark Hopkins Hotel which is almost directly across the street from the Fairmont Hotel.
Coit Tower towers over the Bay coast. Some say Coit tower looks like a fireman's hose because Ms Coit was a fan of firemen. Others say Ms Coit was specifically fond of certain parts of a fireman's anatomy, and that is reflect in the design of Coit Tower.
Marriott Hotel The bar on top of the San Francisco Marriott Hotel (you have to walk around the perimeter to get a 360 degree view).
555 California Street, formerly the well known Bank of America Building, used to have a top floor view restaurant. I can't figure out if it still does.
5] Walk across the Golden Gate Bridge.
6] Food, especially Chinese and especially Dim Sum.
7] Golden Gate Park
8] Alcatraz
9] San Francisco roller coaster. Be forewarned: This requires a car and may be illegal, but we never got caught. Drive to the top of one of the hills that does not have a cable car line. Loiter at the highest stop light until you are the first car in line at at a red light. While you are waiting for the light to change to green, traffic in the block ahead of you will clear out. When the light changes to green, floor it. The car's acceleration plus he effect of gravity on steep down hill makes for a thrilling ride.