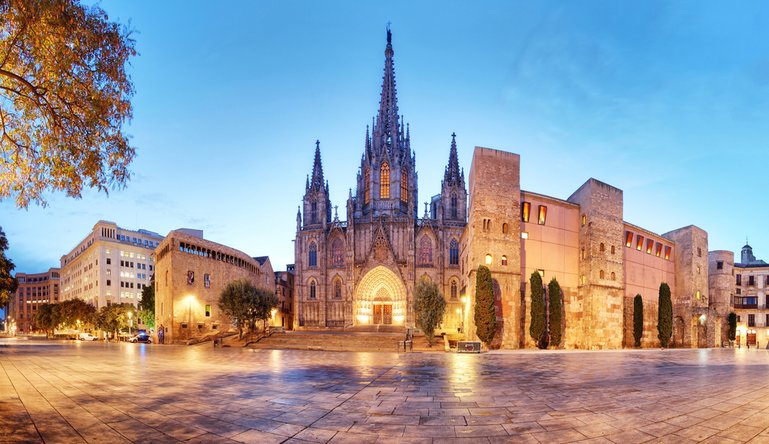 Gothic Quarter
Barcelona, the capital of Catalonia, prides itself on being one of the most beautiful cities in all of Europe. The city is a favorite among many individuals all over the world due to its cosmopolitan and multinational atmosphere. Travelers come from all over the world to view the magnificent Sagrada Familia cathedral and other modernist structures created by Gaud. The city is particularly well recognised because of its architecture and art. These Barcelona travel suggestions only scratch the surface of what the bustling city has to offer! Barcelona With good reason, it is one of the most loved cities in Europe. Catalonia's ancient capital is teeming with art galleries, museums, tourist spots,restaurants & things to do in Barcelona. It is a bustling and energetic city situated between the sea and the mountains, is well-known for its distinctive architecture, illustrious residents, and urban beaches.
Visit Sagrada Familia
---
If we talk about Barcelona Attractions, Sagrada Famlia comes first . It is the most famous place in Barcelona.The Sagrada Familia is Barcelona's must-see monument, one that practically every city possesses. The beautiful work of art by Antoni Gaud has been in progress for more than 130 years and is yet unfinished. The church, however, is far from being a building site, with two imposing facades adorned with beautiful cave paintings, towers that sparkle with gem-like tiles, and an interior dotted with tree-like columns that rise upward into the canopy roof. The building was initially planned to be finished in time again for the 100th anniversary of Gaud's passing in 2026, but that deadline has since been postponed, despite the fact that work has resumed.
Explore Gothic Quarter
---
This oldest and most picturesque area of Barcelona is the Gothic Quarter. It is located east of La Rambla, the well-known pedestrian thoroughfare that passes through the heart of the old town and is distinguished by little lanes, obscure plazas, and antique buildings. There are many century-old stores, little taverns, and cafes dotted around the neighborhood. The magnificent Plaça Reial, surrounded by cafes & palm trees, and magnificent Palau de la Generalitat, located on Plaça Sant Jaume, and the striking Cathedral are some of the features of the Gothic Quarter.
Casa Batlló
---
Casa Batlló, one of Europe's most peculiar homes, was constructed in 1904-6 and represents Gaud's most imaginative work. Locals refer to Casa Batlló in a variety of ways, including the "house of bones" and "casa del drac" . It's not difficult to comprehend why. The roof portrays Sant Jordi (St. George) and the dragon, while the balconies resemble the skeletal jaws of some bizarre animal. The latter was constructed with glittering scales to resemble an animal's back; when you move around, the "spine" changes color. The structure almost appears to be a living thing if you give it a long enough look. Take a check at the pavement before entering. The stylized designs of a crab and a starfish on each pavement stone were created by Gaud initially for Casa Batlló. one of the most attractive structures in a city where the stakes for architecture are quite high, thanks to its humorous exterior and marine-world influence as well as its ground-breaking experiments in light & architectural form (horizontal lines are scarce).
Casa Vicens
---
This angular, turreted private residence, which was finished in 1885 and is now a Unesco-listed masterpiece, was designed by Gaud for a stock and currency trader Manuel Vicens I Montaner as his first contract at the age of barely 30. The intricately decorated exterior, which was completed in 2017 and is hidden away west of Gràcia's main thoroughfare, is flooded of ceramic color and pattern, including recognisable marigold tiling. Although you are free to stroll around, we recommend taking one of our hour-long guided tours, which are available in Catalan, Spanish, English, and French. The building is accessible for tourists with reduced mobility and is the refurbished building (including wheelchairs). Along with ongoing exhibits tracing the history of the structure, the charming garden cafe is run by the renowned Hofmann culinary family.