Welcome to another triple travel guide, dear salty souls. In this guide, I list the top three recommendations to visit, taste and to stay at. This time, it's the turn of Barcelona. You might have already read my insider's guide to Barcelona. After living in Barcelona for a while and discovering all the amazing things about this world famous city, I decided to share my tips with you so you can make the most out of a visit to Catalunya's capital.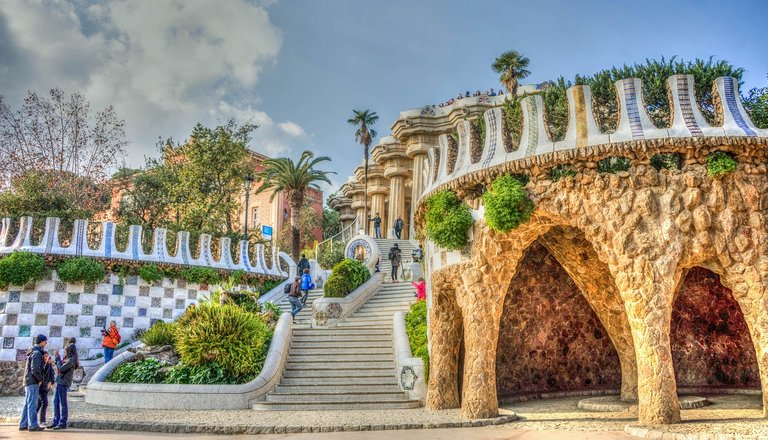 This guide is a shorter version and is a perfect pocket guide if you're planning to travel to Catalunya's capital.
What to visit
---
La Sagrada Familia €€
This iconic masterpiece of Gaudí earns its worldwide fame to its unique architectural style, however the inside of the cathedral is often not visited by the majority of tourists – but its interior beauty exceeds, like the previous works, the exterior beauty. So make sure you buy your tickets early in advance and save time and money.
Entrance: online ticket prices start at €22.60
Montjuïc €
Montjuïc is a magical place an sich. Hike uphill towards the magical fountain that lights up occasionally for a spectacular light show, and continue your road with stunning view of the iconic castle of Montjuïc. Walk further and run into the stretched, green park, accompanied by the Olympic stadium and further lays the botanical garden. What is a better way to enjoy a city then to come to rest in its nature, right in the city centre?
Parque Guëll & Museu Gaudí €
Parque Guëll is often described as "Gaudi's playground", the place where he let all his fantasy run wild and create the most unique and gorgeous works. There is a free area as well, however to access the famous mosaic bench and Gaudi's house, you must enter the paying area, which has a price of €10.
What to taste
---
Bar Jaica €
If you're craving delicious, traditional tapas, then Bar Jaica is the place to be. Located in the Barceloneta area, close to the beach and port of Barcelona, this spot is ideal for a lunch break during your day. Every dish is prepared with love, especially combined with the iconic beer Estrella (or try a local type of beer named Clara). Salada russa, berenjenas con miel, tortilla are some of the most typical dishes your belly will thank you for.
La Barca del Salamanca €€
In this huge restaurant located near the casino of Barcelona, you'll find all kinds of fresh seafood dishes such as paella, grilled fish, pasta, etc. However, what makes la Barca del Salamanca so special, is their service and atmosphere. You'll be guaranteed to receive a welcome drink, free entrees, dessert and liquor on the house, as well as musical entertainment and photography services. Visiting this restaurant is an experience I have introduced to every guest in Barcelona.
La pepita €€€
A balanced combination between traditional tapas and high-end, creative cuisine is the perfect remedy for your appetite while in Barcelona. Try some of the iconic tapas with an extra touch of la Pepita's style and taste. Their entire menu cart consists out of unique and imaginative Spanish "pepitas".
Where to stay at
---
Urbany Hostel BCN GO & Urbany Hostel Barcelona €
At the Urbany Hostels, you will be welcomed warmly by the friendly staff who will do anything in their power to make your stay a memorable adventure. With hostel activities, free entries to the biggest nightclubs in Barcelona and a cozy bar open every day, you will not be bored one second of your stay and by meeting people from all over the world you will experience the true feeling of traveling: connecting with others.
Ayre Hotel Caspe €€
Ayre Hotel Caspe is a modern, luxurious hotel with a perfect location. Their friendly staff will happily help you with all your requests. Each one of their rooms are spacious, beautiful and comfortable. The price range differs from season to season, but in general you receive a good price-quality for what you get.
W Hotel €€€
The iconic W Hotel is a must-visit if your budget can handle it. One of the trademarks of Barcelona is this five star hotel which guarantees you to experience an elite and enriching stay at la Barceloneta, the most famous beach of Catalunya's capital. Bear in mind the exclusive rooftop parties this hotel hosts, as non-guests can enter as well. If you're craving a luxurious stay in Barcelona, and are looking for the top notch when it comes to stunning rooftop parties, this is your place to be.