Seville's charms put a spell on me, and who would I be to keep this charming and seducing city unknown to my dear readers? After my recent travel blog about Seville, this is a more practical guide to the blossoming Andalusian capital, sharing with you the three best places to visit, the three best dishes to try (and where to try it), and the best accommodations – whichever kind of traveler you might be. Because whether you rest you eyes on a king size bed or a bunk bed in a hostel: travel is for everyone, and the sightseeings and local dishes still stay the same. And that is why I have created yet another Triple Travel Guide. Enjoy, or, as the Spanish say, disfruta-lo!
What to visit
---
Real Alcazares €€
Feeling like a true king isn't difficult in this Moorish decorative and ornate collection of beautiful royal rooms, immense and fresh green gardens, also known as the Real Alcazares. It served as a set location for the serie Game of Thrones, which made this location immensely popular – more than it already was.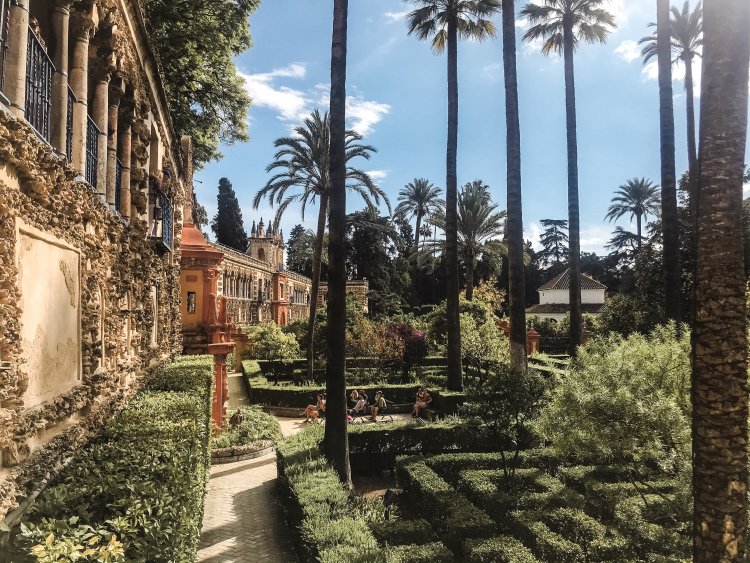 Real Alcázares
The general entrance costs €11.50 and you pay extra for other add-ons, such as the royal bedroom, which is €4.50.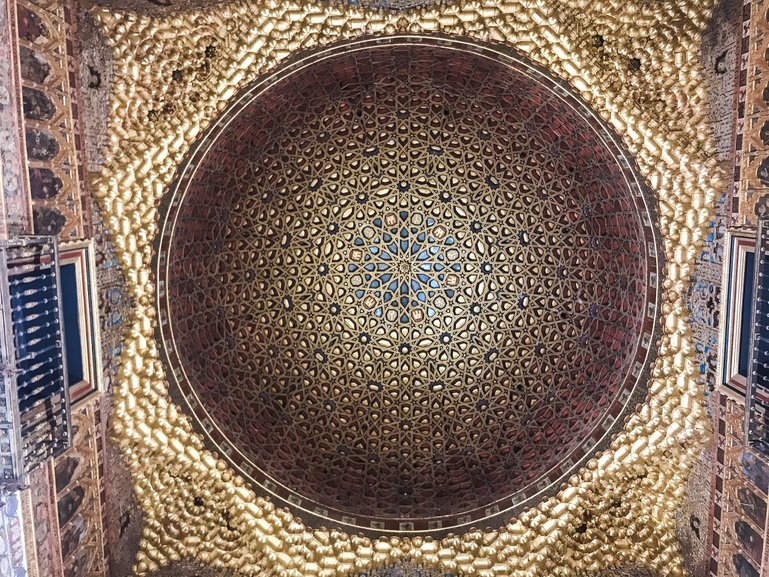 Real Alcázares
Buy the tickets in advance on the official website and avoid queues of +2 hours.
Plaza de España €
One of the most iconic plazas in Spain is undoubtedly Plaza de España, built for the Ibero-American exposition in 1929. A visit to this monument won't leave you without a grand history lesson: this plaza surrounds four bridges, each representing the ancient kingdoms of Spain. Furthermore, the brilliant Alcoves of the different Spanish regions shine beautifully in their ornate of colourful tiles, each telling their own story about the history of Spain's different provinces.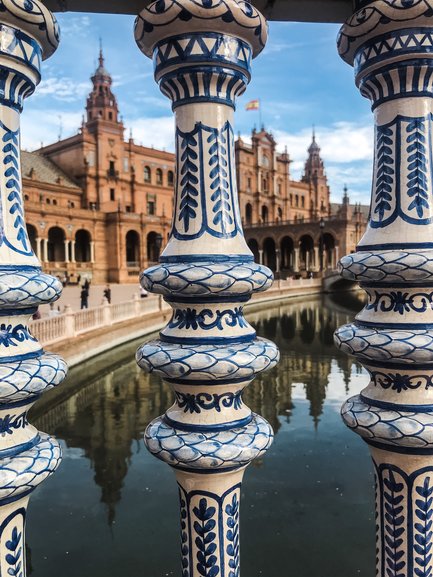 Plaza de España
Entrance is free.
Metropol Parasol €
Las Setas de Sevilla (the mushrooms of Seville) are a unique landmark, visited abundantly by curious tourists and locals too. As largest wooden structure in the world, built on Roman ruins, now serving as an archeological museum – included in the ticket price -, these "mushrooms" are worth paying a visit to. Since Seville is relatively flat, you can enjoy stretched views all over town, providing you with a splendid oversight of all the city's churches, cathedrals and other iconic buildings of matter.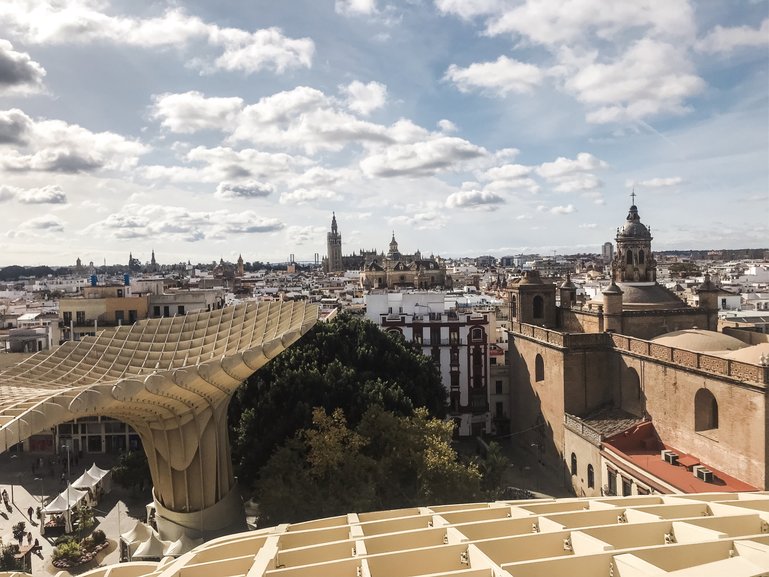 The "Mushrooms" of Sevilla: Las Setas
Entrance is €3
What to taste
---
Cervecería Puerto Plata €
Pan con tomate y jamón is a must-try when in Seville, usually eaten around 11a.m. as a late breakfast. If you like to sleep out (as I do), wake up slowly with a aromatic cup of coffee and taste a crunchy, warm pan con tomate y jamón and enjoy splendid views in front of you on the Plaza Ministro Indalecio Prieto, with in the background the sound of horses galloping rhythmically, transporting carriages throughout the old city centre.
Taberna Coloniales €€
This restaurant is known for its famous, traditional secreto Iberico (Iberian secret), a piece of meat originated from Iberian pigs, keeping the meat tasty and juicy inside, covered by a crusty layer on the outside.
Mama Bistro €€
Carrillada de Cerdo, braised pork cheeks in a variety of different sauces, is another typical Sevillian speciality and a must try-out when visiting Seville. The best one? Available at Mama Bistro.
Bonus: place not to miss
Estraperlo €€
An ecological restaurant with nothing but fresh, tasteful biological products, where the friendly and helpful staff's only intention is to meet your needs as good as possible and treats you like family – and not to mention the wine collection is deliciously tantalizing.
Where to stay
---
For You Hostel €
For You Hostel is a hostel of the hotel group Zenit Hotels. The benefit of a hotel group launching its first hostel? An experience that makes you feel the ease and luxury of a hotel, yet gives you the low rates of a hostel, and a comfortable and fully furnished bunk bed, inclusive of bathroom amenities, a reading light, curtains, international plugs and a soft pillow. Equipped with a bar, patio, kitchen, and other communal areas, feel free to socialize in this modern hostel, as the staff will be happy to help you if you have any needs.
Hotel Adriano Sevilla (& Café Pompeia) €€
My quest to a paella con pollo for one person led me to Café Pompeia. This modern and delightful bistro offers a wide range of classic Spanish dishes at a reasonable price, a warm smile from the staff and, above the fact you can have paella per person here, cozy uptown vibes with a location on the vivid calle Adriano. Above this bistro, you'll find the charming hotel Adriano Sevilla, a chic, sophisticated, luxurious hotel with small prices for the quality you receive.
Hotel Casa del Poeta €€€
As multiple times winner of the Trivago National Awards, earning its title as best hotel in Spain, this lovely boutique hotel combines both relaxation and luxury while immersing you in the ancient history of Seville and at the same time being located in the heart of the Andalusia's capital.