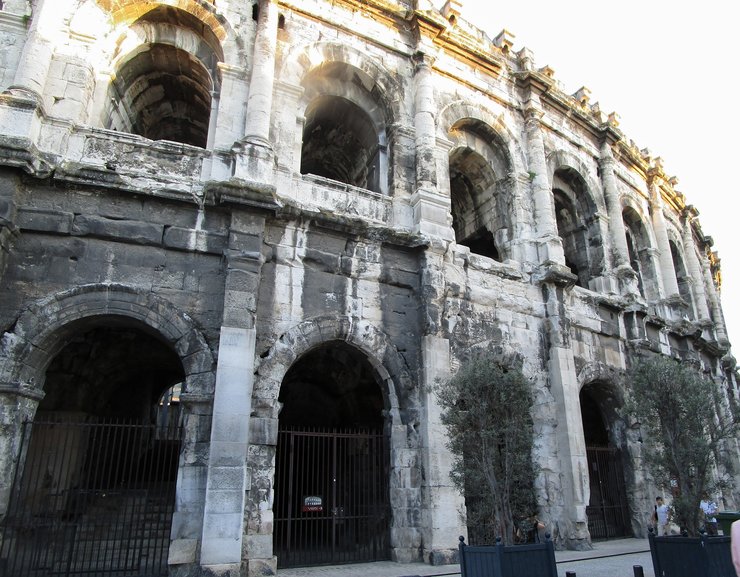 I know what you're thinking, that looks similar to the Colosseum but it's not quite right. No, it's not a replica this is the Arena of Nîmes. The Arena of Nîmes is just as rich in history as the Colosseum but not nearly as crowded! The Arena was built in AD 70 (same time as the Colosseum) to host the Roman games.
The Arena of Nîmes is quite a bit smaller than the Colosseum standing at 69 feet as opposed to 159 feet but unlike the Colosseum, it is still used today for events! In 1863 the arena was remodeled to be used as a bullring. Today the Arena is the site of 2 bullfights during Feria de Nîmes. It is also used for numerous other public events including concerts! I can't think of a better place to see a concert than inside a Roman Amphitheater.
On June 21st something truly magical happens in Nîmes, La Fête de la Musique. The streets are lined with locals and tourists alike to see live music. Around every street corner, there's a band playing anything from rock to jazz. The cafes are bursting and the streets are packed giving the city incredible energy.
Not sold on Nîmes yet? There's plenty of other historical landmarks to check out there. Nîmes was a very important outpost of the Roman empire and therefore holds many pieces of history from this time period. Including Pont du Gard, Pont de Guard is a three-tiered aqueduct built by the Romans to bring water to the city of Nîmes. Pont de Guard is one of the most well-preserved Roman aqueducts in the world.
Rome, Italy is the first place I think of when talking about Roman history which makes this find in Southern France even more unique. Everywhere in Rome was packed with tourists taking away from the authentic culture of Italy. For me, Nîmes didn't have that feel. Of course, there were tourists there but it still felt like France and the fact the Nîmes has some of the most well-preserved pieces of Roman History makes it a must-see.