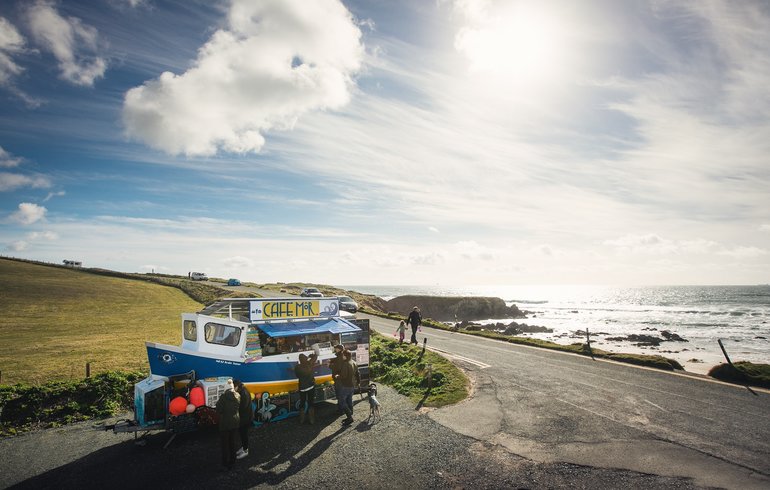 Cafe Môr at Freshwater West
Cafe Môr is an exceptional outdoor dining experience, found seasonally in the southside car park at Freshwater West, wedged between Castlemartin and Angle, and accessed via Pembroke, or the south Pembrokeshire back roads that bring you to this magnificent stretch of golden beach.
Cafe Môr is, as its most basic, a food truck, but it is really so much more. It represents one of the best and unique dining experiences in Pembrokeshire, if not West Wales. Cafe Môr was set up as an outlet to inspire and represent Pembrokeshire seafood and seaweed products, and eventually became the street food arm of the Pembrokeshire Beach Food Company, a business which was set up to spread the good word of the county's produce on a wider scale.
Now in its 11th year, the food truck itself is on its second incarnation, having originally been set up on a traditional food cart, a few years ago, the owners converted an old fishing boat, the 'Josie June', which now stands proudly and prominently each day it's open, on the banks of Freshwater West.
A taste of Pembrokeshire
---
Cafe Môr, and indeed, the wider efforts of the Pembrokeshire Beach Food Company, really go to huge efforts to inform their menu and fuse their product offerings. They cook with their own ingredients and you can also buy them to get that unique taste and experience at home. Their culinary creations like 'Mermaid Confetti', 'Welshman's Caviar' and 'Captain Cat's Môr Seasoning' adding to lines like the staple Ships Biscuits have proved exceptionally popular over the years. But roll up to the car park at Fresh West in the summer, and you will not find a better - or fresher! - lobster roll made with black seaweed butter.
The beach adds to the experience
---
Whether by accident or design, Cafe Môr is an experience that is only enhanced by its location. It's where the journey of the food it serves starts, typically each day by a fresh picking of seaweed, the base ingredient for many of Cafe Môr dishes. So, it's only fitting that the experience of the location be just as important as the bites of food you take upon serving. Many opt for a brisk walk on the westerly-facing beach sprawl before heading back to the shelter of the 'Josie June' and the warming comfort of the food it produces.
The laverbread experiment now truly proved, and the likes of Lonely Planet including the experience of Cafe Môr in their segment entitled 'Around the World in 80 Food Trucks', the future of Cafe Môr is set to rise and rise, and yet when you visit, it still feels like its just a secret between a select few of you who happen to be there on the day.
It truly is worth finding out about it for yourself, so make sure you check their Facebook page for daily opening times, and head on down to Freshwater West the next time you can.