Are you planning a trip to China but can't speak Chinese? If you don't speak Chinese, and you're visiting large cities in China like Beijing, Shanghai, Guangzhou or Shenzhen, you don't need to worry. These four cities are centers for international commerce and there is no shortage of locals who are proficient in English.  However, if you are visiting more traditional Chinese cities and or villages, you might find it a little difficult to overcome the language barrier. Here are a few things you can do to make getting around in China a little easier when you don't speak Chinese.
Use a Translator App
---
The first thing you can do to prepare for your trip to China is to download a translator app. There are many useful apps for both IOS and Android systems that you can use. You're probably already familiar with Google Translate. Google Translate is very useful for translating phrases from English to another language and vice versa. However, the translation isn't perfect. When I use Google Translate and translate a sentence from English to Chinese, often times the search results will show a sort of Chinglish (Chinese words mixed with English grammar).
When you use Google Translate for translating from English to Chinese, the phrase or sentence will be translated into Pinyin. Pinyin (pen-yeen) is a romanized system for written Mandarin. This means the words are written with letters instead of characters. This system is useful for school-age children and foreigners who are learning Chinese but cannot read Chinese characters, written Chinese.
The Pinyin system also includes tone marks. The Mandarin Chinese language has four tones or sounds for each word, and all Chinese translators include these marks. The downside to using Google Translate is that you need a VPN to use it since Google is technically blocked in China.
Another translator app I use regularly is Hanping Pro. Hanping is a dictionary app that translates simple words and phrases from English to Chinese and vice versa. There is a free version of this app too but Hanping Pro has many more features than the free version. In the Hanping app, you can use the voice automated system to translate what you are saying into Mandarin. Google Translate does that too but of course, you need a VPN. However, Hanping is currently only available on Android systems.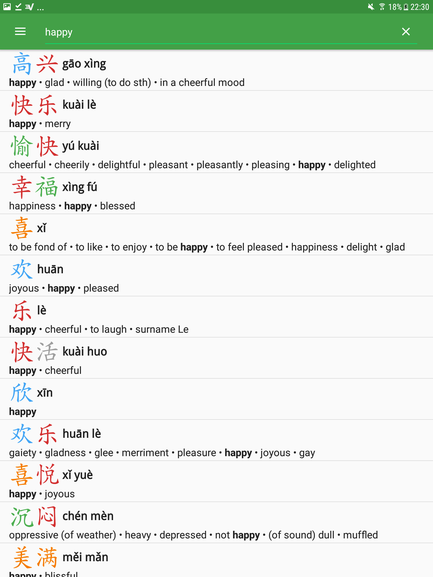 Pinyin search results in Hanping Dictionary App.
Pleco Chinese Dictionary is another awesome translator app. It is available for both IOS and Android systems. Like Hanping, Pleco only translates short phases not long sentences as Google translate does. Pleco has many awesome features. One of my favorite features is the picture function. You can take pictures of Chinese characters, and Pleco will translate the word or phrase directly into English.
Create Your Own Phrasebook
---
Having your own phrase book or list of phrases and words that you'll often use in China is also extremely useful. Make the list in both English and Chinese characters. Although you might not read or speak Chinese, it is useful to have these phrases written out in Mandarin in case you need to show someone. You should also include Pinyin or your own version of a simplified Chinese reading system. For example, if you plan on eating out a lot in China you could create a list of phrases you will commonly use like: 多小钱, duo xiao qian or dwo show chean (how much money is that) or 买单, maidan or mydan (can I have the bill?).
Take a Photo of Everything on Your Itinerary
---
Make sure to take photos of your hotel address, favorite coffee shop, bus stop and everything you plan to do and stay. I learned the importance of this when I visited Germany for the first time. If you get turned around and need someone to give you directions, just show someone a picture of the word or place in Mandarin and they'll direct you where you need to go.
Download Baidu Apps
---
Baidu is China's version of Google. In the States, we often say to 'Google it' when we search for something in Google. However, in China, people say 'Baidu it'. Baidu is very similar to Google. The difference between Google and Baidu is that Baidu is engineered by China. And it is heavily censored. So most foreigners and many locals still prefer to use Google for up to date news and information. But, you can access Baidu without a VPN.
There is also Baidu Maps, Baidu Search and Baidu Translate which are all beneficial apps to have in China. Baidu Translate is helpful when you are asking a Chinese person for help who does not speak English. That person can type the Chinese word directly into Baidu Translate to show you the English translation. Baidu Maps is every bit as useful as Google Maps. And Baidu Search is also very handy when you need to search for something quickly without a VPN.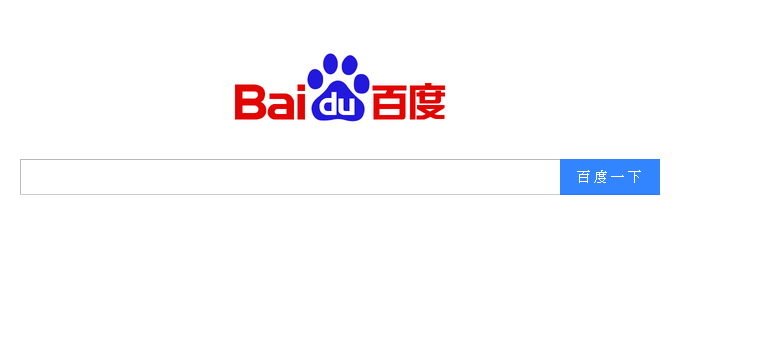 China's number 1 browser. Baidu.
Learn Some Mandarin Chinese
---
I know learning Chinese can be extremely intimidating. We've been learning Mandarin for close to ten years. Although my brother and I speak Chinese, my parents still struggle with expressing themselves in the language. Before coming to China, we bought the Pimsleur learning program and this was very useful. Instead of learning individual words as we did in Chinese class, by investing in language programs like Pimsleur you'll learn survival Chinese. By survival Chinese, I mean everything tourists need to know when traveling in China.
These are our five ways for surviving in China when you don't speak Chinese. We hope you enjoy your stay in China! Overall the people here are very friendly and helpful to foreigners.