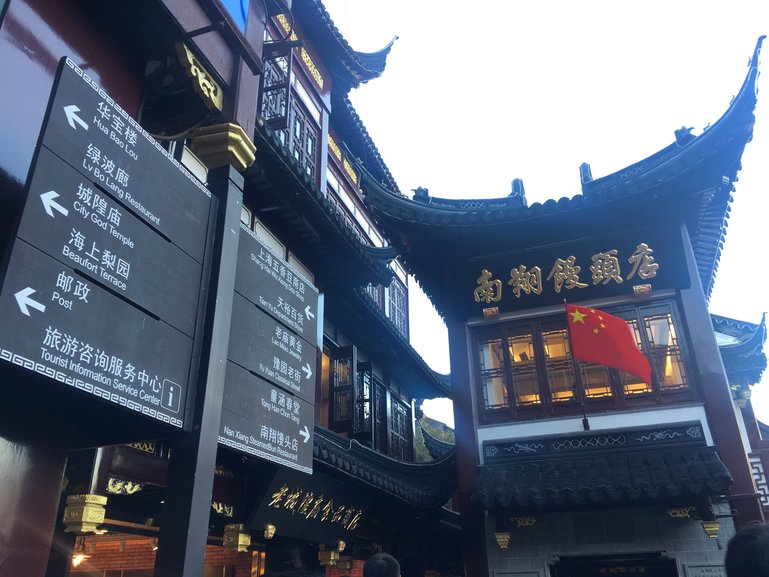 Yu Yuan, Shanghai
Before venturing out to this culture-shock inducing, magnificently magical, and crazy country...
[Mainland China? That means excluding Hong Kong, Taiwan and Macao, which are autonomous regions. There are MANY similarities between Mainland & these three, but most of these tips are exclusively for Mainland.]
1. VPN
---
* Okay, I cannot stress this enough. If you're reliant on Google (this includes Gmail!), Instagram, Facebook, Twitter, YouTube, websites on Wordpress platforms, Netflix, and pretty much an entirely incessant list of websites, YOU NEED A VPN BEFORE ENTERING MAINLAND CHINA.
* A VPN is a Virtual Private Network, and all you need to know is that it masks your domains, and lets you access sites in China that would otherwise be censored. I.E. YOU WILL NOT BE ABLE TO USE ALL THOSE SITES MENTIONED ABOVE UNLESS YOU HAVE A VPN.
* It's not impossible to get a VPN once you're on Mainland, but it is exceedingly annoying and a lot of extra work. There are a few VPN services that let you subscribe to their services and download their VPN software for free, but others-slightly more reliable ones- you have to pay for. I use Express VPN, which I recommend, and for which I pay a small fee every month (about 9 USD, give or take, I think) [And because I'm nice, here you go: https://www.techradar.com/news/best-vpn-for-china-our-5-top-choices]
* (You don't need a VPN in Hong Kong, Taiwan or Macao)
2. THE MOST IMPORTANT CHINESE WORD
---
* English speakers are very, very, very far and wide, and for the most part, you're going to have a significant language barrier almost everywhere (at least where I've traveled to-yet to visit Beijing, though I've heard it's the same).
* So although knowing how to say "thank you" (xiè xie- pronounced shee-eh sheh) and "hello" (Nǐ hǎo-pronounced nee-haww) is polite and recommendable, there is essentially ONE MOST IMPORTANT, ALL ESSENTIAL, MUST KNOW Chinese word:
* Tīng bù dǒng (teeng boo dohng)
* Which means "I don't understand" or "Can't understand"
* You will find yourself saying this all the time, everywhere, to everyone, and it basically lets anyone rattling off in Chinese to you that you have not a clue what's being said.
* (N.B. The words above are Mandarin. Hong Kong speaks Cantonese)
3. TAXI DRIVERS DO NOT SPEAK OR READ ENGLISH
---
* Yep. Make sure you write down the address/es of where you're heading, or have screenshots of them, and make sure it's in Chinese characters.
* It's possible that you may come across drivers occasionally that have a basic English conversational level, but for the most part, NOTHING.
4. YOU NEED TO KNOW HOW TO EAT WITH CHOPSTICKS
---
* So if you're accustomed to eating Chinese take-out, yay you! You've nailed the chopstick game, BUT, there are some foods us mere non-Asian folk simply CANNOT eat with chopsticks. No, really, how do you cut up stuff with chopsticks? Teach me, please, I still don't know. And so, for this reason:
* BRING A FORK, KNIFE AND SPOON. Pack it in your backpack, and take it with you on the go! Trust me.
* Unless you're eating at real Western restaurants, which means a) you're coughing up insane amounts of Yuan (Western restaurants have to import ingredients, etc, etc, and so it costs a ton more) AND b) you've practically missed out on sampling authentic Chinese cuisine-and what's travel without food?, then
* You're not going to find utensils at most restaurants and take-outs. Often, you'll get a spoon if you've got a rice dish, but otherwise, tough luck. Chopsticks NO MATTER WHAT YOU'RE EATING.
5. BRING EXTRA DEODORANTS, LOTIONS, SOAPS, SHAMPOOS, CONDITIONERS.... AND MAKE-UP AND TAMPONS.
---
* Okay, I know this may seem like a no-brainer, because most of us carry our own preferred brands of these items, wherever and whenever we travel, but seriously,
* BRING EXTRA. BRANDS THAT WE KNOW AND LOVE ARE INSANELY EXPENSIVE HERE.
* Nivea & Dove products can be found commonly on shelves, but they cost me double here than they do at home.
* Tampons do not exist in most local supermarkets or convenience stores. Culturally, Chinese traditionally use pads. You would have to go to a high-end, expensive store that sells imported products to buy tampons.
* Not all make-up brands are available, and if you have a darker skin tone, you will never find a shade of foundation that fits you. Also, make-up sold in China has to be tested on animals-rather buy them out of the country first.
6. DOWNLOAD WECHAT
---
* China is fuelled by WeChat. The Chinese (and I) use it for everything: to pay for things, buy flights/trains, get fast food, and most importantly, to communicate. Remember, most other social media is censored and inaccessible here, making WeChat the most used app.
* If you don't have a Chinese bank account, you won't be able to use the app to pay for things, however, it is an essential medium for communication if you plan on being here a while. Any friends you make will want to add you on WeChat to keep in contact. Whenever you Tīng bù dǒng (can't understand), point to your WeChat QR code, get scanned, add whoever you need to communicate with as a contact, and then message them on the app. WeChat has one of the most accurate in-built translation abilities, better than any translation apps I've used. Your contact will receive the message in English, and can choose an option to translate to Chinese directly on WeChat. Vice Versa. Honestly, this is what I do at least daily, even now.
7. GET A TRANSLATION APP. JUST GET ONE. ANY ONE. YOU NEED IT
---
* If the WeChat translation info above freaked you out, because you're a WeChat newbie, or don't think you'll be here long enough for it to be worth your while-or you're lazy to get the app and learn the routine- no hassles. Just get an old-fashioned translation app that you speak into, and will translate to Chinese for you.
8. CARRY TISSUES AND HAND SANITISER EVERYWHERE.
---
9. GET A SUBWAY/METRO CARD
---
* If you're in a specific city for a while, it's a lot cheaper and savvier to have a metro card. You can swipe these to enter the metro, and on busses too. Saves you from fumbling around with cash always, and standing in long lines for metro tickets (rather metro chips) during peak hours.
10. PIT TOILETS, HELLO
---
* Well, I guess this one is more of a warning than a tip. Do with the information what you must.
* I know someone who always runs into a Starbucks or PizzaHut for a Western toilet, because these two can always be counted on. But otherwise, good luck if you've never used one before-an encounter with one is inevitable if you're diving into local Chinese cities and destinations.
That's it. Happy Travels! Let me know how it goes!