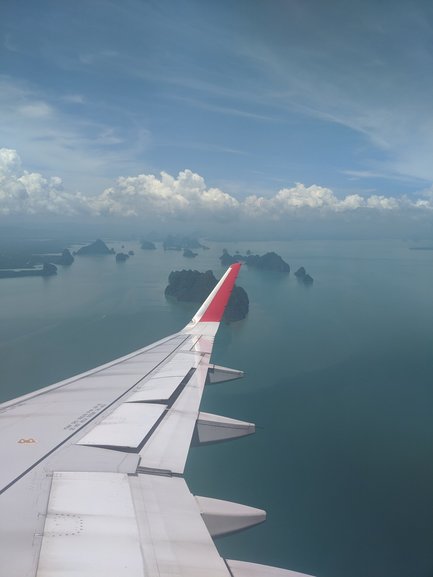 What does it mean to be a responsible traveller? Some say it's probably best to never leave the house again, and go and watch David Attenborough's newest documentary instead. We think this is rather a drastic approach, but we do understand that carbon dioxide is bad for the environment. Especially flying is a BIG problem in terms of carbon emissions. However, in our globalized world which is becoming more and more interconnected, the aviation industry doesn't show signs of regression. So, if you really have to take a plane, what can you do to limit your impact? We found out five ways to go a little greener while flying.
Choose for Fuel-Efficient Airlines and Airplanes
---
A good way to start with this seemingly impossible quest is to research the airlines that are more fuel-efficient and that invest in more sustainable transformations. Booking with those airlines shows your support and even within those airlines, there are some types of planes that are more fuel-efficient than others. Generally speaking, newer airplanes are more fuel-efficient with the Boeing 787 Dreamliner and Airbus A319 at the top. The International Council on Clean Transportation indicates that there is a difference up to 51% between the most and least efficient airlines worldwide. Check out in their reports whether your airline is high or low on the rank.
Learn to Pack Like a Minimalist
---
This is also a relatively easy one. Every kilogram of luggage you are carrying with you means extra kilos on board which increases the flight's carbon emission. Cut back on liquids such as shampoo, shower gels and extra clothing. Work with layers so you can easily switch up in a warmer or colder place. I have been trying to do this myself for a while now and it really works. Furthermore, even in more remote parts of the world, there is always an option to buy something you really need. I even experienced that the things you didn't bring in the first place, you probably won't miss while you are away.
Green Airports
---
Alright, this a bit tricky, seeing you don't always have a choice which airport you are flying into. However, if you do have the option, it is nice to look and see what airports are doing to become more sustainable and eco-conscious such as using wind turbines, solar panels and extensive recycling programs. Currently Changi International Airport (Singapore), Indira Gandhi International Airport (Delhi, India) and Boston Logan International Airport (USA) are battling for the number one spot as being greenest airport in the world.
Coach Over First Class
---
I didn't even know this myself, but according to several research groups on environment, a person that is flying business class creates up to four times more carbon emission than someone travelling in coach (economic class). This actually makes a lot of sense looking at the fact that first-class seats take up way more physical space than the ones in coach. First-class travellers receive a lot of extra on-board treats such as numerous meals, drinks and snacks (which all have to be prepared and carried) and also require more staff. So, our apologies to the rich people. And for the rest: maybe tell your boss you'd rather fly coach next time.
Offset Your Carbon Emissions
---
The last step before you get on that airplane is to tick the box to offset your carbon emission to make up for the emission that your flight produces. This donation to the carbon offsetting programs will put money towards environmental programs that are working on several climate projects that absorb the carbon. However, as recently pointed out in the media, carbon offsetting as compensation isn't the solution to climate change and shouldn't be used by airlines to green-wash their practices. We don't need to compensate, we need to cut back on the number of flights worldwide.