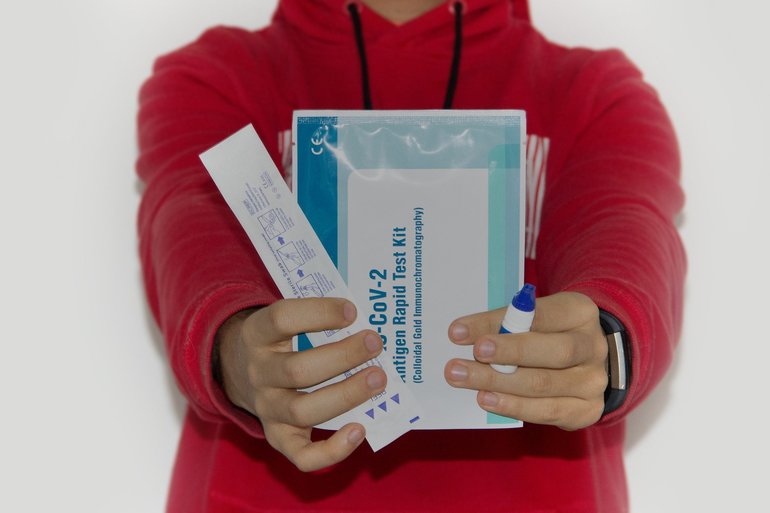 Where to get a cheap Covid test
Gross as it might seem to stick a wand down the back of your throat before poking it up your nose, it seems that we'll have to get used to doing precisely that if we want to travel overseas in the foreseeable future.
And if the act itself doesn't make you gag, the cost of the test itself might make you retch, especially if you're travelling with your family.
Unless travel companies and airlines decide to cough up for the tests (which they might, who knows), you'll have to stump up between £30 and £214 per person per test.
The price varies depending on what type you need, where you're going and where you buy it.
Will I need a test even if I'm vaccinated?
---
Most destinations and some holiday companies – maybe even one or two airlines – will likely insist we're tested before we travel, at least for the time being.
Some countries – including Cyprus – have said they'll have test-free access for vaccinated visitors, and others – including Turkey – might even let us in without a test or a vaccine.
But it seems likely that most countries will insist we're tested, even if we've been vaccinated.
You might also need to pay for a test before returning to the UK. Foreign holidays are banned at the moment, but anyone making essential trips must have a Covid test before returning to the UK plus two further tests on the second and eighth day after they return.
We don't know yet whether we'll still have to be tested to return to the UK when the holiday ban is lifted, which will be on or after 17 May in England, maybe even later in Scotland. We'll know more, hopefully, on or shortly after 12 April when the Prime Minister Boris Johnson has promised us an update.
How much should you pay for a test?
---
You can't use the NHS free testing service to go on holiday, you must pay for a private test if you need one.
Travel insurers Battleface ran a survey which suggested that the average holidaymakers are willing to pay for a Covid test is £22.
I ran my own snapshot survey on Facebook and found that most people felt that even £22 was too much. In fact, most tests cost way more than that, almost 10 times more in some cases.
What type of test do you need?
---
Most countries insist on the more expensive RT-PCR Covid tests, rather than the cheaper antigen or LAMP tests.
PCR tests cost more because the swabs need to be analysed in a laboratory, but they're preferred by countries because they're more accurate.
You can save money by opting for a home-testing kit rather than having the swab taken by a clinician. These tests, which cost from about £60, are accepted by many countries including Spain (and the Canaries), Greece and Cyprus.
The test kits with written instructions are mailed to you at home and you should receive the results within 48 hours of returning them to the labs.
But some countries, including Dubai, only accept tests carried out by a clinician, which tend to be more reliable. These cost anything from £60 to £214.
In addition to a negative test result, you'll need a 'fit to fly' certificate with the details of your test. Some clinics charge about £5 extra for this so make sure it's included before you book yourself in or buy a test online.
Can I take a saliva PCR test instead of a swab test?
---
Some clinics and pharmacies, including Superdrug, offer PCR saliva tests, which are less invasive than the nasal swab tests. You just have to spit in a test tube and send it off to a lab for analysis.
The PCR saliva tests aren't a cheap option though. Halo Verify sells the 'spit tests' for £89, Superdrug charges £120.
While these saliva or spit tests could be a good option for young children or those who can't face the swab test, not all countries will accept saliva tests, many insist on a RT-PCR swab tests, so check before you travel.
You can find out what sort of test you need by checking on the FCDO website and searching for your destination then clicking on Entry Requirements. If it says you need a PCR swab test, you mustn't use the saliva test. If saliva tests are accepted, make sure your supplier will provide a 'fit to fly' certificate with your result. Halo does.
Note that some companies selling cheap saliva tests state that they're not suitable for home use.
Where can I get a cheap PCR Covid swab test?
---
If you live close to a major airport you're in luck because these offer some of the cheapest drive-thru tests, and there's usually a discount if you're a passenger.
Expresstest provides drive-thru and/or walk-thru testing at a number of airports including Gatwick, Heathrow, Birmingham and Edinburgh for £80 if you're flying from the airport or £99 with up to 30% off for multiple tests.
Lateral flow tests cost £50 and take 30 minutes to deliver results.
The same company also provides drive-thru and walk-thru testing at several other locations including Birmingham NEC, Bristol Cabot Circus, Cardiff City FC, London Brent Cross Shopping Centre, Reading FC, and Southampton Eastleigh FC.
Collinson is another company providing airport testing.
But you need to book in advance because prior to the travel ban demand for airport testing outstripped the supply.
Can I get tested at the airport on the day I fly?
---
Only the faster antigen Covid tests offered by many of these centres can be taken on the day you fly as these give results within the hour. PCR tests, which are required by many countries, must be taken at least the day before.
Results for PCR tests usually come back within 24 hours but you should take the test as early as possible, just in case. Make sure you don't take it too early though – most destinations say the test mustn't be taken more than 72 hours before you arrive.
Does my travel company offer free or cheap PCR tests?
---
It's always worth checking on your tour operator or airline's website to see if they offer free or discounted tests.
TUI recently offered free tests for customers travelling to St Lucia.
For other destinations, both TUI and Jet2holidays offer discounts on home testing kits.
With TUI's discount you can get a kit from £70. Jet2 has a deal with Living Care Group offering tests from £75. I've heard varying reports about the reliability of home testing kits, with some results not arriving back in time. Check the reviews before you book.
One advantage of using your tour operator's recommended test supplier is that they might re-arrange your holiday if your test results are delayed, as long as you've followed the instructions.
Does my airline offer a cheap Covid test?
---
Some airlines also offer discounted tests, bookable from their website. With British Airways you can get a test a home PCR swab test for £99 or a rapid antigen test, accepted by the USA, Germany and Italy, from £39.
BA also sells testing kits for your return to the UK, for £39 each.
EasyJet offers discounts for Randox home testing kits, which reduces the cost to £72 from £120.
If you're travelling with another airline or tour operator, it's worth checking on their website to see if they offer discounted tests. But you should still shop around because they might not be the cheapest option. For instance, Ryanair provides links to some of the more expensive testing clinics.
Where else can you get a cheap Covid test?
---
Boots is one of the cheapest place on the high street for Covid-19 tests. It's available at more than 100 of its stores and results arrive within 48 hours. If the test is inconclusive your fee will be refunded and you'll be able to pay to repeat the test. All negative tests come with a 'fit to fly' certificate.
One drawback of the Boots service is that it's not suitable for children under 13 and yet some countries require much younger children to be tested.
Some countries, including Dubai and Egypt offer testing on arrival, which might be cheaper than tests in the UK. You can check if this is available in your destination on the FCDO website by searching for the country you're travelling to and checking the Entry Requirements. An obvious drawback is that you might get a positive result and spend your holiday in quarantine.