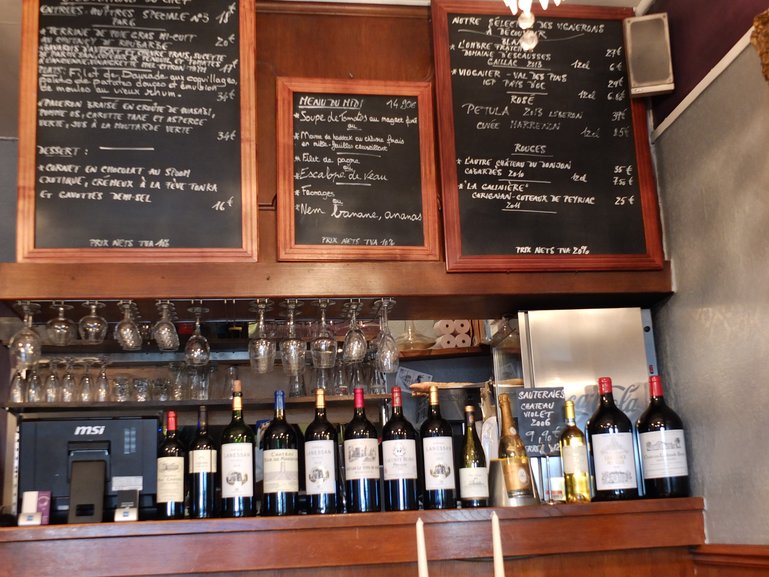 A friend at work always cut out vouchers and searched for internet offers and she never paid full price, in fact I think she got paid to take things of their hands sometimes. I always had an aversion to doing that, just a bit embarrassed to hand over a voucher or just a snob really. I think my mindset changed when I acquired a needy granddaughter and suddenly bargains were required to keep the pace. Which brings me back to Paris and my current writing. About five years ago we were in Paris and I got a message from my good friend Jack in California that suggested a location on the left bank for a fine meal. I checked it out as you do and Le Reminet on Rue des Grand Degres 75005 did indeed look every bit as tempting as Jack suggested. What was not quite so tempting was the quite pricey menu - Jack gets a better exchange rate than me! It was then I discovered Le Fork a website that gives vouchers or money off at the restaurant when you book through them. I have to say it sounded too good to be true and not my usual style of booking but we fancied the restaurant so the internet booking was made.
Le Reminet is lovely, a classic Parisian restaurant, all crisp tablecloths and fine cutlery and glasses but with a homely welcoming feel - and a classic French bar. The food was high quality and we had sea bass, not the tiny thin fillets we get in England but thick steak size fish but still probably fished in English waters. Very succulent and fresh. Dessert was the finest of a French patisseries art and with a gorgeous crisp Loire Valley white and a digestif it was a memorable experience. I had calculated from the displayed menu the going rate for this feast but knew I would at least have some discount on the main course. I was skeptical but not only did they honour that but unexpectedly went the extra mile with the offer and we ended up paying a sum that felt like we had been stealing from the kitchen.
So I am recommending that you book via Le Fork when in Paris, you may not be as fortunate as we were but give it a go. And anyway even if you do not get a voucher Le Reminet is a must so please seek out this super little restaurant. I will now continue to write about it and other lunches of course.