Are you planning a trip to Bali? Congrats guys and gals, you are packing your bags for one of the most beautiful and relaxed places on this planet. This destination is no secret to the travel community and those of us who have been can't help, but to keep going back! Let's dive into things to know when planning a trip to Bali.
Many of my Instagram followers have reached out and asked for tips and tricks when it comes to Bali. I have even created custom itineraries for my friends and family! With that being said, I have tried my best to share as much information as possible to make your travel planning a little bit easier. Here are some FAQ about Bali travel:
How to Get Around?
---
The best way to explore Bali is by scooter! Renting them is super easy and can be done literally as you stroll the streets. For me, when I arrived in the cities I would explore I set out on foot and within an hour I had an opportunity to rent a scooter. This allows you to become acclimated with this new place as well as begin creating a mental map.
Where to explore?
---
When talking about the actual island of Bali there are few places that are my FAVORITE. There are other islands nearby worth a visit like the Gili Islands, Nusa Penida, and the Komodo Islands, but for the purposes of this post, we'll chat just BALI Island.
Ubud
About 2 hours north of the Airport (on a good day there can be tons of traffic) is Ubud. With lush vibrant green rice terraces, eco-friendly and sustainable clothing boutiques, and an internationally recognized yoga studio, Ubud is a serious sanctuary. If you are looking to channel your inner goddess, then this is the place to spend a few days!
Canggu
Hello, plant-based heaven! Canggu Bali is a vegan's paradise. Not only are there tons of options for us veggie foodies, but this hip little beach town serves up all the vibes. Want to learn to surf? Looking to pamper yourself at the spa? Want to lounge on an empty beach all day and not be bothered? Canggu is for you then! Sandy bums, barefoot toes, tan skin, and scooters sum up what you can expect in this hipster part of the island.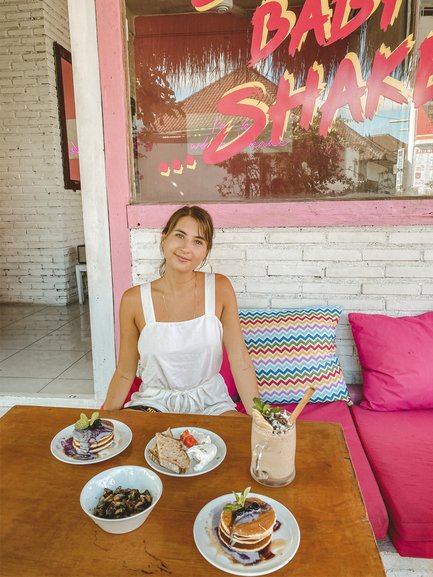 Canggu Cafe | Lola's Shakin' All Day
Can I Drink the Water?
---
I would highly suggest NOT drinking the tap water and honestly brushing your teeth with it is a bit risky. In all honesty, I brushed my teeth with it and had a bit of '*Bali Belly*' (I'll get into that next) on and off, but for me it was manageable. I have no shame in the game and carried around a 5-liter jug of water to ensure I didn't get dehydrated.
How to Avoid Bali Belly?
'*Bali Belly*' is almost inevitable. It is unfortunate, but something you should be prepared for. This consists of serious discomfort in well you're belly! It feels similar to food poisoning, however, it is typically caused by the water. If you are eating out this makes experiencing Bali Belly a gamble because you aren't in the kitchen with the staff preparing the food. Here are a few things that helped me get through the various runs to the bathroom, upset stomach, and dehydration:
Water, water, water! I can't stress this enough. Make sure you have plenty of filtered water. Whether you buy this at the store or have a Lifestraw, staying hydrated is a must.
Active Charcoal Pills. Active charcoal is always stashed in my bag. This issue happens a lot in Southeast Asia and I have learned to take a few the minute I am feeling the symptoms. The active charcoal absorbs a lot of what is causing the discomfort.
Rehydration packets. If just water isn't cutting it and you are visiting the bathroom too frequently, getting some rehydration packets at the store is a good idea. If you pop into a pharmacy and let them know that you are experiencing an upset stomach they will stock you up with all the goods. They are no stranger to this issue!
How Much Cash Should I Carry?
---
Carrying cash is extremely important for a few reasons. One would be that local businesses only accept cash leaving you SOL if you don't have any and the other is that some of the ATMs on the island don't accept certain cards. It is hard to tell which ATMs are tricky, but my only advice (based on my experience) would be to pull out a large sum, stash some in your suitcase/ room and carry what you will need for the day. I NEVER carry too much cash on my human to avoid losing it or having it stolen. Between $20 – $50 USD a day should be plenty to carry around for food, drinks, and transportation (if you don't have a scooter that is)!
How to Say 'HELLO' + 'THANK YOU'?
---
Traveling to a new culture can be intimating there's no doubt about that, but what doesn't have to be intimidating is learning a few basic phrases to set yourself up for success. When you begin planning a trip to Bali it is important to consider knowing how to say 'hello' and 'thank you'! This is something I do every time I go somewhere new. If you are an English speaker then you are quite lucky in the travel world because English is the connecting language for most cultures, but it is a good idea to feel confident with a few simple phrases that are native to the place you are traveling.
Is it Safe?
---
Yes, Bali is extremely safe. There wasn't an instance in the month that I was there that I felt unsafe. The people are extremely friendly and the environment is not threatening.
If you are afraid of dogs, I would say this may be something that could potentially make you uncomfortable. Bali is full of '*stray/neighborhood*' dogs that roam the streets and aren't really afraid to approach humans. In Ubud, walking to my Airbnb dogs were barking so loud that I could tell they weren't comfortable with me walking through their stomping grounds.
DISCLOSURE: This is not to say as a traveler that you need to be mindful of your decisions and aware of your surroundings because you absolutely do!
When Should I go?
---
So you've decided you want to visit Bali, but the next question is when. Determining the best time to visit for you is probably the most important element when planning a trip to Bali. It is extremely important to consider the seasonal weather as well as the tourist patterns to determine when it may be the best fit for you. The summer months June, July, and August are typically prime times for tourists to visit considering the weather is great, however, during these months it can be overwhelming with the number of visitors. Other times of the year that are busy would be on major holidays such as Easter, Christmas and New Year (makes sense because many people are not working on these dates).
BEST MONTHS TO VISIT BALI: APRIL, MAY + SEPTEMBER
Wet Monsoon Season (the wettest time of the year): October – April
Dry Season: May – September
If you are looking to avoid the wet monsoon season and the tourist season, I recommend visiting in either April, May or September. My most recent visit to Bali was in September! I felt like there were plenty of other tourists (I was by no means there alone), but it was manageable and the rainy season had not yet made an appearance.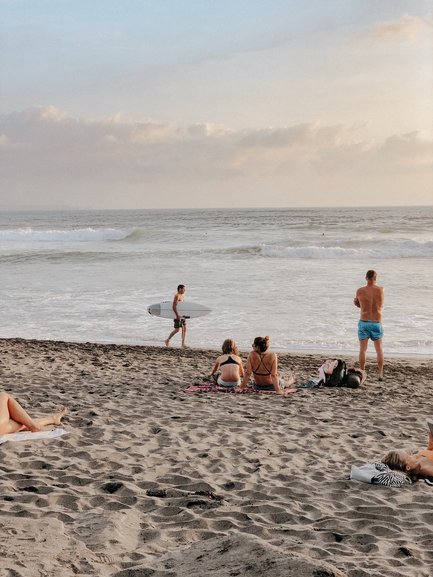 Canggu Beach
Planning a Trip to Bali? Let's Chat
---
Please do ask any questions if you are planning a trip to Bali and feel like there are still things you are wondering about. Dropping them in the comments will help our little community of travelers to feel the most prepared when heading to this dreamy oasis.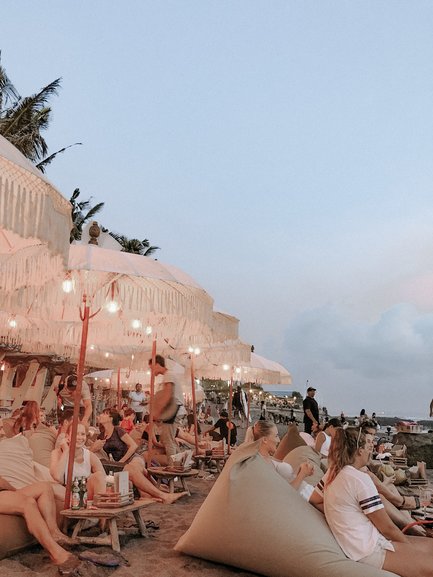 La Brisa | Canggu Bali