The ultimate getaway starts when your plane touches down at the Denpasar International Airport (DPS). At that moment you will officially be in Bali and ready for the adventure to begin. Spending your days in a destination so dreamy your Instagram will be drooling doesn't need to come with the headache of figuring out how to get where you want to go. Transportation in Bali can be tricky, so I have created this guide to break it down for you!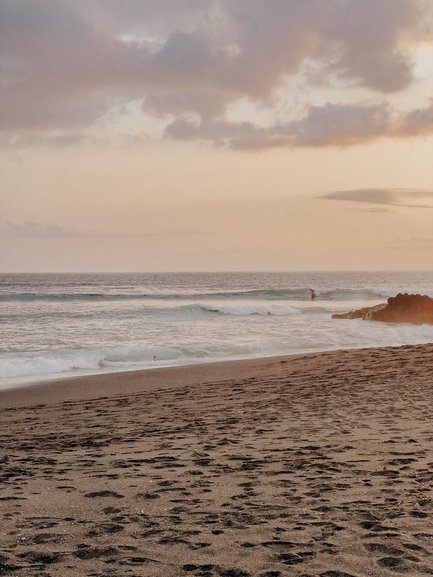 Canggu Beach
From the Airport
---
So you've landed and claimed your bags, now you're ready to make your way to the taxi queue. Do not be alarmed at the chaos, instead expect it and go in with confidence. I am going to be straight up with you, the Denpasar Airport is my least favorite Airport (maybe of all time). It seems overly complicated which doesn't make figuring things out easier.
Private Driver
Depending on where you're staying you may want to consider asking your hotel/ Airbnb/ homestay to book a driver in advance that will be ready upon your arrival. Bali is really cheap (mostly) and this option is great especially if you have just endured an international flight. You're tired, hungry and probably not ready to haggle with a taxi driver.
Taxi
If you don't want to book ahead or your accommodations are unable to do so, don't sweat you're not screwed. Once you make your way to the taxi queue (I promise you won't miss it), be ready to name your price and stick with it. Most of the drivers will try to get you at top dollar and you may be willing to hand over your money out of pure exhaustion, however, know the typical price before going into it. In my experience here is what I paid (and felt comfortable doing so):
Airport → Ubud | Rp 300,000
(they originally tried asking for Rp 700,000)
Airport → Canggu | Rp 275,000 to get to Canggu
How to Get Around
---
Now that you're on the island it is time to start exploring! Maybe you're in Ubud ready to explore the rice terraces or maybe you're in Canggu ready to go for a surf. Either way Bali has several options for transportation depending on your preference. Here is a list of the most convenient and cost-effective:
Grab
Before living in Bali I had never used (or heard of) Grab. For a gal from California, I was used to Uber and completely unfamiliar with this new platform. Essentially they are the same thing. The tricky bit about this is that places like Ubud discourage tourists from using online services and encourage the use of local taxi companies. Let's support local business y'all, however, Grab does work in other areas of the island. I suggest downloading the app to get familiar and determine if this option is a good fit. Grab is also popular in other areas of Southeast Asia!
Gojek
Gojek is like Uber/ Grab, but for scooters. You can call a Gojek and a driver on a scooter will show up with a helmet and everything. There's two of you? Need not to worry because you can most likely all three fit on the scooter. That is if you're comfortable of course. Grab and Gojek are a cost-effective option if you don't think you'll use a scooter all that much.
Scooters
If you know me or have been following along you know scooters are my go-to. In every city that is scooter friendly, I am on one! Bali is extremely scooter friendly with more of them on the road than cars. I suggest being comfortable on one before you commit to using one to explore, however it isn't too difficult. Make sure you look into an International Driver's Permit to be safe. If you don't have one you run the risk of the police pulling you over. If this happens they will most likely ask for cash, but in my experience, I never even saw the police.
MyBlueBird App
Getting back to the airport is easy with the MyBlueBird app. Typically when you are in a foreign country it can be difficult to actually call yourself a taxi. You can absolutely ask your sleeping accommodations to book a taxi back to the airport, however, if you are looking for a cost-effective and convenient way, My Blue Bird is your answer! Simply download the app and use it like an Uber/ Grab/ Gojek.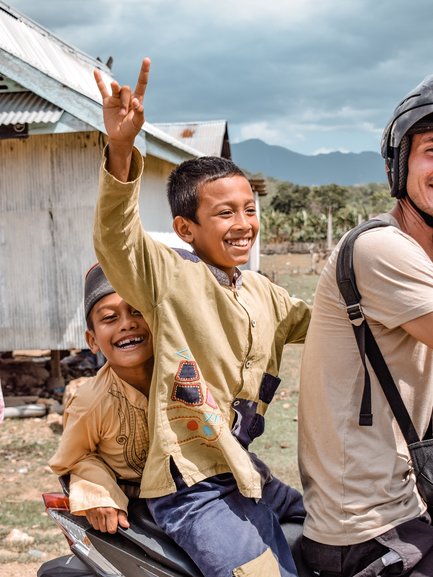 Rent a Scooter and Explore
I wish you the BEST holiday in Indonesia and hope that this guide helped you understand the transportation in Bali! Let me know in the comment if you still have any questions as I would be delighted to help. Until next time voyagers!