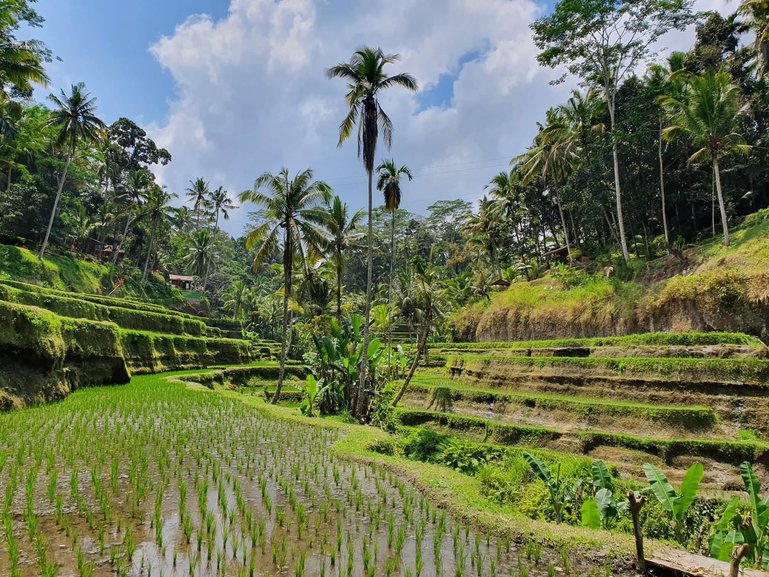 Rice fields in Ubud
Bali ~ a destination with endless natural beauty, well-kept culture and traditions, relaxed and friendly locals, amazing food and cheap massages. It's unsurprising that Bali is one of those locations which entices people from all over the globe to come and visit and why so many expats unexpectedly end up calling Bali home. It's not only a tropical paradise where everything you want is at the tip of your fingertips...but it's also relatively cheap in comparison to many destinations around the world, especially European and Western counterparts. Oh and did I mention that almost everyone can speak English in Bali? It certainly makes travelling to a country where English isn't the native language so much easier.
I guess that's why so many Australians (especially the ones from Perth) regularly pay Bali a visit or even choose to have a wedding in Bali ~ apart from Bali being the closest international destination to Australia… it's also SO much cheaper than Australia. To put things into perspective, a big party animal could probably live comfortably and modestly for a week in Bali with the money that they would spend in one night in Australia…and to-be-newlyweds choose to say "I do" in Bali because they also can get SO much more for the same price (I don't think I've ever been to a wedding with unlimited cocktails and fireworks in Australia).
Sounds pretty good right?
Maybe a little too good to be true.
In some senses it is but in other ways, it's not.
Why? Because even though Bali is seen as a 'cheap' destination, it's impossible for a tourist to visit Bali without being surrounded by, or falling into hundreds of tourist traps and scams. After all, Bali's economy runs purely off tourism…and the locals don't earn much for how many hours they work ~ go figure right? People are naturally opportunistic, especially when they're in desperate and unfavourable situations.
Even though the extra you end up paying for tourist traps and scams doesn't end up costing THAT much money, especially when you convert it back to your home-currency… it's still beneficial to be savvy, aware and prepared before you go…so that you don't fall into situations which end up making you feel ripped off, frustrated or angry. After all, if you're savvy enough, you might even end up saving enough to buy an extra piece of clothing, extra meal, better accommodation…or even to donate to your favourite charity.
The point is…it's helpful to be aware of the different ways to reduce your costs when traveling. That's why I've decided to write this tip ~ to share the different ways I kept prices down for myself in Bali (I was backpacking in Bali and had to do everything in my power to keep costs down because I had virtually no money left from exhausting all my funds after traveling around the world for a year).
So how do I keep costs down in Bali?
I'm in no way any expert on the matter and there's many more tips which could be added (I will update as I find more ~ any suggestions are welcome!). All my tips are solely based on my personal experience.
I hope you enjoy 😊
Transport
---
· Use the Grab or Gojek Apps on your phone instead of Uber or Taxis – Firstly, I don't think Uber is even available as Grab bought them out but both Grab and Gojek are a fraction of the cost of taxis. Secondly, it's rare to get scammed with Gojek or Grab but very likely you will be scammed with a taxi driver (sorry local taxi drivers - it's true!) Also, I personally find Gojek faster and more reliable. Just be aware that many locations in Bali advertise that Grab or Gojek is forbidden, although it's not policed in the slightest.
· However... also be aware that Gojek drivers might try to get a little bit more money from you – I had a Gojek driver kept asking me for 10,000 more than the price on the App from the Airport to Nusa Dua and another driver pretend he didn't have any change when it came to paying him, just to get an extra 1000 rupiahs from me.
· If you're traveling solo, always use Grab or Gojek bike instead of Grab or Gojek car – it's literally around 75% less than the price of a car.
· Hire a driver only when you have enough people to fill up the car.
· Or hire your own scooter/bike at a weekly or monthly rate, especially if it's just you or you and another person (you can share the cost) – weekly or monthly rates are always much cheaper than the daily rate.
· If you're riding a scooter without a license (not that I recommend it), be prepared to potentially bribe the police officers 100-200k (not that I encourage giving bribes but if push comes to shove, it's good to be aware that officers will often try to get as much money as they can from you so that you don't get ripped off by them).
· It's also a good idea to download Waze - an App which works as a GPS plus gives you the location of where police are waiting to catch people.
· Use public boats instead of private speed boats.
· Use public buses – there are Kura Kura buses which take you around the main areas of Bali and then in even more densely populated areas, there's the 'blue buses' you can take which are a fraction of the cost of any transport (sadly it's very hard to find information on the blue buses). Kura Kura buses are much more expensive but they're also quite fancy with air-conditioning, service and all that jazz.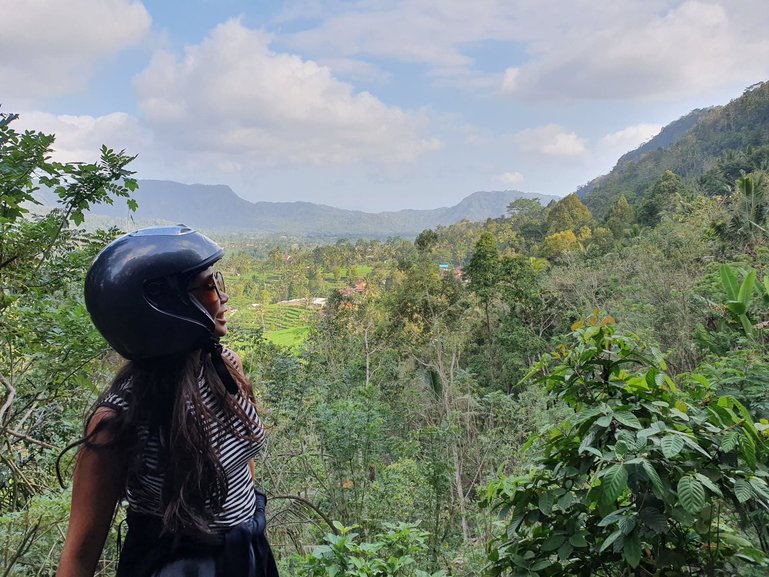 Me doing a day trip in Sidemen with a scooter that my friend hired
Attractions, food and activities
---
· If you can't find any reasonably priced food around – use Gojek to order food
· If you want a good massage for cheap – use Gojek to order a masseuse
· Basically, use Gojek for everything 😊
· Be aware of the entry-fees of attractions before you visit them – I was about to visit a theme park graveyard in Sanur and read that the people guarding the attraction try to charge tourists at a much higher price than what the locals pay. You'll only get the standard, local price if you dispute it.
· Go to beaches with no entry fee – although some are worth the price like Suluban beach.
· Eat where the locals eat – eat street food and at Warungs
· Eat at places which do not charge a service fee – most 'proper' restaurants will give you menus which show prices without the service fee and tax…and then when you get the bill you get slapped with a service fee of 10-22% plus 5% tax.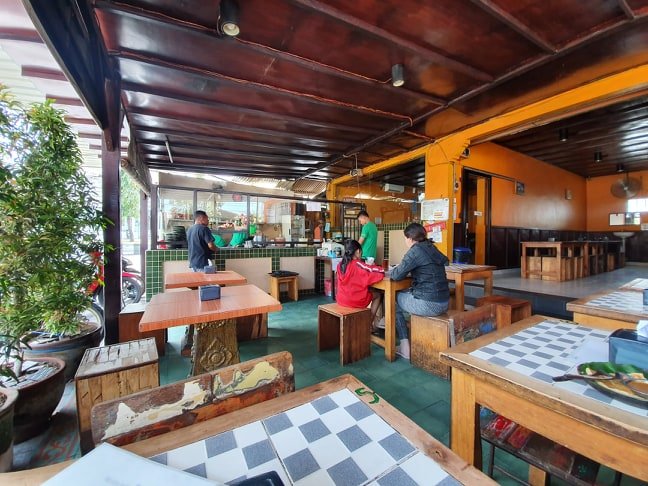 A local Malaysian warung in Sanur
Accommodation
---
· Stay at hostels or hire a rental property for a month (if you're staying in Bali for long enough)…or you can also use platforms like Couchsurfing…or Workaway/Woofing to really keep your costs down - but note that Workaway/Woofing is more suitable if you're staying in one place for at least 2 weeks usually.
· Get the accommodation to price match the price on the booking-platform you're using – businesses don't usually like to pay commission and will usually beat the price on the platform you're using if you show them the price quoted.
Other – money and sim cards
---
· Be aware that you can negotiate prices for almost every product and service offered – just make sure you do so respectfully. These guys don't earn much and sometimes it's not worth the time and energy to fight over such petty amounts.
· Exchange most of your money OUTSIDE of the airport – I made the rookie mistake of exchanging all my Euros at the airport and saw a much higher rate almost immediately once I left the airport.
· Be aware of sim card scams – check the official prices online before buying a sim card. I also heard that sometimes, unofficial retailers can give you an already active sim card which will run out of credit much earlier than it should ~ it's exactly what happened to me in Vietnam.
That's about all I can think of at the moment 😊
Thanks for reading ~ I hope you found this list useful and that it will help you be just that little bit more prepared for your trip to Bali!