I'm sure you might have heard at some point in your life that Bali is one of those destinations where Australians love to go, especially if they are from Perth. It makes sense because it's cheaper than Perth and flights to Bali are so cheap from Perth. And it's definitely the closest exotic holiday destination for the most isolated city in the world! I have some friends which have been to Bali at least over 10 times and even heard of people from Perth visiting Bali almost 20 times in one year.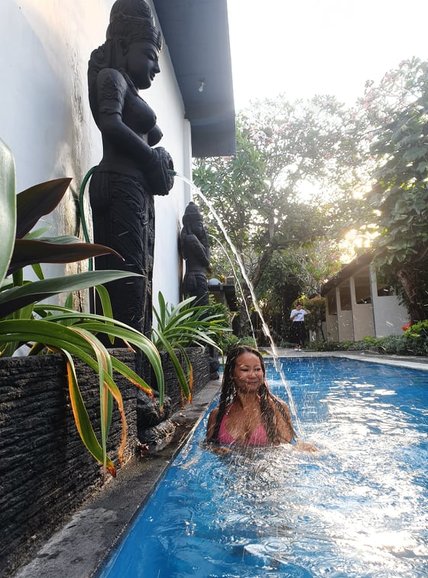 What about me?
I've been to Bali 3 times now ~ including this holiday (I'm currently in Bali)
But I'm not here to talk about how Australians love coming here.
I'm here to talk to you about backpacking on this beautiful island…and how different it is coming here as a backpacker vs. coming here on vacation.
The first two times I came to Bali I came as a tourist who was wide-eyed and with lots of money to spend. Everything seemed so cheap (and arguably was a lot cheaper back then)…especially coming from Australia ~ a land where a pint of beer costs around USD$7 and even the most unskilled people can live a luxurious life. Let's just say I was pretty naive in the world of travel. I'd only visited a few countries by the time I visited Bali the second time (China, Singapore, Japan and Malaysia ~ for family holidays).
But this time? I've returned as a backpacker…with just that little bit more experience as a backpacker and wisdom.
I've walked through the crazy streets of India where you cross paths with countless cows, goats and beggars. I've gone on many tuk tuk rides in Thailand, caught one-too-many Grab bikes in the sleepless and bumpy roads of Vietnam, slept on extremely long and uncomfortable Flixbus rides through Europe, slept on floors of Couchsurfing hosts' places, spent too much time in hostels in South America, lazing around and cooking to save money. I've hopped onto countless metro trains and Uber rides throughout the world. How could I forget all the Blablacar rides I caught between different cities. Heck, I've even hitch-hiked my way around different parts of the globe, "stolen" leftover food from other tour groups in Uyuni and worked in a few farms.
I could keep going but I'm sure you get the picture by now ~ since I started backpacking, I've done (almost) everything in my power at one point or another to keep my costs down (so many stories right!?)
After looking at everything I've done, it's unsurprising that I've come back to Bali with a new set of eyes…a cheaper, stingier set of eyes (that's just being a backpacker lol).
Coming back to Bali after all these years with this new mindset has been interesting to say the least…
I couldn't help but reflect on how I felt after staying here for a few days ~ it's so strange because I've fell into a mini culture-shock, even though I've already been here twice.
So what's it like to be in Bali today as a backpacker?
---
In short – when you compare a trip here to places like Europe or Istanbul in Turkey, it's a cheap destination. But Bali is not that backpacker friendly when you are comparing it to other South East Asian countries. It's extremely touristic, expensive and difficult to get around (for cheap). Bali isn't particularly the smallest island either so getting to and from places isn't the easiest unless you hire a scooter or a driver (which also isn't that cheap if you're on a tight budget). If you don't look hard enough or don't have good local recommendations, be prepared to potentially pay a decent amount of money for almost everything.
The break-down: why Bali is not the ideal backpacking destination for a budget traveler
---
Food – although food can be as cheap as 10k Rupiahs (approx USD 70 cents) if you look hard enough, it's very easy to fall into the countless tourist trap restaurants in Bali. And if the not-so-cheap prices isn't already a shock, most places will charge you a service fee of minimum 5% + 10% tax. I'll give you two examples ~ My friend and I ate at a 'fancy' Indian restaurant in Nusa Dua which I found more expensive than some Indian restaurants in Australia. We paid about 280k for 2 chai teas, one curry and one garlic naan (USD$20). Last night, a friend and I went to a beach-side bar for a beer and they wanted us to pay 95k for one 750ml Bintang (approx USD$7 – 70k + 21% service charge + tax).
Beer and cocktails – if you like to drink from time to time or have a binge-drinking session, note that Bali isn't cheap for beer by world standards. One small local beer is roughly 35-40k in bars and restaurants (approx USD$2.49-$3 + service charge and tax). This is more expensive than beers in Germany and Portugal. And from memory, cocktails are usually around a minimum of 100k (approx USD$7 + service charge and tax).
Hotels/hostels – After looking at hostel prices, it seems like this may be the only thing which is reasonably priced in comparison to other South East Asian counterparts. You can book hostels for as cheap as USD$2 per night in Ubud with breakfast. Based on booking.com, it seems like the cheapest private room in Ubud is about USD$8, which isn't too bad.
Transport – after ordering many Gojeks (Indonesia's best 'driver' Application) I can safely say that transport in Bali is also quite expensive to it's neighboring Asian countries. The cheapest way to get around is Gojek or Grab bike (not Gojek or Grab CAR). But even for a journey of about 10km, expect to pay around USD$1. For a sunrise volcano trek, we got mates-rates and paid about USD$46 for a driver for 10 hours.
Hiring scooters – unless you have an international license or look like a local, be prepared to potentially pay 100-200k in bribes.
Thinking of walking around instead? Sadly it's not fun to walk around Bali either. You basically don't have a choice but to walk next to the main road which is filled with unpleasant traffic and run down buildings. Normally I like to walk A LOT (about 15-25km per day) but I can't do it much in Bali because it's not enjoyable to walk. Also, if you're not in central areas like we were, be prepared to walk at least 45 minutes to 3 hours just to get to one site.
Sightseeing -be prepared to pay exorbitant fees. My friend and I wanted to go to a cultural park and then we discovered the entrance fee was 100k (approx USD$7). And just to enter into some beaches, I've had to pay about 15k (approx USD$1). To do the volcano hike, we were "required" to hire a guide and pay an entrance fee. Even the monkey-jungle in Ubud is about 80k (approx USD$7) and don't forget the famous insta-worthy swing in Bali which also costs about USD$7 for just a few seconds (pretty expensive picture don't you think?). Lastly, I was going to check out this abandoned theme park which also requires an entry fee of 10k (approx US 60 cents) just to see something which has been abandoned.
The moral of the story? Everything costs money in Bali…and it's not that cheap by backpacking standards…it's not easy to get around either!
The bottom line – my verdict
---
I don't think Bali is backpacker friendly unless you have the mindset of comparing the prices to rich, developed country prices like many places in Europe. If you want a really cheap South East Asian destination, I don't think Bali is the right place to visit and would recommend countries like India, Nepal, Vietnam or Thailand. It might even be better to go into mainland Java Indonesia instead…but I don't have any experience there so I can't give any accurate information.
Thanks for reading this ~ I hope you found it useful and have a wonderful day!