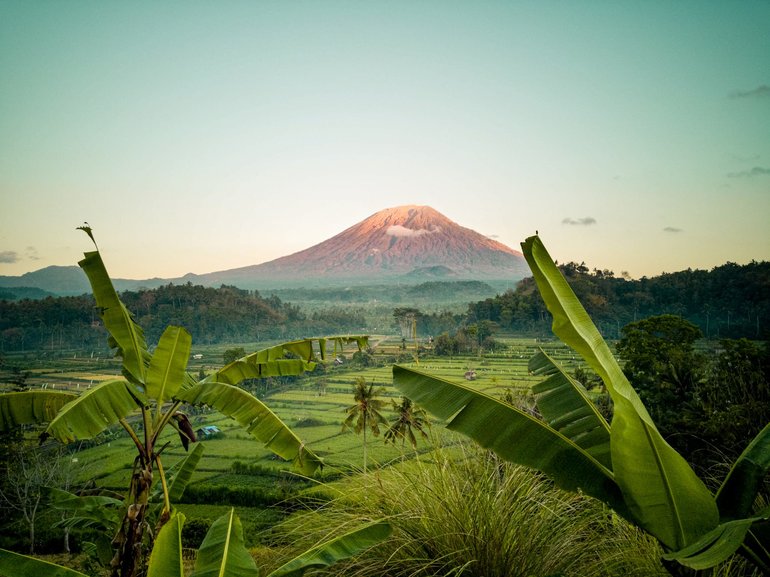 Bali the towering volcano of Agung
After 6 months travelling around South East Asia, we finally decided to take a flight over to Indonesia's most popular island, Bali.
One thing which kept coming to mind was, "but is Bali expensive". We didn't have the budget many Bali holidaymakers have, we had a backpacker budget.
We reached Nguruh Rai international airport late at night and set out to find a taxi. First offer 250k IDR each. At this point we were like "woah, that is really expensive" 18 USD for a 2 km trip in a shared van is expensive. We eventually got a Grab, which was still expensive at 6 USD for a 5 minute ride.
Fast forward a few days and increasingly getting to know the prices. Everything got cheaper, some things were so cheap we couldn't really believe.
We would get up super early to go out for our activities, and by 5:30 we'd be on the road. All attractions in Bali get hoards of tourists so this was the only way to go about it.
But we would end up skipping breakfast as we would be out so early and everywhere was closed. This is were we decided to grab a packed meal from one of the early morning street vendors.
Price? For less than 2 USD we would get 2 small meals and 2 coffees. Now that is really cheap and was something we didn't expect. Also we would have lunch at a masakan padang warung. Ready cooked food served with rice and a choice of tempeh, tofu, chicken, beef…. Etc. Cost would be around 1.50 USD each.
In the end we managed to travel all around Bali, Nusa Penida, Gili Air & Meno, Lombok and also went on a 4 day trip and visited, Komodo, Rinca, Padar and Flores. Along this trip got a chance, for the first time, to see the mesmerising pink beaches and the poisonous Komodo dragons.
Average daily cost came down to just 30 USD each, per day. We didn't stay back from anything. We would eat at least 1 meal per day at western restaurant, most times including a beer or two. Other meals would be at local warungs. Would go out for a drink every now and then. Paid attractions, waterfalls, fire dance, temples. Cost also includes a 4 day boat trip and flights from Flores to Bali.
What helped keep our cost down was thanks to our scooter. We rarely used a taxi and used the scooter to get to Lombok and Nusa Penida.
Considering we only spent 400 USD on all travel costs, this was one of our cheapest trips so far.
Hope this can be of any help for those visiting Bali.