Ah, Porto. The birthplace of the Port wine, friendly inhabitants and a charming city centre. What's not to like about it, you might wonder. I went on a two-day trip to Porto and Guimarães from Lisbon, to escape the hassle of busy Lisbon. In Porto, a whole different atmosphere rules: one that invites you to stroll around the town, relax, grab a glass of wine produced in the Douro region, and watch the sunset at one of the many bridges sights.
Welcome to another Triple Travel Guide, curious travelers. This travel guide features the hiddens gems to visit, taste and stay at in another marvellous city. Scroll down to see my pocket-sized travel guide of Porto.
What to visit
---
Mercado Ferreira Borges
Let's start off with my very favorite location in Porto. The Market of Ferreira Borges. Grab a coffee, pick out a nice spot on the terrace, and admire this beautiful view over downtown Porto and the river behind it. I stayed up here, writing, reminiscing, and enjoying the view. This is that special place for – in every city, I find myself falling in love with a certain location. If you recognize this, I would love to hear your experiences.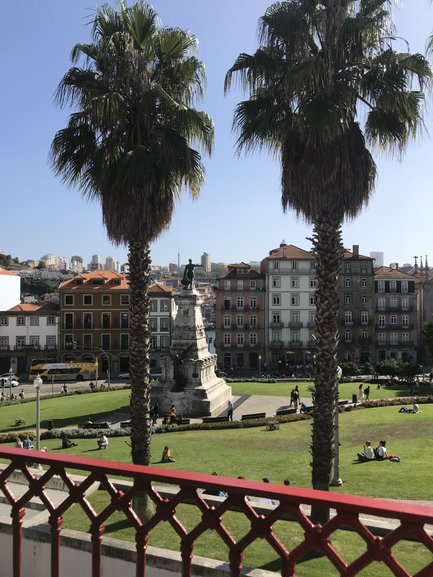 Mercado Ferreira Borges
Torre & Igreja dos Clérigos
I visited a lot of churches in a lot of cities, countries and continents. But this church had me staring at the interior for a while, speechless – with its dusty pink walls and impressive golden details, I could sit in this piece of heaven all day. You can visit this church completely for free – you only pay in case you want to visit the tower or other parts of the church. Official website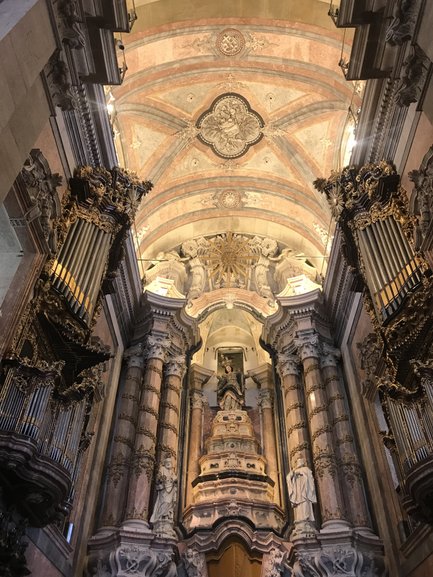 Igreja dos Clérigos
Jardins do Palácio de Cristal
Get completely lost in this giant mosaique of nature – it's a collection small gardens, all put together in a big park, where peacocks run around together with pigeons, like they are of the same species. These gardens are perfect for romantic dates, family walks, or just – like I did- running around and finding beautiful viewpoints after every tree. Since it's uphill, you find yourself admiring many different viewpoints – over the river, over town, over the lower gardens, and many more.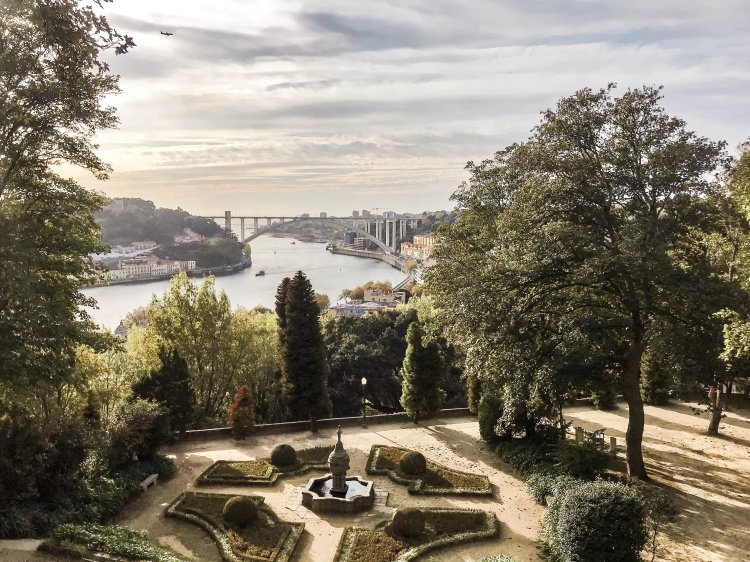 Jardins do Palácio de Cristal
What to taste
---
Don't worry, fellow foodies, of course I have some juicy stories and dishes for you as well. I even have three of them.
Mercador Cafe
Mercador Cafe is located in the most flowery and gorgeous street in Porto – rua das Flores. It's true to its name: a street filled with flowery balcons, beautiful buildings and regional restaurants. Mercador Cafe is my favorite. Make sure to get a seat on the terrace and order one of the many, healthy dishes – I had the rainbow smoothie bowl and although I was craving some eggs with bacon and pancakes, this smoothie bowl fulfilled me and my cravings – and that is a tough job to do.
Mirajazz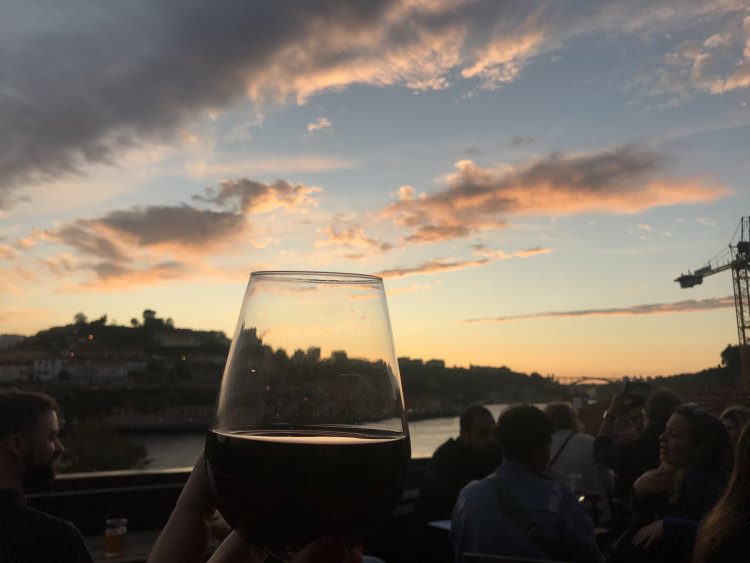 Mirajazz
This winebar also offers – like the name suggests it – a mira (a look) and jazz. And a tasty selection of regional wines and products. Visit it before sunset to get a table on the terrace and enjoy the colours in the sky changing subtly and wait for the night to fall. Do you need any other reason to go?
O Diplomata
O diplomata is a true paradise for brunch lovers – here, you will find a fine selection of delicious pancakes, pancakes and more pancakes. You can choose between four menus and combine them with your favourite sweets.
Where to stay at
---
Gallery Hostel €
This artistic hostel was my choice of accommodation – a perfect mix between the social aspect of a hostel and the comfort and rest of a hotel. Also, this hostel is a piece of art – literally. Rooms with themes of different artists, a gallery-inspired design and outdoor-and indoor patios, 24-h bar, free cake and a drink during the day, and lovely staff. The price might be €, but the quality sure is €€€.
Gallery Hostel
The Intercontinental Porto €€
The iconic InterContinental Porto is one of a kind; it's a palace, literally. Its location (right in the centre, next to the station Sao Bento) and luxury are everything you need for a relaxing stay in Porto. The breathtaking restored interior will leave you feeling like a king in their palace.
The PortoBar Hotel Teatro €€€
This charming and elite hotel is inspired by the art of theater, and staying in this hotel makes you feel like you're on your own stage: of refined relaxation and luxury. My room was spacious, styled with dark, warm modern tones – this style is noticeable from the main entrance, that immediately shows you how unique this bohemian hotel is. The breakfast is also worth the try, so even if you're not a guest, worth checking out.