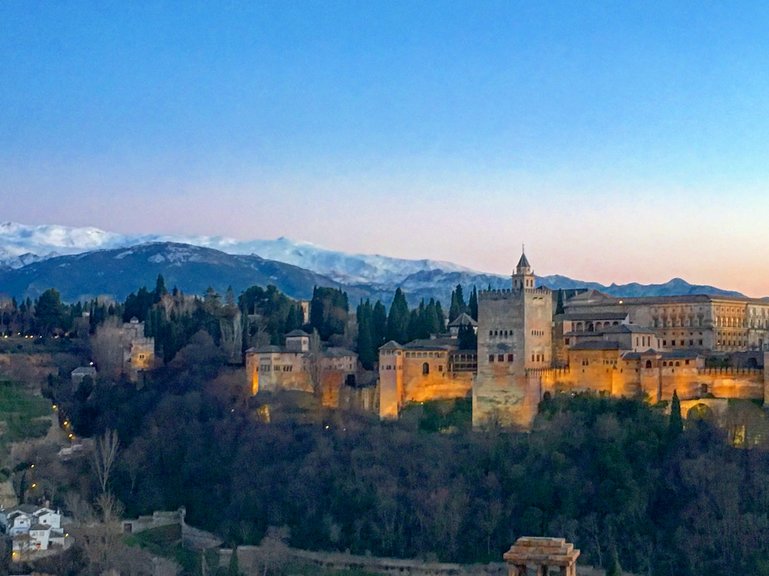 Granada, Spain - the Alhambra (photo by me)
Nearly every day I see the same question pop up on the travel forums I belong to: "I am traveling in Spain for two weeks. Where should I go?" The most common misconception seems to be that Spain is a small country and that it is possible to see *everything* in two weeks. Unless you are only looking to see bus and train stations, it is important to pare it down. Traveling around the country takes a while, and can easily eat up a whole day (half day at the best). With two weeks, a solid Spain itinerary should not include more than three cities, four maximum. Many of Spain's cities also afford some wonderful opportunities for day trips, but that means you need more time in one place.
One of my Spaniard friends described me as "Spain's biggest fan since Hemmingway."
As such, to answer the question simply, I am happy to share my recommended two weeks in Spain itinerary based on coming during a milder time of the year (Spring or Fall), and under the assumption that you will not have a car and will be using public transportation to get around. It is also based on flying into Madrid and out of Barcelona, Spain's two main international/transoceanic airports. This itinerary will provide the first time traveler to Spain with a broad overview of the country by visiting four very special cities.
While the itinerary looks fairly basic, I have plenty of secret tips and tricks exclusively for my clients to help spice it up. Furthermore, living in Spain and having traveled all over the country, both on and off the beaten path, I can ensure that your trip to Spain is unique, customized just for you, and fits your budget.
Day one: Arrive in Madrid just in time for a drink on one of Madrid's terrace cafes. Walk around the city center for a few hours, fighting the urge to take a nap (get over that jet lag quickly!).
Day two: Madrid. Visit one of Madrid's world-class museums. To get the most out of your museum visit(s), book a tour of the Prado and/or Museo Reina Sofía with Drica.
Day three: Madrid. Dig deeper into Madrid and explore some of Madrid's diverse, beautiful, and vibrant neighborhoods.
Day four: Madrid. Take advantage of Madrid's central location and pick a day trip to get outside of the city.
Day five: Madrid to Sevilla by high-speed AVE train, arrive into Sevilla in time to catch the sunset on top of the Metropol Parasol.
Day six: Sevilla. Go to Sevilla's major sites: the Alcazar and the Cathedral (Spain's largest)
Day seven: Sevilla. Rent a bike and explore the city on two wheels, including the neighborhood of Triana, on the other side of the river.
Day eight: Sevilla to Granada by bus. Eat the best tapas in Spain (and still free with a drink) on a tapas tour with Irene, a Granada local.
Day nine: Granada. Spend a full day at the Alhambra (pictured above) Be absolutely certain to buy your tickets well in ahead of time, they can sell out months in advance and you do not want to miss this gem.
Day ten: Granada. Get lost in the old Moorish neighborhood, the Albaicín.
Day eleven: Granada to Barcelona by flight. After you've dropped your bags at your Airbnb/hotel/guesthouse/hostel, wander around Barrio Gótico and El Raval.
Day twelve: Visit Antoni Gaudí's uncompleted masterpiece, La Sagrada Família (make sure to buy your tickets in advance).
Day thirteen: Soak up some of Spain's famous Mediterranean sunshine, on the beach in Sitges, just a short train ride from the city.
Day fourteen: Depart from Barcelona