Due to Iran's four-season climate, it has a lot of potential for tourism. Skiing on fresh powdery snow in a professional ski resort and relaxing on sunny beaches by the Persian Gulf in south Iran are two winter activities that can be enjoyed in one day! This year, Qatar will host the World Cup tournament, a thrilling world gathering after the pandemic. This means lots of excitement and fun, and it is a good idea to visit Iran, an amazing travel destination right next to Qatar, and participants of the World Cup will be allowed to travel for 20 days visa free.
Aside from the fact that Iran has numerous cultural and historical attractions, this country is also a superb destination for a variety of sports and adventurous activities, such as sea sports, mountain climbing, and even skiing. You can ski in Iran, yes.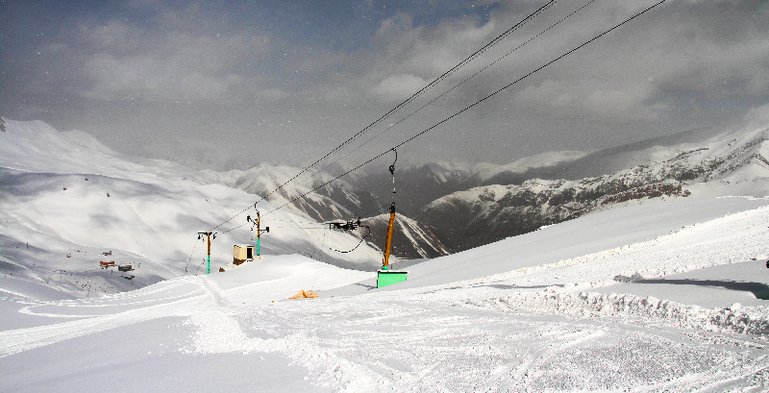 Dizin Ski Resort - Iran
An overview of ski resorts in Iran
---
There are many different climates and geographies in Iran, a country with a vast area. The climate varies from dry and semi-arid to mild and humid in some regions. Several professional ski resorts have developed in Iran thanks to the Alburz and Zagros mountain ranges, which are covered in snow most of the year. These resorts include Shemshak, Tochal, Dizin, Alvares, PooladKaf, etc.
Dizin Ski Resort: The most famous skiing resort in the country
---
The most famous ski resort in Iran and one of the best natural resorts in the middle east is Dizin Ski Resort, which is located in the north of Tehran at the foothills of Alburz Mountain Range. A total of twenty-three ski runs are available in this resort (totaling 7.5 kilometers), with altitudes ranging from 3600 meters to 2650 meters above sea level. In addition to its professional ski atmosphere, fresh fluffy snow for over five months of the year, and affordable prices, Dizin Ski Resort is one of the best ski resorts in neighbouring countries. There are almost half the prices of European resorts here, so this is an additional fun and exciting experience following the Qatar World Cup 2022.
Suggested itinerary for the Dizin Ski Tour after the Qatar World Cup in 2022
---
Flying from Doha to Tehran (the capital of Iran)
Doing a Tehran city tour
Driving from Tehran to Dizin (71 km)
Skiing and snow-boarding and staying at hotels or chalets
Driving back to Tehran your flight back home