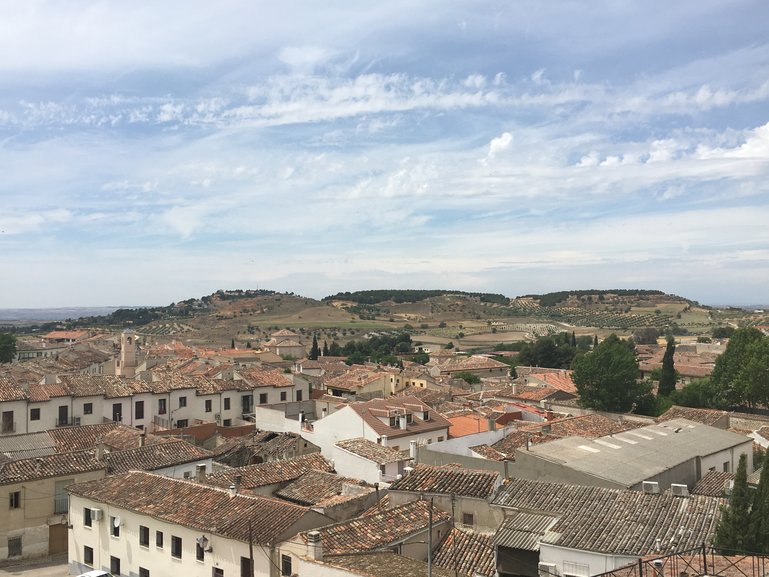 Chinchon
Let's face it, Madrid is wonderful. You can spend a lifetime in Spain's capital city and still discover something new almost every day. But sometimes a day out of the hectic metropolis is just what the soul needs. Luckily, being right smack in the center of the country, it is easy to get to other parts of Spain from Madrid. Numerous buses and rail lines (both commuter and high speed) link the capital with some very different regions. Thanks to its advantageous geography, many of these places are just an hour or two away from Madrid, creating several opportunities for the perfect day trip. There is a multitude of options, but here are my personal five favorite Madrid day trips:
1. Chinchón
---
The main draw here is a very unique circular Plaza Mayor, decked out in green. There is also a lovely Parador that is worth a look. But my favorite Chinchón activity is going for a hike. There are a few trails that start from the center of town and take you up to where there are miradores aplenty. If you go in the spring, you have a good chance of seeing the red poppies in bloom. Pick up a free trail guide at the visitors' center and then immerse yourself in rural Spain. Although you are just 45 minutes from Madrid, you will get a taste of the true Spanish countryside, complete with olive trees stitched out across the plains. No matter which route you pick, the vistas are amazing. Getting to Chinchón: Take Bus 337 from Madrid's Conde de Casal bus interchange (Metro line 6). The scenic ride through the countryside takes about 45 minutes.
2. Cuenca
---
Cuenca is one of those towns that is just on the cusp of becoming more on the beaten path. Spain travel aficionados know and love it, but up until recently, it has seen few visitors from abroad. There is so much to love about Cuenca. If you crave stunning nature, hanging houses (yes, really, they hang off the cliff), and colorful architecture, Cuenca is where you need to go for a day. Be sure to cross the river, take in the views and visit the Parador. A converted monastery, the Cuenca Parador is my favorite in Spain other than the one at the Alhambra in Granada. Getting to Cuenca: The highspeed AVE train zips you from Madrid's Atocha Station (Metro line 1) to Cuenca in under an hour, continuing on to Valencia or Alicante. Book roundtrip tickets well in advance for the best fares.
3. Segovia
---
Segovia is the defacto day trip from Madrid after Toledo (see below). And with good reason. Not only can you visit the ancient (and massive) aqueduct that makes the city so famous, but there is also an Alcázar (that some say inspired Disney's Cinderella's Castle), an interesting cathedral, and a nice old city where all of the streets lead to, you guessed it, Plaza Mayor. Lovers of the pork should make sure to enjoy the region's local specialty for lunch, cochinillo, suckling baby pig so tender that it can be cut with a plate. Definitely not vegetarian-friendly, but my meat eating friends rave about this one. Getting to Segovia: You have options based on price. Direct buses leave from Madrid's Moncloa interchange (Metro lines 3 and 6), getting to Segovia in a little over an hour. There is an express train from Chamartín (Metro lines 1 and 10), which takes about 45 minutes. And finally, for a true adventure take the Cercanías (regional train) from a number of stations in Madrid all the way to Segovia; this option is the cheapest and the most time-consuming.
4. Alcalá de Henares
---
If you have always wanted to visit the birthplace of Spanish writer Miguel de Cervantes, you need to get to Alcalá de Henares. There is even Cervantes street art here, yes you read that correctly. Aside from the author's birthplace (which is now a museum), Alcalá de Henares is also home to a large university as well as a historical Jewish quarter. The town's quaint streets are fun to photograph. But be sure to keep your eyes open for the area's most famous residents, the white storks. Getting to Alcalá de Henares: Madrid's commuter train, the Cercanías (line C3), links the town with several metro stops in Madrid including Atocha (Metro line 1) and Nuevos Ministerios (Metro lines 6, 8, and 10) in less than an hour.
5. Consuegra and Campo de Criptana
---
Does your Spanish fantasy include seeing the famous Don Quixote windmills? Then you have to put Consuegra and Campo de Criptana on your list. Both towns offer the molino (windmill) experience. Consuegra's are perched up on a hill, making viewing them at sunset ideal. Whereas Campo de Criptana's are set across on a plain, close to the streets of the town itself. It is easy to visit both on a single day trip from Madrid. Getting to Consuegra and Campo de Criptana: For this one a car is necessary. If you don't have any Madrileño friends with a car, you will need to rent one. Daily rates are usually quite reasonable. I find it's easiest to reserve a car from one of the companies at Atocha station. With easy freeway access, picking it up and dropping it off is a synch, without having to navigate Central Madrid in a car.
I am sure you are asking why Toledo did not make the list.
As a day trip, I believe Toledo is overrated. Throngs of tourists (day trippers) descend on the small city daily, crowding its little streets with selfie sticks and follow the flag packaged tours. Toledo is wonderful indeed, but the magic comes out in Toledo at night, after the bulk of the tourists have left for the day. Therefore I do not recommend Toledo as a day trip from Madrid, but instead, as a place to spend a night or two. Then you can really experience all the city has to offer.