The scootertour in 'The North' was a success and my next destination was Phuket. Why? All exchange students started their 'Thailand-journey' there (except me of course), and I heard some amazing things about the island. Phuket was the destination for the "Sandbox Program". When you arrive here you have to remain inside, until your mandatory PCR-test is negative. When the test is good, you are allowed to travel around the island, but have to remain 2 weeks in Phuket, before you were allowed to travel through the rest of Thailand.
I did not know what to expect, because there were a lot of different opinions about the island. Some people love the place, especially Patong Beach, for partying. Certain people love it because of the beautiful nature. Other people don't like the nightlife and parties. And others seriously hated the place and wished they could leave the place as soon as possible. Others went back several times to have the time of their life.
To be honest, I didn't do that much in Phuket, it was in the period of my final exams and deadlines of some reports. I was lucky enough to meet exchange students which knew exactly were to go, so I had my guide for a week.
The beaches
---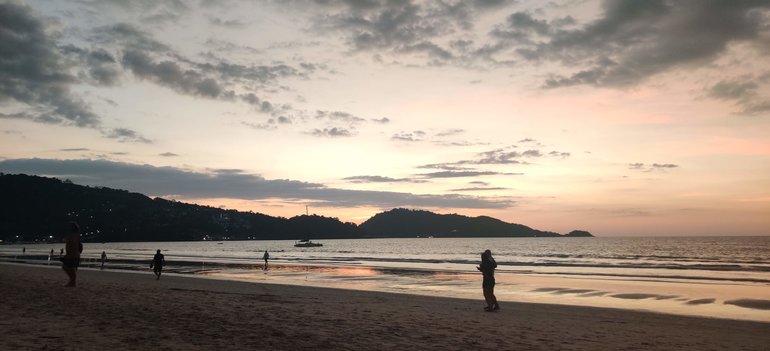 Patong Beach
I went to Freedom Beach on the first day. I worked in the morning and took a break of an hour or 2. But for real, kind of difficult to find this beach. I rented a scooter for a week and it took me 10 minutes to reach the beach. Oh no, to reach the place where I had to park the scooter. It was another 10-minutes' walk to reach the beach. With some wild pigs and roosters on the path and a wet back, I reached the beach. It was a beautiful one, I was happy I decided to go here.
Another famous location in Phuket was Patong Beach. I had my apartment here for a week. Patong beach is the place to party, because Bang La Road is next to this beach. Bang La was a street with many different bars, pubs and food stands. And don't forget the vendors who sell cigarettes and offer a shooting session in the shooting range. Where I expected a lot of international students, was nowhere near that. Of course I met some amazing people here, but it was not what I expected. Bang La Road was covered in a lot of 50 year and older European men. Not what I hoped for…
First scooter-accident, first scooter-fine
---
Oh yea, I also received a fine… We drove to the Big Buddha after we were at the beach for some time. Eh, yes I also relax in Thailand, you wouldn't say so right? We went in this tunnel. I already saw this guy getting pulled over on the other side of the road. I thought, what did he do wrong. He wore a helmet, he wore his mask (which was mandatory on the scooter). Then it was our turn to get pulled over. This police-officer was waiting for scooters coming out of the tunnel, and lucky us. We were driving a scooter in the tunnel. He wanted us to follow him to the office, to fix the documents. He told us that it is not allowed to drive in the tunnel, as it can be seen as a dangerous situation. True.
Then we looked for the sign (don't trust anybody), and it said that scooters and bikes are not allowed in tunnels. Luckily it was the third time I drove through a tunnel. He wanted us to pay 500 bath for driving in the tunnel. We also got fined 500 bath for driving without an international driving license. I bought one before I went to Thailand, but of course, it was in my other bag. Five hundred bath extra for not having an international driver's license. Since that day the license has always been in the bag I take everywhere.
Big Buddha
---
One of the major sightseeing attractions was the Phraphutthamingmongkhol-akenagakhiri Buddha. English name: "*Happiness on Top of Nagakerd Mountain*". The giant statue, which looks over whole Phuket is 25 meter wide and 45 meter high. We thought it would be a 30 minutes scooter ride, but we didn't realize we had to drive all the way to the other side of the mountain to reach the entrance. When we arrived there in the afternoon, and as known in Thailand, it was the hottest moment of the day.
We had to walk up 100 stairs, and were sweating like crazy when we arrived there. But the view was all worth it. You can walk around the Buddha, so you have a 360-view of Phuket. Go here when the weather is good, would be sad to arrive there when its raining and cloudy, no? You can do the Big Buddha visit, combined with a tour. We decided to skip this tour-option, but it is definitely one you can consider. I have some friends which did this tour, and they absolutely loved it.
Blackrock Viewpoint
---
This viewpoint was the one that everyone was talking about. Since I only had 2 more days left, I really had to go here. I extended my rented scooter so I could go here. It was by far, the most beautiful viewpoint I've ever seen. And trust me, I have seen some beautiful viewpoints along the way. But it was very difficult to reach this place. When we arrived at the parking lot where we had to get off the road. The Thai people there told us that we cannot continue this road with the scooter and offered a ride with their car. Of course, they wanted money for that. I got information from a friend a few days earlier, so I called him. He told me to drive past this parking lot, up the hill. *"Continue driving until you can't anymore*".
So we started driving a pretty steep hill. I love these off-road rides as did my scooter. It gives me adrenaline. Until I realized I'm not the only one here and my friend had someone on her back. Ups.
We arrived at road where you could go downhill to Nui Beach. But we had to go to the left. The road went a little bit up in the beginning, but was impossible to ride 20 meters further. Even for me. So I turned around and we parked the scooters. Continued the hike by foot. It was around a kilometer and be sure to bring enough water and some food for a few hours. You do not want to leave this viewpoint, ever.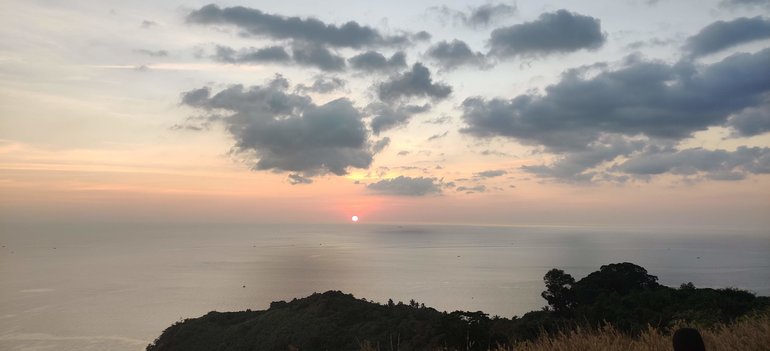 Blackrock Viewpoint
We were, with a father and his daughter, the only ones at the viewpoint. That was the beautiful thing about it. Just us, sitting on the rock (which wasn't even black), looking at the sunset and the never ending view, with some birds singing in the background. We never wanted to leave this place. But sadly, there is this thing called darkness, when the sun is not there anymore. And we had quite a hike back, so we left when we didn't want to leave. But the Blackrock Viewpoint: a must do in Phuket.