You just read the name of Nainital. *What image appeared in your mind ? I can definitely say - "*a beautiful scenery of mountains covered with snow and beautiful emerald lakes ". But it's much more beautiful place than you can imagine.
When I reached Nainital it was nearly about 9 pm and cold breezes were blowing hard. It was blowing from an easterly direction. The condition here was like I have to do competition with that cold breezes because I was walking opposite to it with my luggage which seems to me like a punching bag as I was slim like a matchstick. In a hurry, I checked in a hotel without investigating anything because downpour started. I took my dinner and slept as early as possible because at the end of that night it was the day to explore.
If you are planning to visit Nainital and doing research homework about your trip then you are at the right place. Keep reading!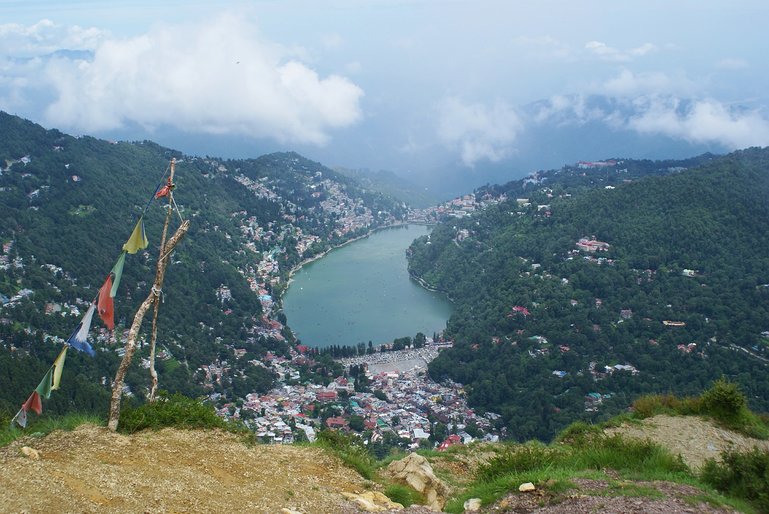 Places that make Nainital, a real gem are described below :
1. Tiffin top - view the sunrise
---
Of the many things to see in Nainital, viewing sunrise from Tiffin Top is must. As per my suggestion your day should start here. Himalayan range will never look this much beautiful to you. This place is also wonderful for trekking. You can also enjoy a horse ride to go there. Please make sure you have trekking shoes with you because I was not able to enjoy the trekking part there.
2. Naini Lake - enjoy boating
---
This is the place for what it is called : " the city of lakes ". Here, you can take the tour of the scenic lakes and can also spent your peaceful time boating in them. Boat prices depends on the time you want to ride. If you ever make a plan to visit Nainital, boating is the must part you need to do.
3. Tibetan Market
---
One of the top preferred markets in Nainital for shopping purpose. In this market you can buy antiques, Tibetan bags, junk accessories, wollen mufflers, ethnic dresses and stylish watches.
According to the fact, women love shopping so if you are travelling with your family this place will be the most loved place for the ladies in your family.
4. Hanuman Garhi
---
By visiting this temple you can experience the divinity of this place. And special thing of this place is you can't miss the most romantic and enchanting sunset. Reach the place before 4 Pm to view the most beautiful sunset.
5. Nainital Ropeway - Bird's eye view
---
The ropeway takes you to small peaks in Nainital and also gives you a bird's eye view of the hill station. It should definitely be given a shot if you love high rise views. The cable car runs from Mallital to Snow View, passing through hills and enchanting beauty of Naini Lake. The price cost for cable car is INR 300 per person. Avoid this one, if you are afraid of heights.
6. Cheena Peak - for splendid views
---
The city of Nainital seems truly splendid from the top of this mountain. If this view does not inspire you to get the cameras out, I do not know what will. The highest point in Nainital, Cheena Peak is a famous trekking point. This leads to the way of many enjoying spots.
7. Mall Road
---
Collecting candles of various forms, shapes and sizes is one of the best things to do in Nainital. The locals make amazing candles here – designs and patterns that you have never seen. Don't forget to buy some and include them in your home decor.
8. Naina Devi Temple
---
Soak in the divinity by visiting the Naina Devi Temple. Spend some quiet time here, you will surely come back refreshed. The Naina Devi Temple is dedicated to goddess Naina Devi, who is believed to govern the Naini Lake.
The best compliment people can give me about these tips and experience shared that it inspired them to travel, entertained them and made them laugh.