When I went to Brazil earlier this year, I really didn't expect much culinary variety as a vegan. I thought it'd be mostly rice and beans (which I wouldn't have hated, to be honest) and a lot of trying to modify dishes, while excluding half of the plate contents.
To be fair, in a lot of 'normal' restaurants this was the case - vegetarianism is mostly understood, veganism not so much.
In times like this, I'm soo grateful for the app "Happy Cow", which shows restaurants that offer vegan options all over the world.
With Happy Cow we managed to eat like queens in Rio (and other parts of Brazil as well).
In this post I'll show you my 5 favourite places - get ready to get hungry...
1) Vegana Chacara
---
This place is the definition of serenity. Hidden away at the end of a narrow street in Botafogo, owned by a lovely Brazilian couple, and only open for lunch. Seated in this lush house garden, we were able to choose between two dishes, with the option for a starter and a dessert. They also serve juices and smoothies. Everything is organic and a lot of it grown in that very garden!
The owner didn't speak much English and there isn't a menu per se, but he showed us on their Instagram page what was on offer that day.
Between the four of us, I think we tried pretty much everything they had; the smoothies, starter soup and salad, main dishes and different desserts, and honestly everything was delicious!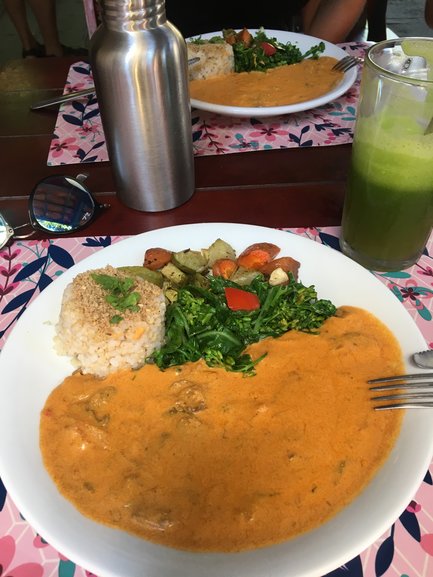 the Mushroom Stroganoff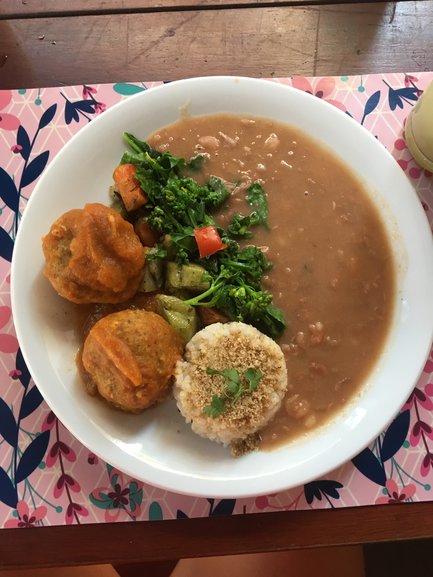 The Feijoada
Even though the order cards have prices stated on them (which weren't high at all, considering what we got) the paying system is solely based on trust. There is a box in the house, in which you pay the value you place on your meal. They also sell a cookbook, written by the wife, with recipes for all the dishes they're serving and more.
All in all, a really lovely experience, from staff, to food, to ambiance and if I ever get back to Rio, I'd definitely have lunch there again!
2) Teva Vegetal
---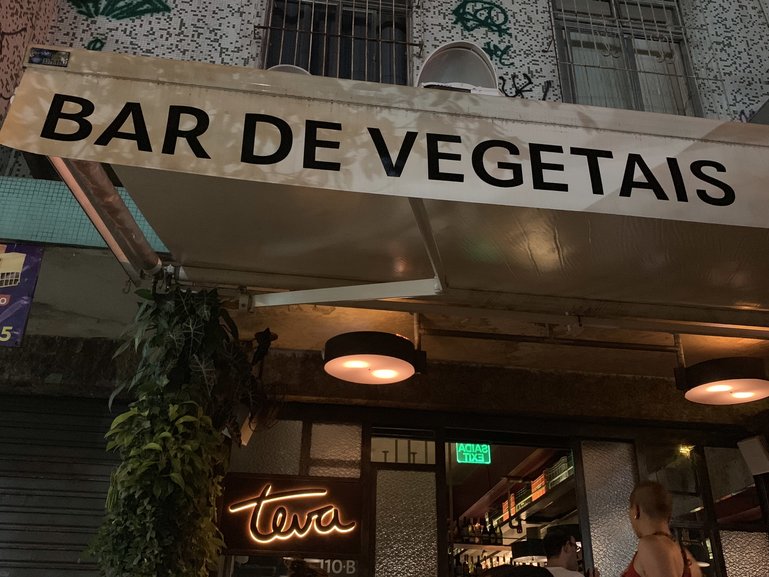 Teva is a really cool, modern and upscale vegan restaurant, located in the heart of Ipanema. We thought it had quite a European flair to it, and after speaking to the head chef, who came over to our table to chat, and who had been getting inspiration for the menu from his travels to USA, Israel, Paris and many other places, it all made perfect sense to us.
When we got there, it was really busy with no spare tables, but they quickly accommodated us, by setting up some more tables outside.
The menu changes frequently and is a mix of Brazilian and International dishes, with small tapas-like portions, so perfect for sharing!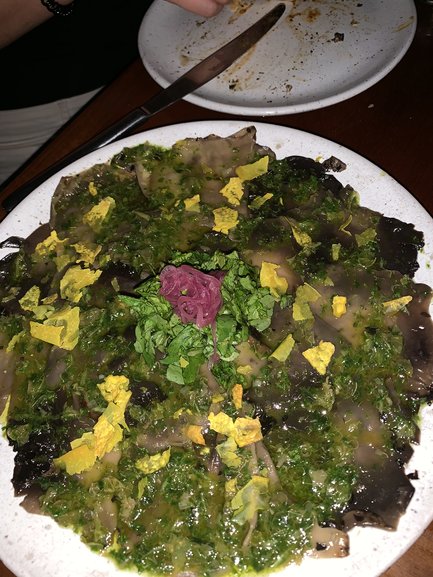 Their Mushroom Carpacchio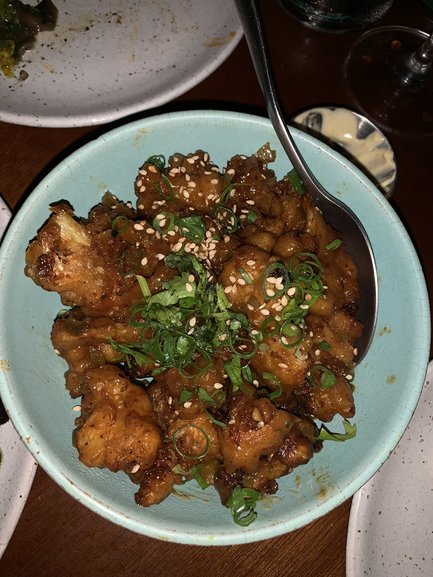 Crispy Cauliflower Wings
The cocktails were amazing (we really appreciated having some sort of variety from the usual Caipirinha order), and definitely save some space for dessert !
Given the location and the concept, the prices here were a bit higher, but it's 100% worth it!
3) Vegano do Centro
---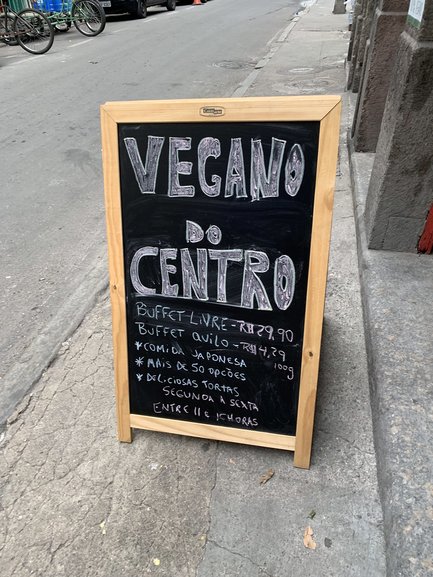 Cheap and cheerful is what describes this place best. Located in Centro and offering two options - either all-you-can-eat or pay-by-weight.
Since we were hungover from the night before, we naturally went for the all-you-can-eat.
The selection was really varied, ranging from salads, steamed/fried/cooked vegetables to meat substitutes, like Seitan or tofu, to sushi and other East-Asian dishes.
I didn't take any pictures inside, but check out their Instagram to get a feel of the place.
I'd say this place was the best value for money; and if you find yourself in Centro, or particularly hungry, go check them out.
4) Toca do Lobo
---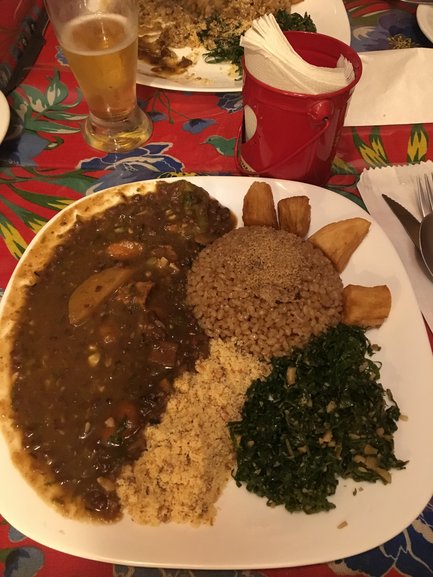 Their take on the traditional Feijoada
Toca do Lobo has the same concept as Vegana Chacara with 2 dishes per day (which apparently is quite widespread in Brazil and even other countries).
Located in São Cristóvão and really close to the National Museum of Brazil, this place was relatively small, but with really lovely staff and delicious food. We tried both dishes they had on offer that day and they were both great. They even had Kombucha on their menu, which currently is my go-to drink, so I was really happy about that.
They also deliver, so if you're near that area and too lazy to leave your Airbnb or hotel, you can have your food brought to you; have a look at the link in their Instagram bio.
5) Lapamaki
---
There's a few branches of this Sushi restaurant, we went to the one in Ipanema. It's probably best to either arrive early, not too hungry or make a reservation, because we waited quite a while for a table, and could see people continue queuing even long after 'rush hour'.
Lapamaki is not a vegan restaurant, but offers both vegetarian and vegan options. We could choose between all-you-can-eat and a vegan platter; this time we went for the latter.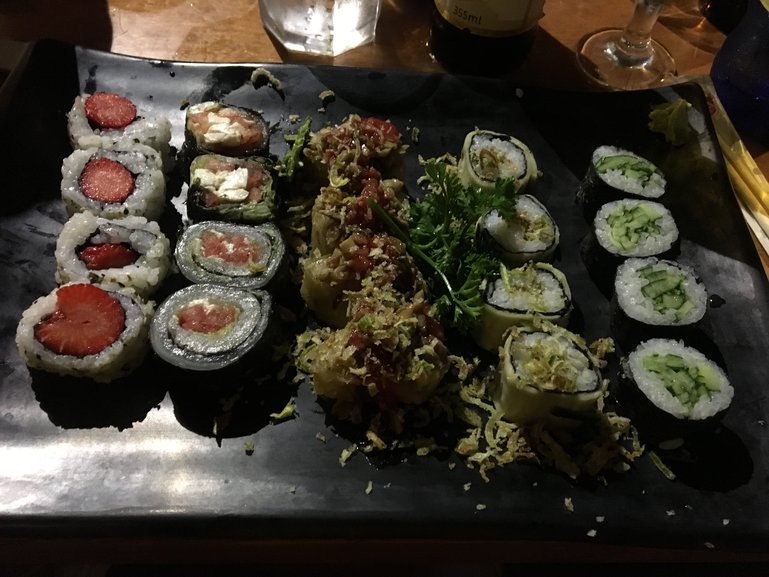 It was delicious; I don't have sushi very often, but as far as I know, this was on-point. There is a huge Japanese community in Rio, which is why some people argue it's the best place after Japan to get sushi. I'd probably go for the all-you-can-eat option next time, just to have a bit more variety, but I still really enjoyed the platter (mostly anyway - I wasn't a fan of that berry sushi there on the left, but that's just me, I don't really like sweet-savoury mixes).
Perfect for a nice dinner, with the potential to go out after in buzzing Ipanema!
That's it; there were so many more options on the app, so should you go to Rio, there's definitely a wide selection of restaurants to choose from, but these ones were our favourites.
Bom proveito e boa viagem :)