When it comes to quaint EU villages, Lofer will more than suffice, although the growth of the ski resort has radically charged the place since the 1980s. Lofer is just off the main road. Cars are not allowed in town. There is a parking lot at both ends of Lofer's main street. On one side of the town square, there is ski lift and the once rustic Hotel Post (good restaurant). On one side of the town square, there is the local church and a B&B whose restaurant serves outstanding sauerkraut. On one side of the town square, there are shops, shops where we found the best buys we ever found in the EU, with the possible exception of Boxing Day sales in London. She got a Geiger loden jacket for $65. Back home, we saw its twin in a big city store window for $385. But, do not go to Lofer for the town square. Walking two old streets of remarkable quaintness is what makes Lofer one of our favorite spots in the EU. The main street, which connects the two parking lots and terminates in the town square is a delight. Further away from the main highway bypassing Lofer and parallel to the Main Street is a street/sidewalk/path along the river, again quaint and very scenic.
I'm not sure how many times we have been to Lofer, but enough to have collected 4-5 loden coats at the town square shops and to have eaten dinner at there different restaurants (best: The Bear, which now seems to be out of business), but when we go, and we go out of our way to go to Lofer, we always stroll the Main Street and the river path.
Lofer is also a small ski resort. A ride up the cable car in the summer opens up good Alpine vistas.
A good weather visit is recommended because Lofer has a spectacular setting in a narrow Alpine valley. Lofer has never been crowded with tourists on any of our visits, which, if that is still the case, makes it undisclosed gem.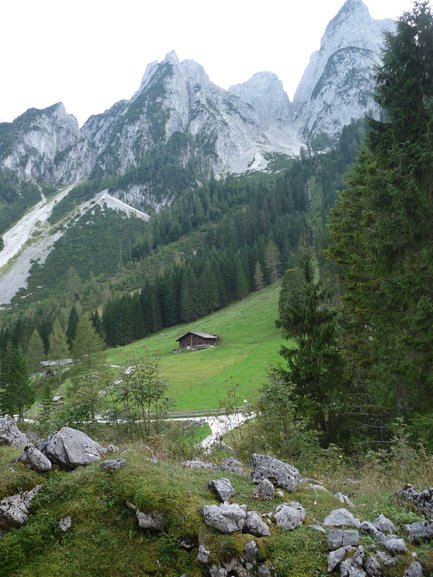 Austrian Alps