Self-guided travel programs offer a middle ground between the fully independent travel (FIT) experience and the group, inclusive tour (GIT).
When you travel self-guided, you get all the ingredients you need to succeed, yet not at the expense of your overall independence abroad. Learn more about self-guided travel's many benefits below.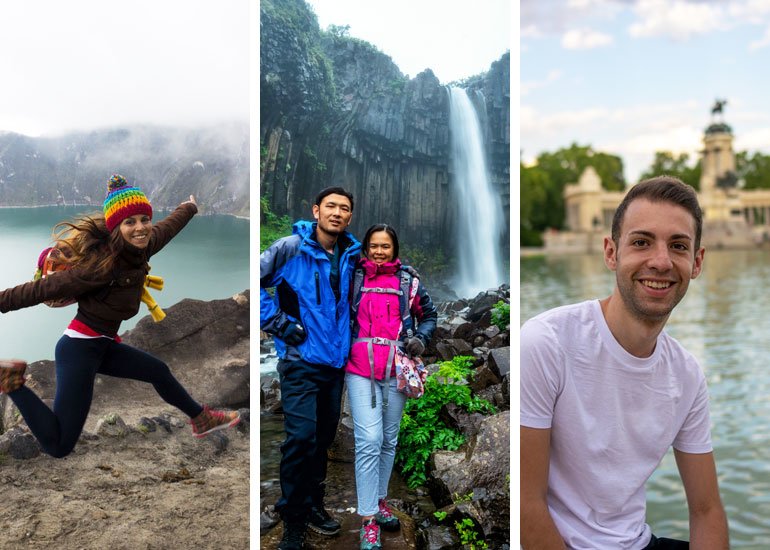 👉 Increased Freedom & Flexibility
By design, self-guided travel puts you in the driver's seat. Do you have a specific time frame for your trip? Group tours usually have set departure dates and lengths, but self-guided travel lets you choose your dates and duration. Do you like to take your time and go at your own pace, or have the flexibility to branch off and do something more spontaneous when the desire hits? Not a problem for self-guided travel experiences. Do you get annoyed having to follow a tour group? Yep – us too! Self-guided travel could be a perfect fit for you.
👉 Professional Design & Support
For most of us, traveling abroad is a once-in-a-lifetime opportunity to experience something new and extraordinary. A good trip takes time, energy, and resources ($$!) to plan, and it's not a good feeling if it all falls apart. Going with a group travel program may help ensure a more seamless experience abroad, but group tours often come with drawbacks (lack of independence, less flexibility, less authenticity – you get the picture). On a self-guided trip, you still get a professionally designed and planned program – plus trip support and emergency assistance during your journey – helping you maximize your opportunities abroad.
👉 Save Time & Unnecessary Stress
Most of us love traveling, but not everyone loves the extensive planning involved. Finding every hostel/hotel, the best places to eat, transportation needs, volunteer opportunities, things to do and see – the research, time, and choices can become overwhelming! On a self-guided trip, much of the tedious work is taken care of for you. You get a meticulously planned educational experience straight from travel professionals – saving you a lot of time and unnecessary anxiety – so you can focus on the things that matter – diving deeply into the culture, making new friends, learning, exploring, and having fun!
👉 Choose Your Travel Companions
The quality of your experience on a group travel program is often disproportionately shaped by others in the group. You might make good friends on a group travel program (woohoo!), or you might find yourself stuck with others with whom you have little in common (the worst!). In our decade-plus years of experience, we've witnessed countless occasions where constant conflicts and clashes in group dynamics ruined an experience abroad. With self-guided travel, you have more control over who you spend your time with. You can travel solo and meet other like-minded travelers along the way – or book with a small group of personal friends or family – the choice is yours.
👉 Make a Positive Impact
Let's face it. Travel has many positive – and many negative – impacts on our world. Tourism supports countless communities worldwide – expands minds and opens horizons – yet mass tourism can also lead to cultural exploitation and environmental degradation. While we all have a part to play in making travel more responsible and sustainable, we believe independent travel can realize this goal more easily – and can even have profoundly positive benefits for all.
👉 Travel With Peace of Mind
Travel is anything but predictable. Yet challenge, adversity, and unpredictability are some of the reasons why travel is so unique as a learning and growth experience. We hear from countless travelers how formative it was to learn how to be flexible and adaptable. For this reason, independent travel tends to win out over group travel in terms of personal growth and education. But there are also times when it helps to know you have a professional organization on standby should you run into issues you can't overcome. On a self-guided trip, help is always just an email or phone call away!