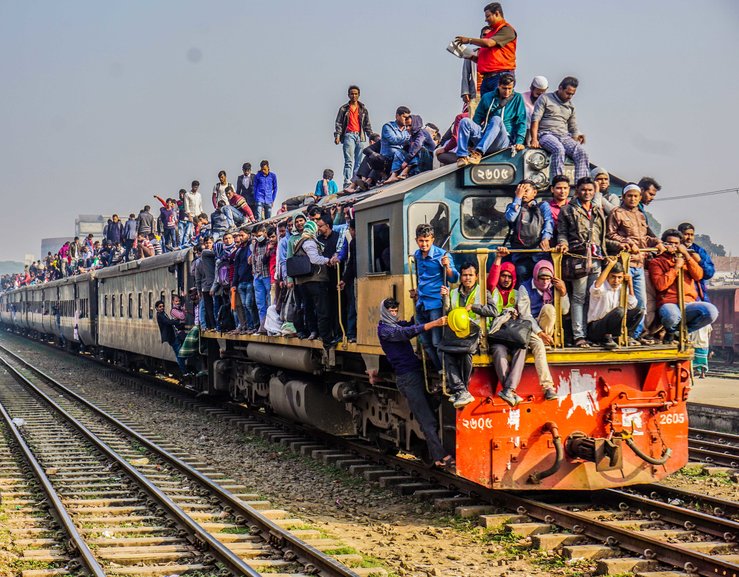 Crowd enjoying train ride in Dhaka (Photo Credit: David McArdle)
The City Overview
---
The area of Dhaka has been inhabited since the first millennium. The city rose to prominence in the 17th century as a provincial capital and commercial center of the Mughal Empire in South Asia.
Since its establishment as a modern capital city, the population, area, and social and economic diversity of Dhaka have grown tremendously. Dhaka is now one of the most densely industrialized regions in the country.
The city name previously spelled as Dacca before 1982 which was an urban settlement dating back to the 7th century on the banks of the Buriganga River (Old Ganges) now is the most vibrant and chaotic place in the Dhaka Metropolitan Area. Main key attractions are Sadarghat (Main river terminal), Ahsan Manzil (Pink Place), Islampur Cloth Market (the biggest cloth market in Bangladesh), Shakhari Bazaar (conch musical instrument makers), Armenian Church, Star Mosque, Lalbagh Fort, Khan Mohammad Mridha Mosque, Dhakeswari Temple, and National Parliament Building in new Dhaka. Most interesting Activities are Boat Ride on Buriganga River and Rikshaw Ride throughout the Buggiest and Narrowest streets.
Dhaka has been called the City of Mosques and the Venice of the East, due to its Islamic architecture and a riverfront facing the Buriganga (Old Ganges). It is also known as the Rickshaw Capital of the World, as there are over 500,000 cycle rickshaws running on its roads everyday.
Best Time to Visit Dhaka and Bangladesh
---
Pick Season (October to March)
Cooler temperatures; almost chilly in January and February. Dry; the worst of the monsoon has gone; some late rains in October. In this time you can find best Bangladeshi fruits, vegetables, and seasonal dishes which are very delicious.
Off Peak Season (April to September)
Sometimes cooler temperatures because of the rain but most of the times remain hot weather. in the monsoon (June and July) you will find most testier fruits like mango, pineapple, guava, jack-fruits, blackberry and other seasonal fruits, if you are nature and monsoon lover this is the best time for you which is the great time for snapping some great photos.
Top Things to Do in Dhaka
---
The best things to do in Dhaka is bit difficult to mention but according to my past four years experience of tourism of Bangladesh I can say few things is the best things to do in Dhaka
Ride on Rickshaw
Riding on a Rickshaw is very fascinating while you are in Dhaka, therefore Dhaka is called the Rickshaw Capital of the World, as there are over 500,000 cycle rickshaws running on its roads everyday.
Boat Ride on Buriganga River
Enjoy a boat ride with a wooden pushing boat run by oar at Sadarghat (main river terminal) is the main river station in Dhaka. See the vibrant of the river and enjoy your boat ride. This river port is mainly used by the southern people of Bangladesh and this is the cheapest and easiest way to travel from Dhaka to the southern part of our country close to the coastal area.
Taste Biriyani, The Most Traditional Dish
Biriyani is a mixed rice dish with its origins among the Muslims of the Indian subcontinent. This dish is especially very popular in Old Dhaka, as well as the Indian subcontinent. It is made with Indian spices, rice, meat (chicken, goat, beef, prawn, or fish), vegetables or eggs.
Visit Old Dhaka
If you have just one day in your hand then don't miss visiting Old Dhaka the most vibrant and chaotic place in the Dhaka Metropolitan Area. Visit most touristic places of Dhaka city including Pink Place (Ahsan Monzil), Armenian Church, Star Mosque, Lalbagh Fort, Dhakeswari Temple and others.
Photography
Dhaka offers incredible opportunities for landscape photography, outdoor portraits, food photography, street photography, bazaar photography, urban photography, and travel photography. People are happy to meet foreigners and often ask to have their photo taken.
Shop Local Ready-made Garments
Dhaka is a great destination for shopping with reasonable prices. So if you have a shopaholic partner or are really are searching for great value, then you have landed on just the place you needed to be!
Eat Street Foods
Dhaka has a great heritage of street foods. There are some very special food which are cheap, but very rich in taste, and only known to the food-lovers of the city. When it comes to Dhaka street food, it has some very delicious food to offer. Here are some street food names such as, Fuchka, Chot-Poti, Jhalmuri, Jilapi (Jalebi), Chanachur (Bombay mix), Shrimp kebab, Tikka kebab with parata, Bhapa pitha and Chitoi Pitha
Bangladesh for Holiday
---
Bangladesh have so much to offer to the adventurous traveler. If you want to meet most friendly, amiable, heartiest welcoming people in the world. Where peoples become too much happy when they see any foreigners around them and pedestrian constantly ask to have their photo taken. As well as if you would like to see something unusual, exciting and wish to get some unique experience then you have come to the right place. The biggest mangrove forest and the most beautiful tiger (Royal Bengal Tiger) in the world here in Bangladesh, if you are quite lucky enough you might see Bengal Tiger on spot otherwise you could see a lots of fresh footprints (Paw Prints), also you could hear tiger roaring sound. We have 3 UNESCO world heritage site along with Beaches, Islands, Hill-tracts, Wildlife, Waterfalls, Lots of Medieval Mosques, ancient Temples with terracotta design, Tea Garden and so on! Every corner of our country has its own beauty and nature.