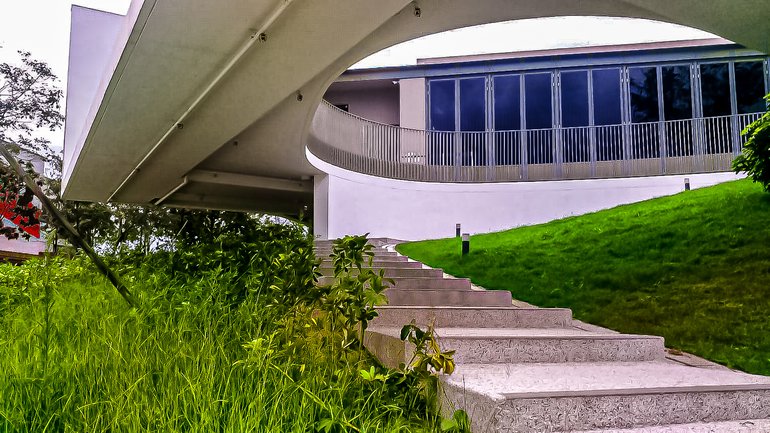 M Pavillion
What special about this place?
---
"The M+ Pavilion, which opened in September 2016, serves as the primary site for M+ exhibitions in the run-up to the completion of the M+ building. After M+ opens it will become a new space for artists, designers and organisations to stage independent small-scale exhibitions and events in the Art Park." - West Kowloon Cultural District Authority (2019)
So, this space is great for tourists who love art or keen to appreciate some arts in Hong Kong. M+ Pavillion has two floors. Honestly, there is not much to see there as their collections is very limited in this small building.
How to get there?
---
There are two easiest way to get there: Free shuttle bus and MTR. Of course, MTR is the easiest transportation in Hong Kong for tourists. I guess you can't escape from MTR when you are in Hong Kong! Okay dockey! Let's keep the ball rolling! Free shuttle bus is only available on each weekend and public holidays at the time of exhibition periods. On weekdays, you can only reach that place by crossing over the bridge from MTR Kowloon Station. For clear direction, the information available on West Kowloon should be sufficient as the have photos and arrows to point out the right direction.
Opening Hours
---
All days (except Mon & Tue): 11 a.m. to 6 p.m. Please make enquiries regarding opeining hours of other areas by filling up their online form or landline (852) 2200 0217.
What is around this building?
---
1. Freespace
2. West Kowloon Promenade
3. Art Park
4. Competition Pavillion
5. West Kowloon Nusery Park (a place where locals gather to watch fireworks in occassions)
6. West Kowloon Cultural District Cycle Path
7. M+ (in construction)
8. Lyric Threatre Complex (in construction)
9. Hong Kong Palace Museum (in construction)
10. ACE (in construction)
Miscelleneous
---
Another buildings is Cantonese Opera house (Xiqu Centre) loacated at 88 Austin Road West, Tsim Sha Tsui, Kowloon. They offer a guided tour as well with a fee.