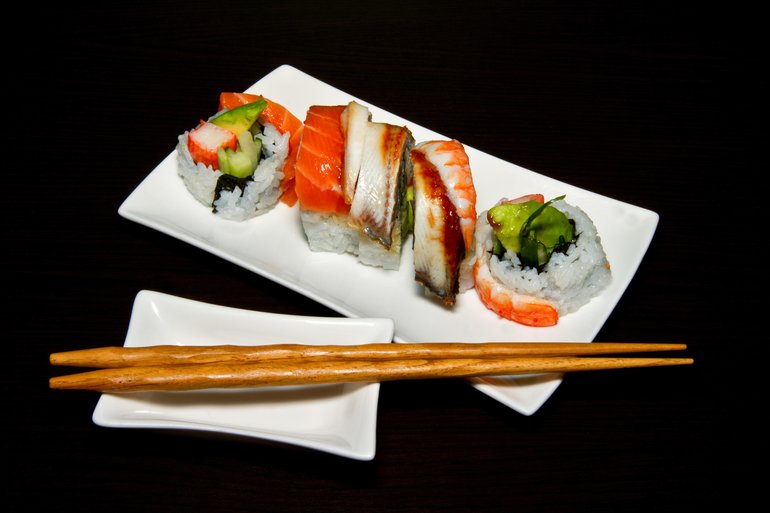 Proper etiquette at the table is important in every social situation. Table manners are the elementary way to show respect and appreciation to your host or surrounding people. The country you are visiting may have different dining etiquette rules. Take some time to learn about it. A respectful manner will help avoid embarrassing yourself.
Japan is no exclusion. Japanese cuisine is a unique. It is not just food. It is an art and a significant form of local culture. I hope this guideline will help make a pleasant experience for eating out in Japan.
Replica food
---
Many restaurants in Japan arrange a display of plastic or wax replica dishes in the window. These imitations offer a detailed, visual description of meals. Also, you might see a stand with vivid pictures of the food, or there might be an English menu available. The displays are incredibly helpful for tourists, especially those who don't speak Japanese.
Towels
---
In restaurants the waitress will offer you a hot steamed towel, so you can clean your hands. Do not wipe your face with a towel.
Chopsticks
---
Chopsticks are used to eat most of the Japanese food. Here, some important rules on how to use them right:
Don't stick chopsticks into your rice. This is only done at funerals.
Don't pass food from your chopsticks to someone else's chopsticks. This practice also uses at funerals.
Don't play with chopsticks, cross them, wave in the air while you are talking, or point them at someone. This is impolite.
When eating from shared dishes, use the opposite end of your chopsticks.
When you are not using your chopsticks, during a chat or have finished eating, place your chopsticks on a chopstick stand or sideways on your plate.
Soup
---
Drink the miso soup out of the bowl and pick solid food pieces with your chopsticks.
Use chopsticks and ceramic spoon for eating Ramen soup. Don't be afraid to slurp your noodles and soup. Slurping is considered evidence of enjoying the meal and, as most Japanese believe, inhaling air when eating noodles enhances the taste.
Soy sauce
---
Pour the amount of soy sauce into a small bowl and only as much as you need. Over serving soy sauce is bad manners.
Wasabi
---
When eating sushi, don't mix wasabi with soy sauce. Sushi already has wasabi. Mixing wasabi with soy sauce might overpower the taste and can be an insult to the chef.
Rice
---
Lift the bowl towards your mouth while eating. Do not pour soy sauce over rice.
Sushi
---
Hands or chopsticks can be used to eat sushi.
Eat a sushi piece in one bite.
Dip the sashimi pieces into the soy sauce or eat it with ground ginger.
Nigiri sushi, should be dipped into sauce upside-down, so that the fish gets into the sauce first.
Don't leave food on your plate
---
In Japan, it is impolite to leave food on the plate. Japanese people don't like wasting it. Finish your meal.
Properly finishing your meal
---
When you've completed your meal, return all the dishes the same how they looked in the beginning. Place your chopsticks back on the chopstick stand.
Tips
---
Tipping is uncustomary in Japan. In fact, it can be considered rude. Japanese people are hardworking, and they perform their job with pride. You will receive the most outstanding services in the world. Excellent service is considered the established standard and tips are unnecessary.
Paying
---
Most Japanese restaurants ask customers to pay for their meals at the front register. You will notice a small tray for money. Place paper notes and coins there and your change will be put on the tray for you as well. However, if you have to give or receive money, visa card, gifts, or any other things directly, use two hands to show your respect.
Don't eat when you walk
---
Japanese people don't eat while walking or standing on the street. It is considered as a bad manner. It's not only about the mess you might make or block the walking lane but also doesn't give you the chance to taste and appreciate food.
Conclusion
---
You may be excused for breaching those social rules as a tourist, but better to learn proper etiquette and local traditions, which common at your destination. We all should respect and follow the rules!