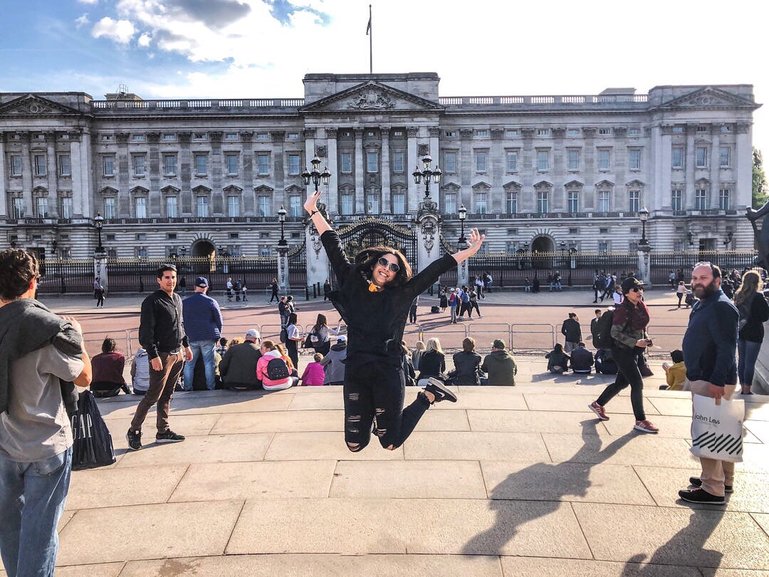 Buckingham Palace, London, United Kingdom
Advice for The Solo Traveler
---
Solo traveling is the most nerve-wracking and exciting thing you can ever do, and I fully recommend that you do it! Not only is traveling exciting in itself, but doing it alone teaches you so much about yourself that you would not have learned otherwise. You get to do what you want, when you want, and the whole experience you gain from it is entirely up to you.
Between finishing up my degree at university and planning for my big trip, I have to admit that I was stressed. But that is exactly what is necessary before embarking on a crazy adventure: immense planning.
Research
---
Research will help you decide where you want to visit, where you want to stay, and what you want to do while you are there. Research is also extremely important because it helps you get excited in the months before your trip! Granted, I did not have the opportunity to do extensive research, my trip was still amazing. There are so many applications that can assist you with researching and booking necessary accommodations for your trip, too. You can keep your research and accommodations organized in a folding file folder with different tabs, like I do!
Planning
---
Along with research, planning is also an extremely important part of traveling, and it happens before you even step foot in the airport on your way to the gate. Planning helped me book my tickets to the Warner Bros Studio Tour in London, and the Anne Frank House in Amsterdam. Without proper planning, these two high-volume activities would have been sold out before I step foot on my plane to Europe. Planning also includes determining what to pack and how you will pack these items. A three-week trip to Europe can be extremely easy or extremely difficult if you choose to take a carry-on luggage versus a huge rolling suitcase.
The reason why I am talking about research and planning is because the more prepared you are before going on your trip, the more at ease you will be while figuring out where to go and how to get there. Preparedness is key when wandering through unknown cities by yourself.
Confidence
---
It is so crucial to trust and have faith in yourself. Though traveling can be used to find yourself and find that confidence, traveling solo will allow you to 100% depend on yourself. When you trust in you, you will see what exactly you can do! You can navigate the metro – even after going the wrong way at first. Confidence and trusting that gut feeling will get you out of sticky situations, as well. Traveling solo isn't so dangerous, but that does not mean that there aren't still people out there with malicious intent. Be knowledgeable in this fact and don't put yourself in situations you can't get out of.
Awareness
---
What helped me get by when I was traveling solo was not trusting anyone. There were very few people I trusted, but even that can be dangerous since you don't ever really know who people are or what they are capable of. Now, I am not trying to scare you from traveling solo, but bringing the obvious to light will save you in the end. Being aware when I am walking back to my Airbnb at night kept me on high alert, but I got back safe, and that's what's important. My French professor at university first inspired me to travel solo. She gave me some solid advice that I will now share with you: "When you are walking back to your hotel, do not ever take the same route. When sitting in a restaurant, always sit with your back to the wall and sit facing the entrance." This is something I still practice today, even when I'm not traveling (for safety purposes).
Being afraid to go off into the world by yourself shouldn't stop you from taking that step and traveling solo! It is so exciting to learn what you can do by yourself, for yourself. It isn't the easiest thing to do, and I do not recommend it for everyone, but it is worth a shot if you have the desire to step outside of your comfort zone.
I hope this inspires you to go out into the world and wait for no one but yourself!
Until next time,
Diana Haddad
The Golden Lining