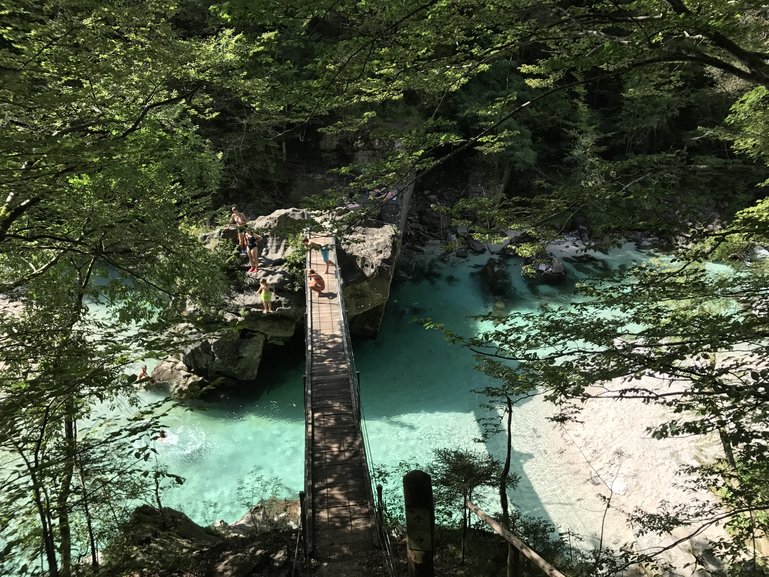 Magnetic Rock Soca River
This spot is called Magnetic Rock amongst the locals, but you'll find very few results when searching the web for it. There's a hanging bridge from where you can jump into the river, there are some very small beaches you can rest on and shade to hide from the sun. Sometimes brave kayakers pass.
There are two ways to get to Magnetic rock - and none of them have parking nearer than a 10 minutes walk. This means that the spot is less populated than most others. The first path begins with a beautiful 40 minute walk from a parking place in the village Čezsoča. You pass picturesque scenes like waterfalls, traditional houses and viewing points of the river that you walk along. You then take a steep path from the macadam road which leads to the hanging bridge mentioned.
The second way to get to Magnetic rock is to park your car in the village of Kal-Koritnica and then walk down to the river from there, about 10 minutes. Also a nice walk, you cross wide open fields and a bench with a view framing the Kanin mountain range.
We love this swimming hole because it's sheltered from wind, from hordes of tourists and for being able to both jump or walk into the water if you want. Pay it a visit - you won't regret it.
Thank you for reading! We are Meeting Mountains - Soča Valley trip experts. With us you experience more.