My trip to Vienna triggered everything, somehow. That's why I'm going to start writing and telling from here. Decided by chance, with a lot of insecurities because we were inexperienced, but we jumped. Why Vienna? Neither of us had ever been there, we were curious, but the main reason was that from Florence there was the direct train to go there, at low price. Both studying in Florence at university, we would often stop at the station to observe that train, so curious. One of our fellows one day told us that he had taken it and that he liked the city, so we decided. We jumped in. Roberto was supposed to have confirmation of a job, so we were hesitant at first, but we threw ourselves into it anyway, and decided to book the train to enjoy three days in Vienna. We opted for so few days, a little for Roberto's upcoming work, a bit for the lessons that I did not want to miss, and then for the departures of the train, which was not there every day, but only on Friday and Sunday.
The journey was very long, and very uncomfortable. We slept in a wagon with the seats that you can lie down, along with some Americans, if you can call it spleeping. Yet, when we arrived in Vienna, devastated and with an hour's sleep apiece, we were very excited for our first adventure together. Due to our lack of experience and the speed with which we decided and booked the whole thing, we took a very uncomfortable and decentralized hotel, which I will not mention and will not recommend, both because of the bad location and rudeness of the owner, who did not behaved well with us and did not welcome us as he should have. However, staying in this absurdly located hotel, one thing immediately taught us: we are great walkers. And from there on, on every trip, we're going to grind miles and miles without ever getting tired. Our hotel was a 15-minute walk from the metro stop, and then we had to take the subway to get downtown.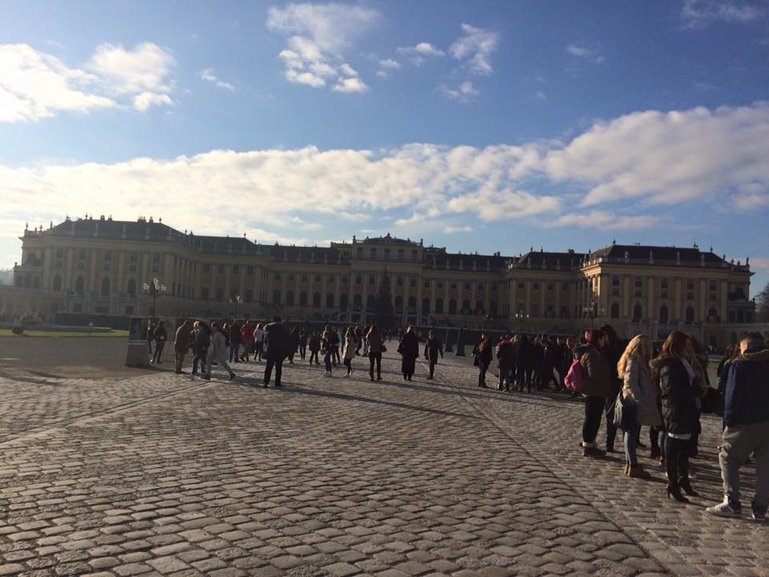 Itinerary
---
We wandered around the center completely at random, following instinct. It was early December, there were Christmas markets everywhere, and man, in Vienna they know how to make Christmas markets. The city was all decked out, full of counters with lots of Christmas crafts and lots of food, from sweet to salty. What I liked about Vienna is that every building is beautiful, well done, cared for. Also I found it a very quiet and livable city. Obviously there are many churches and squares that have impressed me, but the best remains the Town Hall Square. Thanks to the fact that I saw it decorated, and that in the evening it became a spectacle for the eyes, all illuminated by a thousand Christmas lights, but it is really fixed in my heart.
Another must mention is definitely the wonderful royal castle, Schonbrunn Castle. Perhaps it remains one of the most beautiful castles I have ever seen (even much more than the palace of Versailles, yes yes!). I liked it a lot because it's nice but, like, simple. Impressive but not exaggerated. Just perfect. Obviously we decided to visit it also inside, and of the interior I can say the same thing, well done, beautiful, not exaggeratedly glitzy.
Another thing I put among Vienna's favorites: The Belvedere. Belvedere is a museum surrounded by beautiful gardens. I was lucky enough to see him also surrounded in all his gardens by beautiful Christmas markets. But surely even in summer it must be wonderful, being able to take advantage of the most pleasant weather to be able to relax in the sun in the gardens. I insisted on visiting the museum because inside there was Klimt's wonderful painting "The Kiss", and I didn't want to miss it!
The Hundertwasserhaus district is also worth visiting. I had found it on the internet and I had read something about it, and seeing the particular images of these houses, I put it in the itinerary. I thought it was a little-known place and not very beaten, and instead it was full of tourists.
Where to eat
---
In every trip, Roberto and I have in common the fact that we are extremely attracted to taste flavors that are not ours. For me it is a fundamental part of every successful journey. In Vienna unfortunately I do not have any particular locals to recommend, because being the city covered by the markets when I visited it, we ate basically always there. We ate many sausages, and the schniztel, which remains my favorite Viennese dish. The only place I mark and remember with love is the Hotel Sacher, where we went twice since it was good, and where I ate the best sacher cake and the best strudel of my life.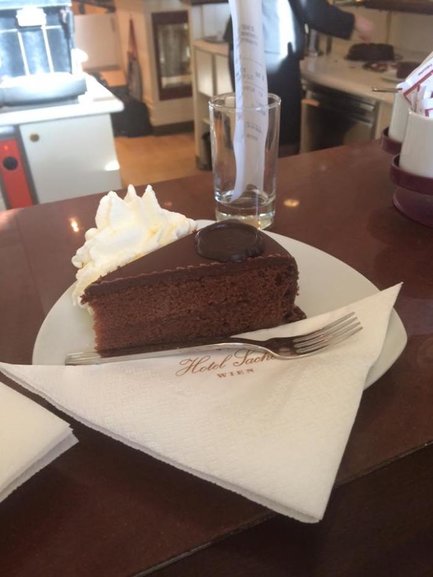 Final impressions
---
Not only did I love Vienna, and I advise everyone to visit it, but this trip changed my life, and then I still didn't know it. The sensations we felt, as we wandered around the city without a real destination, but extremely happy, feeling at home even being in a place unknown to us, are the sensations that from there on we could not live without.