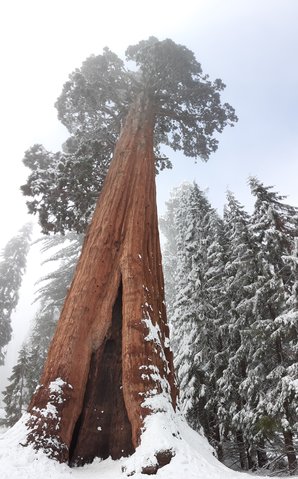 Explore among the Giants
Any trip to a National Park is an adventure but when snow is on the ground, a little extra effort is needed to make it a real success. Here are some tips and tricks to having the memorable experience you've been waiting for all year long.
Weather
---
Weather in the park can change rapidly so come prepared for a variety of winter conditions such as snow, ice, rain and cold. Be sure to keep an eye on the weather using information from the National Weather Service and by calling the Sequoia and Kings Canyon Weather and Road Conditions current recording at 1-559-565-3341 (then press 1, then 1 again).
Driving
---
The National Park Service and California state law requires all vehicles (including 4-wheel/all-wheel drive) to carry tire chains or cables, you may not have to put them on but carrying them is a requirement. Luckily they can usually be rented in the communities surrounding the park and whomever is renting them out can show you how to put them on so you'll be ready if your vehicle starts losing traction. Generally, the park does a great job plowing the roads so you won't have to use them, but ALWAYS come prepared! Remember to drive slowly as mountain roads are often narrow and winding.
What to wear
---
Being warm and dry is essential for your happiness while exploring the winter wonderlands of Sequoia or Kings Canyon National Parks. Dress in layers and focus on good footwear. Sturdy, waterproof hiking boots with ankle support are just fine but snow boots are best. Use waterproof rain pants and jacket if you will be out for more than an hour or if the forecast predicts snowfall. Gloves are a must. I recommend having a warm cap (beanie) on hand as well as sunglasses because snow glare can be very bright!
Pro-tip: bring an extra pair of socks and some cozy slippers for after your snow adventure.
What to bring
---
Always carry drinking water and snacks. I like to bring a thermos with hot water and a mug for hot-cocoa and classic Cup Noodles - easy and delicious after a day in the snow!
Pro-tip: If you have kids they will always remember the time you made real Snow-Cones! (1 packet Kool Aid, 1 cup sugar, 1 cup water, mix together in a squeeze bottle)
What to do
---
There are so many ways to enjoy the snow! Snowshoeing, sledding, building a snowman, having a snowball fight and more! Snowshoes and sleds can be rented at the Lodgepole Market in Sequoia National Park. To make the most of your trip, book a privately guided Snowshoe Adventure with Sequoia Guides - the snowshoes, training and hot cocoa are provided! Learn about Giant Sequoias as your guide leads you on a route custom designed for your group, leave the planning to your guide who is certified in Wilderness First-Aid, so all you have do is relax and make memories!