Can you survive a long, international flight in basic economy? Of course you can. Should you do it if you don't have to? Ehhhh, maybe not. It's not easy, but it doesn't have to be terrible. As someone who pretty much needs to fly cheap to travel at all, I am here to tell you it's not that bad. I promise. I'm 5'9 (and not little), and Derrick is 6'3, and he isn't little either. Oh! And we aren't spring chickens!! Lol! Here are the best tips for flying economy I can think of.
This isn't rocket science. But if you are reading up on this, maybe there is something you can take away from this post. I have read no less than 20 posts about surviving long flights, and I found a few great tips along the way that have helped me.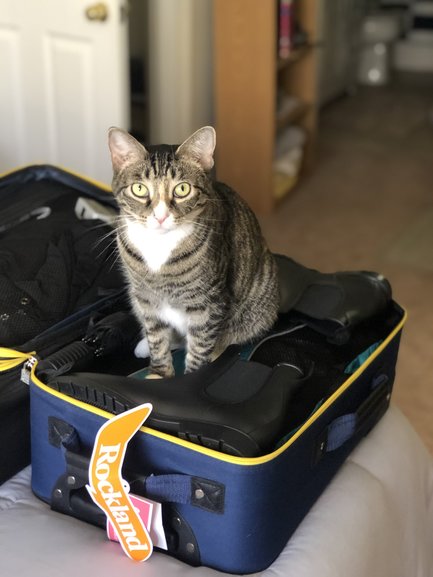 Luna helping me pack efficiently.
Pack Efficiently
---
So what does packing efficiently have to do with surviving a long flight? A lot, actually. The last thing you want to do is overpack your personal item and then have to pull out everything that you will not use, just to find your bag of sleep aids at that bottom.
I always use a backpack as my personal item when flying. My backpack is a great size at 15 inches high and is really durable. I can get everything I need in my backpack.
I read this particular tip several times, and I use it now every time I fly, especially when I fly economy. Wait. Isn't that every time? Yes, it is.
Here it is; I use a thin, reusable shopping bag and put the things I will need right away in it. I put a magazine at the bottom, so it flattens out, and then things like my kindle, earbuds, eye mask, tiny bag of essentials; sleep aid, ear planes, and Tylenol. My bag has long handles, and I can loop it around the seat and let it hang in front of me instead of taking up foot room.
I may need to grab something from my backpack, but usually, it's only once. In economy, there just isn't a lot of room to be going through your personal item, and you don't really want it under the seat in front of you; where will your feet go?
What To Wear on a Long Haul Flight. Super Comfy Clothes
---
Dressing up won't get you upgraded these days, Sorry. So put comfort first. Easy on, off shoes, comfort waistbands, soft, comfy bra, and compression socks. As unamerican as this sounds, I don't wear leggings. Except when I fly! The key is the most comfortable leggings for sitting you can find. Personally, I like my fabletics leggings because of their high waist that is super comfortable. It's almost like there is no band. As long as I pair the leggings with tops that aren't athletic at all, you can't tell they are my workout leggings! Palazzo pants are great too.
You'll need to layer! Layer in the summer and winter because you never know what the temperature will be like. I pretty much wear the same thing no matter when I fly. Leggings, a long enough, short sleeve shirt, a flowy cardigan, and either flats or slip-on tennis shoes like my Converse.
In the winter I wear a coat and a big scarf that doubles as a blanket. My winter, puffy coat squishes down into a tiny bag. Before boarding, I squish it down into its little bag and attach it to my backpack. In the summer, I pack the scarf, I still use it as a blanket, as it's the perfect size. Oh, and I always, always wear a comfortable sports bra. What to wear on a long haul flight in economy is an important step you won't want to miss.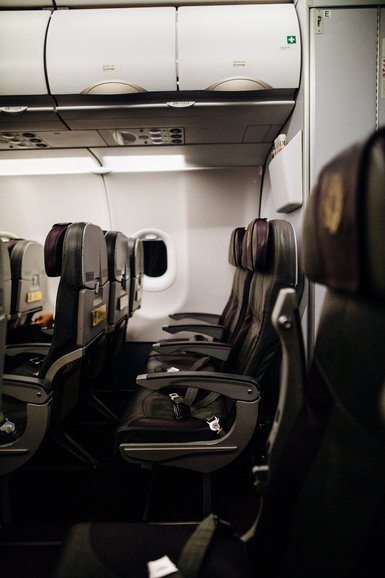 Not a ton of room in economy!
Economy Limitations and Perks
---
On all airlines I've flown internationally, you can pre-pick your meals, even in basic economy. I have issues with dairy, but often I will ignore if I am eating out and take a Lactaid or order something dairy-free. Well, on an 11-hour flight, you won't want a horrible stomach ache. I pre-order a dairy-free or vegan meal. It's lighter, no uncomfortable fullness or weird meat, and you'll get your food first as they bring out the pre-ordered meals first. Not too shabby.
I end up taking some Melatonin and sleeping a good portion of the flight, so I don't usually eat anything on the flight except the meal they bring. I used to buy many snacks, but I never ate them, so I stopped. I usually have one snack item, just in case. A Kind bar is my go-to snack.
I am one of those people who can drink coffee or tea and then go to sleep. I never drink alcohol while flying. For some reason, and if you know me, you'll know how odd this is, I never want a drink when I'm flying??? Unless it's coffee or tea, I drink water. That's it.
Every long haul international flight I've been on has had a great selection of movies to watch. Yes, even with the most basic of seat purchase. You should, of course, check with the airline. Between that and reading, I don't need much else in terms of entertainment.
I tend to fall asleep while reading, so I usually start with that. Then fall asleep rather quickly. I do love to wear an eye mask, and I use a neck pillow. But I swear I could sleep without either! Look, I know I'm lucky. I can sleep anywhere without moving at all, which is why I don't mind flying in economy. But even Derrick, who almost didn't want to go on our first long-haul flight with me because we couldn't fly business class, he managed to survive just fine. Enough to want to do it again.
Pro Tip: Check your airlines policy on what is included with a basic economy ticket.
The rules typically change between domestic and international. For example, we flew on United from the US to London with a basic economy ticket. It included a carry on and a personal item, all of the same food and drink (even all you can drink wine for free, although I don't recommend this!), and all entertainment options. It excludes things like having your seat assigned or making changes to your flight. You'll want to know exactly what you are getting when purchasing an economy ticket as it changes for domestic to international flights and varies from airline to airline.
A quick recap list of things I like to travel with and assess on every long flight:
Packing efficiently
Sleep aid & sleep essentials
Book or Kindle
Snack
Scarf or blanket
Comfy clothes
Airline basic economy restrictions

I know economy or basic economy isn't for everyone. For me, it's a matter of priority. I can fall asleep anywhere. I'd much rather spend the extra money on experiences that are NOT on an airplane!