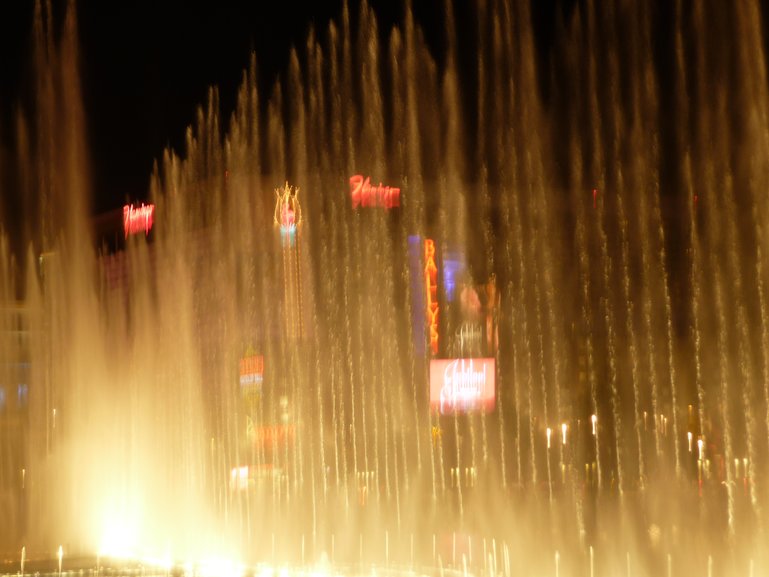 Las Vegas-- Belagio Fountains
When we lived in Washington, DC, we took a lot of ski trips to Utah. This required an airplane trip, as do a lot of ski trips to Utah by skiers from all over the world. Salt Lake City (airport: SLC ) is the obvious gateway airport, being about 30-45 minutes by road to Alta, Snowbird, Deer Valley, Park City Mtn. Resort, Solitude, and Brighton. Eventually, we found there is an attractive alternative-- Ski Las Vegas, especially if you are cost sensitive and plan to rent a car so you can easily get around to the different resorts in northern UT (11 major ski resorts within a 90 minute drive from Salt Lake City). Ski season is high season at Salt Lake City. Both airfares and car rentals are at their highest. Not so in Las Vegas where ski season, except for Dec 27-Jan 2, is low season. Using Las Vegas as the gateway to ski UT will save a lot of money on air and rental cars... Here's how we did it: We would fly from the USA's east coast to Las Vegas, Overnight in Las Vegas. Work out the timings of a flight to SLC. Unless you live on the USA's West Coast, you will not ski on your arrival day. That means an overnight stay before skiing, and there is no overnight in UT that comes close to a bad night in Las Vegas. Salt Lake City is about 2,000 ft higher than Las Vegas and 400 miles further north. That and other geophysical differences mean that there is virtually no snow in Las Vegas and little snow on I-15, the road connecting Las Vegas and Salt Lake City while the mountains just outside Salt Lake City average more than 500 inches of snow per year. There is rare a chance your drive from Las Vegas to Salt Lake City will be delayed a bit by snow on the road, but it is much more likely that weather well cause you to miss a connecting flight at any northern USA.
After our first night in Las Vegas, we headed north out of town with stop for breakfast at the Circus Circus buffet-- unlimited decent food at low prices. A proper Circus Circus breakfast eliminated the need for lunch.
After breakfast, off to UT's remarkably low priced Eagle Point Ski Resort, 3.5 hours away, arriving in time to an afternoon half day's skiing, just right for starting a ski week. Then a 3.5 hour drive to the Park City area. After completing our ski week at Park City or Salt Lake City, on the last day, back to Las Vegas, arriving in time for another half day skiing at either eagle Point or Brain Head (after a couple trips to Brian Head, we decided we skied eagle Paint better and so skied there both coming and going when we did Ski Las Vegas. Then back to Las Vegas for dinner and perhaps a show, and ten the low cost flight return flight home.