Monumental cites such as most national capitals, have lots of monuments, many of which are statutes. Washington, DC is no exception. Perhaps the most famous statue in Washington DC is the Lincoln in the Lincoln Memorial. However, that is not among the best statuary in the American capital city.
First place goes to Augustus Saint Gauden's statue of "Grief" in Rock Creek Park Cemetery. Ask for directions at the cemetery entrance on North Capitol St... Rock Creek Cemetery is more or less across the street from Catholic University and the National Shrine of the Immaculate Conception, a 20th C Byzantine basilica (fun fact: a basilica is a big Catholic church operated directly by The Vatican. A Catholic Cathedral is operated by the local Bishop).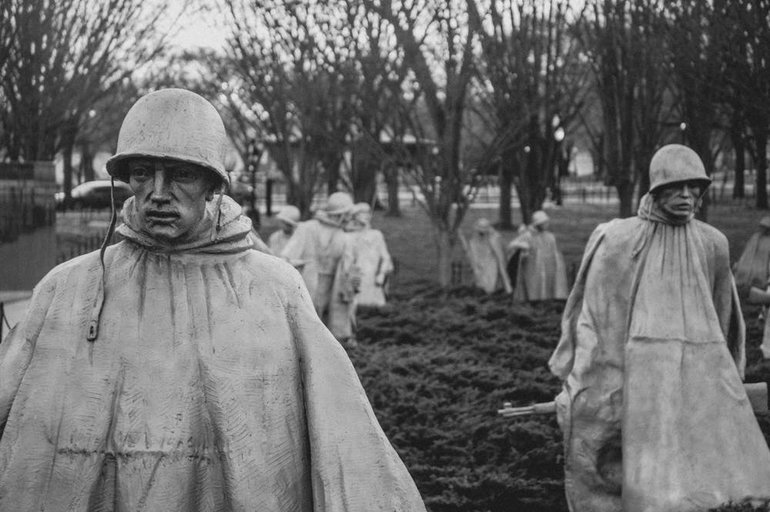 Korean War Memorial
Number 2 is a tie between The Korean War Memorial and Caspar Buberl's frieze on the Old Pension Building, now the National Building Museum. America's Civil War (1861 to 1865) killed more Americans that any other event in the nation's history until Republican president Trump's mismanagement of Covid 19. The Civil War killed about 165,000 per year, with a 4 year total of ~655,000. Covid 19 killed more than 500,000 in its first year. War on this scale involved most cannon fodder males, which created a nearly overwhelming number of post war pensioners. There were so many Civil War surviving veterans that the USA government had to build a large building to house the pension payment office. The frieze completely circles the building.
#3 is easily the contemporary "Man Rising" at the end of Ohio Drive (I cannot confirm it is still there, but I didn't spend much time searching).
#4 is the brooding monumental sized seated Lincoln in the Lincoln Memorial, best seen at night.
#5 is Jefferson in the Jefferson Memorial