Poe's Tavern
---
On the first day of our stay in nearby Atlantic Beach, we had lunch at Poe's Tavern. Poe's is named, of course, after Edgar Allan Poe, who spent some time in the area. The restaurant is large and funky, with the writer's memorabilia displayed throughout. Do not miss the retro bathroom, where you can listen to one of Poe's stories while you freshen up. We visited on a beautiful day and chose to sit outside beside a lovely garden. At night, there are fairy lights on the trees, and I imagine the experience is quite magical.
The service at Poe's is both friendly and prompt. However, Poe's food is the real star. The menu is geared toward fairly classic pub food, with a variety of burgers and fish tacos available. The Amontillado burger with guacamole, jalapeno jack, and chipotle sour cream may be the best burger I have ever eaten. The accompanying string fries were out of this world as well. We fully intended to go back to Poe's for a second go at the menu. However, all of the other incredible Neptune Beach restaurants drew us away.
North Beach Fish Camp
---
We had an anniversary dinner at North Beach Fish Camp. We had planned to eat at an upscale French restaurant in Jacksonville. However, when the day came, neither of us had the energy to dress up and drive into the city. So as a last minute audible we opted for this relatively casual seafood restaurant just a few steps from our hotel. We did not regret the decision. The restaurant was bright and airy, with high ceilings and beachy decor. The numerous televisions were all tuned to March Madness, so, unfortunately, I got to watch my beloved Tar Heels eliminated as we ate.
Our waitress was amazing. She was friendly and approachable, while able to rattle off an extensive specials menu without hesitation. She checked in with us multiple times during the meal to make sure everything was to our liking. I started my meal with a creamy clam chowder that rivaled the best I have found in Massachusetts. Paul opened with a red shrimp appetizer that he raved about. For his main course, Paul ordered a yellowfin tuna that was seared perfectly. I went with a fried shrimp basket which was excellent as well and featured two delectable hush puppies. Another win for Neptune Beach restaurants.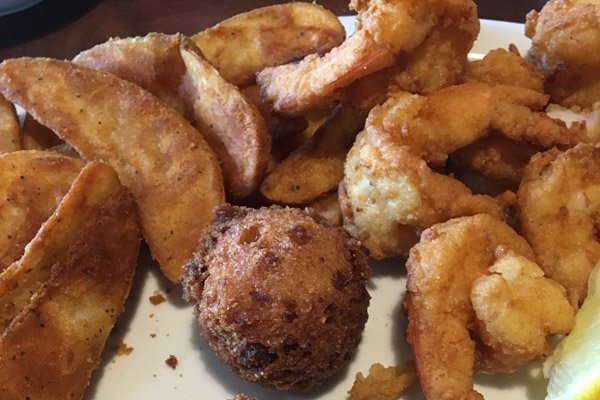 The hush puppies are exquisite
Southern Grounds
---
Southern Grounds is an all-around godsend. This establishment serves as a bakery and coffee shop, a sandwich spot, and a wine bar. We don't drink coffee, but we can attest that their chocolate croissants are a definite hit. Pro tip: if you ask, they will heat up your croissant for you. We also dropped by one night to check out their wine selection. They have a small but varied group of nicely priced bottles that are no more expensive than a single glass at other wine bars. They will uncork the bottle and allow you to take it away if you choose not to drink it onsite. Southern Grounds has an indoor space, but they also have a large and lovely courtyard. At night, the courtyard is encircled by strings of lights that lend a nice, romantic tone.
Ragtime Tavern
---
For a late evening dinner, we chose the Ragtime Tavern. This bustling, centrally located spot offers a varied menu of largely southern food. The gamut of tastes reminded us fondly of our dining experiences in New Orleans. They also brew their own beer, and we enjoyed their IPA offering. Paul and I split the shrimp and lobster fritters as a starter. Paul opted for tuna tacos for a main course, and I had shrimp and grits. All of the food was excellent. The service was attentive despite the late hour at which we wandered in (we arrived after a poker tournament at around 11pm). However, we did miss out on dessert, as the kitchen was closed by the time we were ready to order the final piece of our meal. If we had the chance, I will tell you that we definitely would have ordered their beignets to reminisce about another of our favorite tastes of New Orleans.
Maple Street Biscuit Company
---
While the Maple Street Biscuit Company is a couple of miles south in Jacksonville Beach, we're giving it an honorable inclusion. Unsurprisingly, given its name and southern locale, it specializes in chicken and biscuits. Out of this world fried chicken and flaky, delectable biscuits. We were very glad that we took the time to stop on our way out of town. The decor was casual yet funky, and the staff was friendly. At Maple Street, you place your order and then they call you when it is ready. Only they don't ask you for your name. Instead, they ask you a crazy question when you order. On the day we visited, the question was "Where would you hide your gold?" We were completely flustered. Paul finally said "in a safe?" It was only when the servers started calling out "in my grandmother's backyard!" and "under the bed!" that we got the joke. It was a fun touch to enhance a great meal. Maple Street Biscuit Company is apparently a small Florida chain. If you are in the vicinity of any of their locations, definitely plan to visit.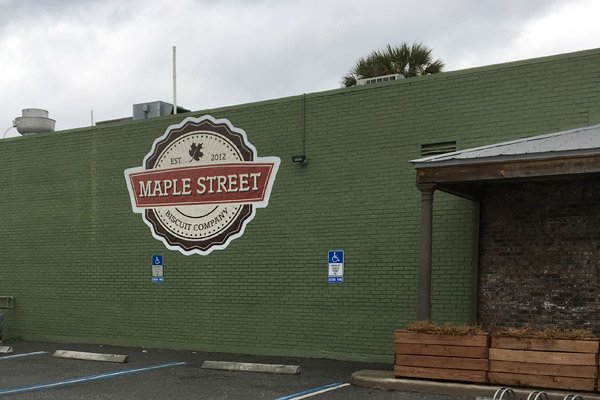 Maple Street Biscuit Company
While these were our favorite restaurants in Neptune Beach on this visit, we already have others picked out for our inevitable return trip. Hopefully that trip comes soon!