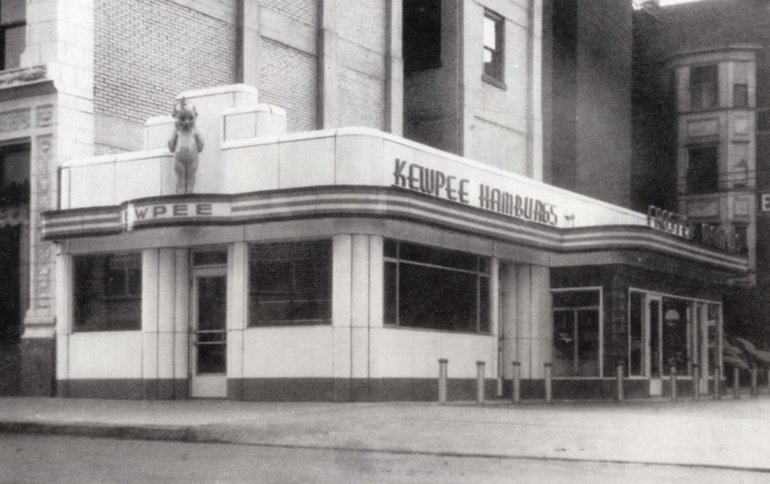 Built in 1930
After the last time we ate at Wendy's, I went home, called my stock broker, and said "Sell all our Wendy's stock".
He said, "You have a good gain in it and we expect more. Why sell? "
I said, "I don't feel good about owning a restaurant that is so bad that we will never eat at one again. " He sold.
So what does Wendy's have to do with a an obscure fast food joint you never heard of in a town that is probably not on your travel radar, and therein hangs a tale. Wendy, who I think is now CEO of Wendy's, is the daughter of Dave Thomas, Wendy's founder. Dave didn't want to start a new burger chain. He wanted to buy Kewpee and expand it from its handful of locations around the intersection of Ohio, Indiana, and Michigan. Kewpee declined his offer, so Dave tried and failed miserably to duplicate Kewpee under a different name, his kid.
This back story alone is enough to make Kewpee the stuff of legend for chit chat at a backyard BBQ or a cocktail party, and as they say on TV, "But wait! There is more. " There are three Kewpees in Lima, The original downtown location is still operating in its original 1930 building. The kitchen has been updated, by the small seating area has been preserved, as have the key parts of the menu: the burgers ($2. 20 today, 5 cents then), the essential pumpkin pie desert, and the star of the show, Frosted Malt ($1. 40-2. 80). As I recall, you have your choice of flavors for the Frosted Malt as long as its chocolate. You will have to search far and wide to find a better chocolate malt than Kewpee's, and what is unique about is that it is served in a frosted glass mug, for want of a better term. Readers who have experienced a classic ice cream soda served in the classic special glass have seen a Kewpee's malt mug, but Kewpee stores them in a high humidify freezer so they are served with a heavy layer of frost on them. Hence the name of Wendy's copy cat chocolate malt severed in an inferior paper cup but called a "Frosty". I can't say for sure that a forested glass mug improves the taste of malt, but it sure seems to. On the other hand, Wendy's Frosty may be the only success Dave had in trying to copy Kewpee. I sent a draft of this to a physician in Australia. He replied, "Now I understand my addiction to [Wendy's ] Frosty. "
There are three notable features of the Kewpee burger: 1] low price, 2] great taste, and 3] its square. Kewpee's saucer burger dates back to 1918, Dave copied it, but he forgot that taste, not shape, the key to great burger. While Wendy's burger is more than forgettable, a Kewpee burger is as good as it gets in fast food-- a burger for the ages, and that's why Kewpee has been around fro nearly century.
The roundtable (now gone) was another feature of the downtown Kewpee. The parking lot-- parking is at right angles to the street-- is so small that to facilitate the turn cars have to make getting into or out of parking spaces, Kewpee installed a roundtable. You don't have to maneuver. Just get on the roundtable and let it line you up with a parking space, or aim you at the exit
More on Kewpee from the Wall St Journal:
America's Best Burgers: An Essential Guide - No complicated toppings. No behemoth beef patties. Here's where to find the true classics, old and new, around the country - Aug. 14, 2020 3:20 pm ET
https://www.wsj.com/articles/americas-best-burgers-an-essential-guide-11597432808?mod=hp_featst_pos2