It was the neighborly thing to do: pop one state over to Wisconsin's CAMBA mountain bike trail system. You may not be able to say the name (Chequamegon Area Mountain Bike Association), but I guarantee you'll want to return. I cheated and took the cross-lake ferry from Muskegon, MI, to Milwaukee, which saved hours of driving and the angst of Chicago traffic. CAMBA has 130-plus miles of trails stocked with lakes and lodges, stretching from quaint towns like Hayward to Cable and Bayfield overlooking Lake Superior. It's all just a mere hour and a half from Duluth, two and a half hours from Minneapolis, and only an hour from Michigan's Upper Peninsula.
The upper Midwest is gaining mountain bike cred, and CAMBA is a solid cornerstone. For example, add in Minnesota's Cuyuna Lakes, Michigan's Keweenaw Peninsula, and Marquette, and don't forget Brown County, Indiana. No mountains, no problem; ride CAMBA, in Wisconsin's Northwoods, and the Midwest.
Staudemeyer's Four Season Resort
---
Upon arrival, checking in at Staudemeyer's Four Seasons Lodge, I asked the owner Amanda to clarify how to pronounce the area's namesake Lake Namakagon. "It's NAM-uh-KAH-gun with all soft a's," she explained. I also inquired about Chequamegon National Forest: "shuh-WAH-mah-gen." With that crucial phonetic foundation, I gawked at the impressive timber-beam lodge and views of the expansive lake from our second-floor room. As first impressions go, this was a great start. I was immediately drawn to the attached outdoor patio and bar, where I ordered a local hazy IPA and melted into my new surroundings. Besides the cozy lodge rooms, Four Seasons has 10 cabin rentals with private dock access to the lake. Noted, for the next visit.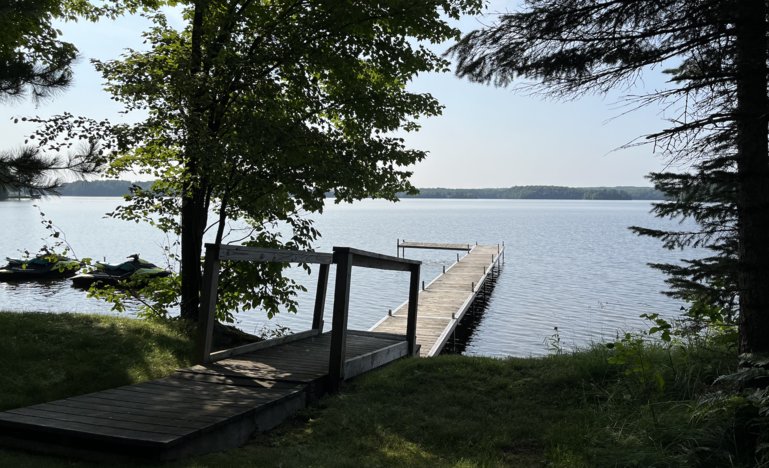 Lake Namakagon views from Four Season's Resort and cabins
CAMBA Mountain Bike Trails
---
For the July trip crew, it was lucky seven: five Michiganders and a two Canuck bonus (Mel and Alex from Manitoba). Besides us, the Holmes & Watson duo, we added Scott, "the Mayor," and long-time pedal pals Steve and Kim. We had diverse lodging representation, with RV glamping, pop-up camping, and pampering at lakeside lodges for our stay-and-play two-wheeled adventure. We used ROAM Adventure Basecamp as the home base for daily trail rides, which is a great mid-point to reach Seeley Pass to the south and Flow Mama to the North. Certainly, more than three days of riding is needed to cover the expansive system, but we did manage to cover big chunks of the Seeley, Cable, and Hayward clusters.
We learned CAMBA is all about sharing; the mountain bike trails coalesce with the famous Birkie (American Birkibeiner Trail), a world-class cross-country ski network that hosted its first event 50 years ago. So, take CAMBA's 130 miles of maintained trail and add another 100; you've got one of the country's largest community-wide multi-use trail systems. The trails, the lodges, and the infrastructure are shared by skiers, bikers, and runners alike.
With many new trails to explore, we began with a two-a-day! A Seeley Pass and Makwa out-and-back romp through the pristine forest was punctuated with lunch before tackling a great rip on Flow Mama, with a few repeat sessions in the Gravity Cavity and on 38-Special. Flow Mama was fast-riding fun, evidenced by plenty of whoops as we churned around sequences of berms and quick descents with plenty of air opportunities. I was amazed at how manageable the climbs were considering how much downhill we covered… chalk it up to the magic of professional trail-building. The Gravity Cavity was one of the most unique high-banked berm rides I've ridden in all our travels. After 35 miles on day one, we returned to the RV site spent, happy and incredibly thirsty, and hungry.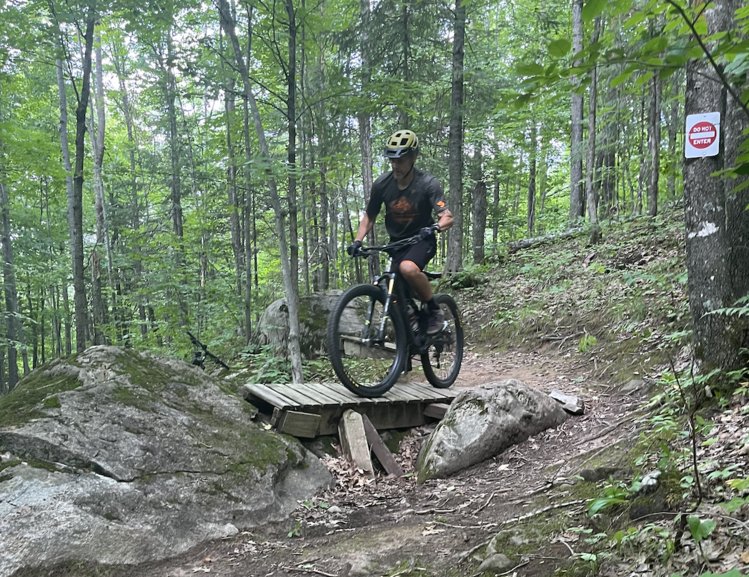 CAMBA trail features on Flow Mama
Lumberjack World Championships in Hayward, WI
---
For most bikers, I meet, the post-ride trail talks involve sipping beers at local watering holes. Be sure to hook in at the Angry Minnow for locally-brewed craft beer in Hayward. From there, it's a quick five to ten minutes to dinner spots like the Angler's Inn or the Sawmill Saloon in Seeley. Besides biking, asking the locals for suggestions is always a solid plan. We were directed by a friendly waitress, who gestured over-yonder to the east to check out the Lumberjack World Championships. We were immediately piqued and bought tickets to see this spectacle in Hayward.
What a great way to spend a Saturday night! Alongside 1000s of other super fans, we cheered on athletes who frenetically chopped or sawed through giant logs. The displays of strength and balance continued with log rolling and the boom run, and we were astounded by the speed that a human can shimmy up a 90-foot pole before dropping back to earth on a giant foam pad. The action was riveting and by far the most unique sports competition I've attended. Log on soon, plan your trip to ride CAMBA in mid-July to channel your inner lumberjack.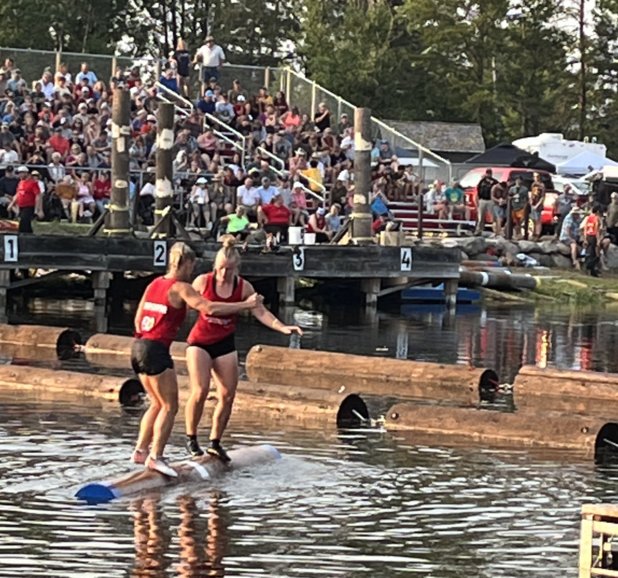 Log rolling competition at the World Lumberjack Championship
Lakewoods Resort and More CAMBA Mountain Bike Trails
---
More new trails surfaced, and we added The Lakewoods Resort and its waterfront restaurant and bar to our hit list for two more nights. After logging many miles in the saddle, I relished a comfy bed, hot showers, and a hot tub. Plus, the Lakewoods Bar had Leinenkugel's Summer Shandy on tap. Close by, we debuted some newly opened trails at Mt. Telemark at the Birkie Start, called Evenflow and Once. Hum some Pearl Jam tunes while climbing, then turn it up for some super fun descents and jump line options. After some sessions and the classic Josh line, "just one more," it's an easy connect to Dirt Candy and then onto Ojibwe for some single-track tech riding.
We fell hard for this trail system, full of big woods, bountiful trails for all levels, and small-town charm, complete with an idyllic spot for a post-ride swim at Lake Silverthorn or the Four Seasons beach. We finished up our CAMBA trail tour at another highlight, Hatchery Creek. We rolled and romped around the bike park features before embarking on XC loops and a delightfully fun and flowy descent. Don't ask me to choose between Flow Mama and Hatchery Creek – I give up. As advertised, even the beginner tracks at the Hospital Trailhead were the most fun, easy trails.
Logging many miles each day, we were perpetually hungry. I called ahead for a reservation for a semi-fancy Sunday night dinner. Steve, Kim, Josh, and I got spiffed up in our best jeans and non-pressed shirts for a window seat at the Garmisch Inn. It's a lovely German/Alpine-inspired resort and restaurant on a bluff overlooking the south shore of Namakagon. I'd need help picking a favorite between the view and my meal. We savored grilled steaks and freshly caught walleye while the sun flirted with the tops of the pine-bough shoreline. Then, as if signaling time for rest, the sun gave a final hazy wink over the water's silvery surface.
A Lake Namakagon sunset stunner was an excellent way to wrap up our visit. We unanimously agreed the CAMBA trail system is worth a return visit. More than just trails, there's a definitive vibe; it's a community rallying point for local riders, visitors, volunteers, organizers, donors, and local businesses. There are clinics, races, annual events, and trails to ride all year. Until we meet again, thanks, CAMBA. Can't wait until we can Shuh-WAH-m-AGAIN!!!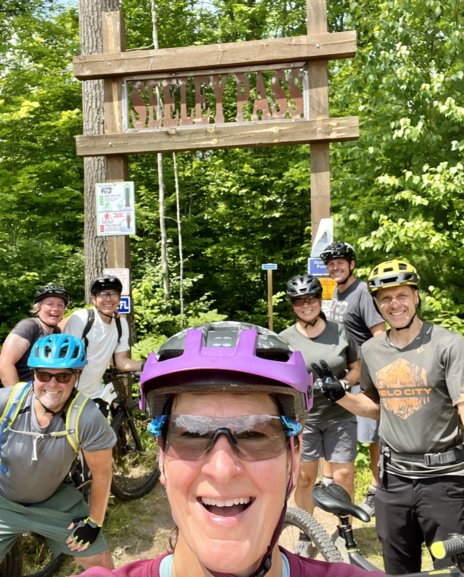 The bike gang at OO Trailhead and Seeley Pass, CAMBA Trails in Wisconsin's Northwoods.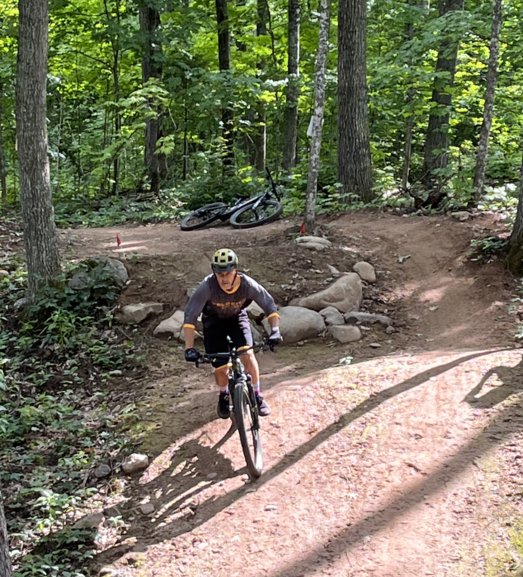 Josh riding Evenflow and Once, new trails at CAMBA