1. Before going to Fiji, decide for yourself: what would you prefer - dry heat or warm
humidity. Rainy season in Fiji lasts from November through April. Prices during it lower, but you might face cyclones and some strong rains as well. On the other hand, lower temperatures are better for those, who can not support heat.
2. Pack light, Fijians are very open and tolerant, and light summer clothes (t-shirts, shorts, etc.) are perfectly suitable. Nevertheless, remember, that you need to cover your shoulders and legs when visiting a village ( also remember to remove your hat) or entering the church.
3. It is a good idea to pack a lot of sun protection cream, sunglasses, swimming shoes for unknown beaches.
4. You will hear Bula (welcome) and Vinaka (thank you!), Moze (goodbye) a lot, so it is a good idea to try to remember those words before leaving.
5. If you want to see real Fiji, do not settle on main Viti Levu island only. Visit smaller islands as well.
6. If you stay in further away islands, do not plan a return to the main island and an international flight on the same day: weather might provide you some surprises, your seaplane flight might be canceled, etc.
7. Time notion in Fiji is very flexible, take it easy– you are on vacations! You will hear around: "Relax, it is Fiji time!".
8. It is essential to negotiate the price with taxi drivers before taking the taxi as they often do not use meters. But they speak English, so at least you can bargain!
9. You will be taken to numerous shell markets in small villages. Prices will be higher than in city shops but remember that your will support local families buying from them. The main tip – you need to be careful not to purchase certain types of shells (most hotels will have information about them), as you might have problems leaving Fiji with them.
10. Village school visits usually are part of sightseeing programs. Visiting Fiji schools, you will be asked to donate some amount for children education.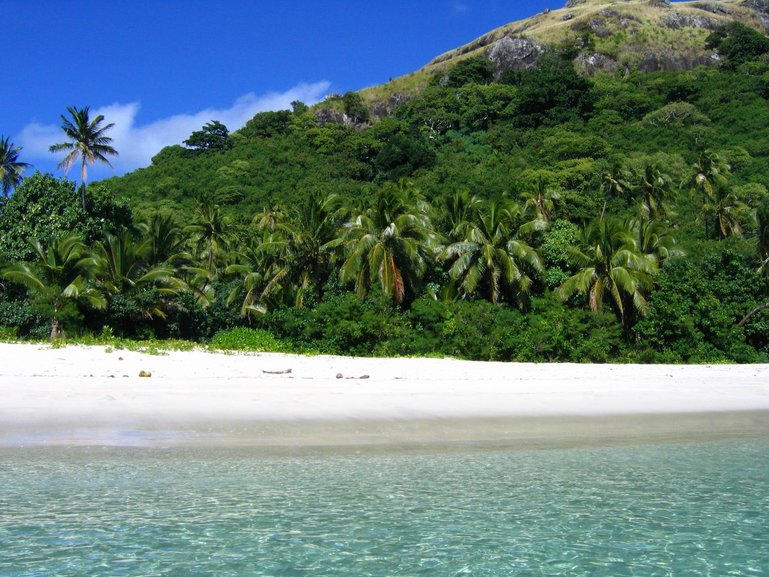 Fiji beach