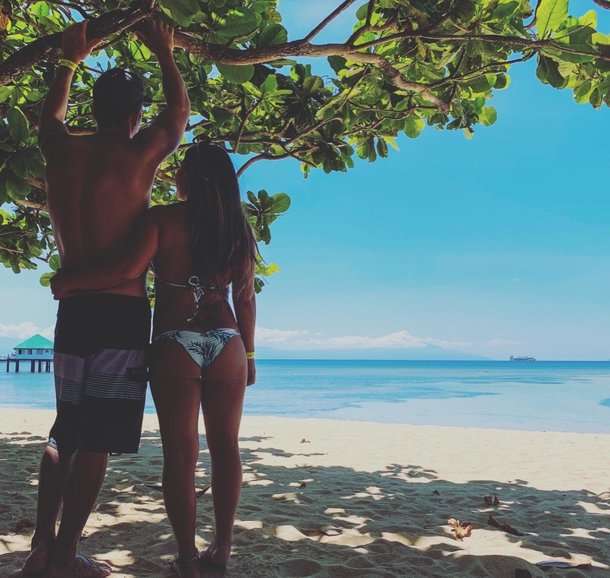 Beach views in Batangas
The Philippines is a beautiful country, and Batangas is just one of its many hotspots for travel enthusiasts. From scenic scuba diving, swimming with sea creatures, relaxing on sandy beaches, to climbing mountains and active volcanoes or maybe checking out the city metro area, we have a list of things you shouldn't miss out on doing. The Batangas region is 3 hours from Manila and is a perfect get away if you want to escape the city or make a stop before hitting some of the other islands in the Philippines. Here are some of the best things you can do while spending a weekend in Batangas and Anilao- perfect 3 day guide.
1. Relaxing Beaches
---
Batangas harbors an impressive shoreline, made up of various types of beaches. Some are sandy, some are pebbly, and some are rocky. You can find fully developed beaches and even some that are totally secluded; each beach has its own characteristics.
Laiya, San Juan is one of the most developed beaches. Its long and wide stretch of sand attracts thousands of tourists every year. If you want to just relax, this is a great beach; countless resorts ranging in price have made home along the coast of this beach.
Calatagan is another very popular sandy beach area. This has to be one of our personal favorites in Batangas. Stilts Calatagan Resort and Burot beach cradle this part of the coast. You can purchase a day pass for Stilts where you can enjoy the three different beaches and 2 different pools on the property. There is also an abundant list of water activities you can do that range from kayaking, snorkeling and scuba diving. The staff are very friendly and the food at Stilts is delightful. We recommend their lumpias, it's original and extremely tasty.
Nasugbu is home to a few outstanding beaches as well. Calayo Beach was one of the first developed beaches in the area. There are resorts everywhere, many of which have their own cove: Hamilo Coast and Punta Fuego, to name a couple, but Calayo is still one of the main public beaches. From here you can get on a 20 minute boat ride to Pulo Island or Bituin Cove and the famous hidden gem of Fortune Island.
If you seek more isolation then Tingloy is your best bet. Completely isolated and untouched by the claws of resort development, Tingloy is a humble attraction. The best beach is called Masasa, a long, off-white stretch concealed in the southern edge of the main island. There are no resorts here so you either camp or you stay in Anilao and do a day trip.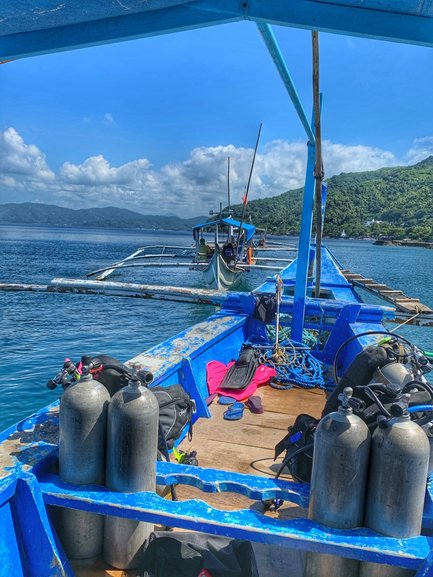 Scuba Diving in Anilao
2. Take the Plunge in Anilao
---
Anilao is by far one of our favorite places to scuba dive. It's something out of Willy Wonka with out of this world coral and color and an abundance of sea creatures. Anilao is a Marine Protected Sanctuary and it shows. It has been rated the best spot in the Philippines for underwater macro photography.
The reef life is thriving and usually quite shallow allowing for longer bottom time and a perfect spot for snorkelers to explore. There are about 40 dive sites around the area. The main ones we experienced are Mapating, Cathedral, and Bahura. Calumpang Peninsula is where most of the local resorts are found and from here you can rent boats for island hopping, scuba diving, and snorkeling.
Since Anilao is surrounded by the reef, there isn't much in the realm of beaches. Take advantage of the boat trips to Tingloy or to Sepoc Island. As a diver, this is perfect for the day before flying since you can't scuba dive. Some other great options are kayaking, getting a massage, or relaxing by the pool. Since the area is blocked off by the reef, the water is very calm which is ideal for other water sports like kayaking, snorkeling and swimming. There are beautiful infinity pools on the cliffs you can take advantage of as well and getting a massage on the beach, listening to the waves is glorious.
3. Take a Trip to an Active Crater in Taal Volcano
---
This is an island, within a lake, within a volcano, within a lake, within an island!! WHAA?? How cool is that!? It's also the second most active volcano in the Philippines and yet people continue to explore it and continue to live on the island! Taal is located on the island of Luzon, FYI. You can arrange for a day trip from Manila, Batangas City, and Anilao which includes pick ups, guides, the whole shebang or you can arrange everything yourself. If you go that route: you need to get to Tagaytay first whether by bus or car. From there you will need to go to Talisay Bay and lastly, hire a boat to take you to Volcano Island.
Once you reach the island, going up the crater lake is pretty easy. The path is straight and you'll see a lot of people walking to and from, so you can't get lost. Up to you though if you want to hire a guide. You also have two options on how you can go up, by foot or by horse. ( Be an animal activist and just hike it by foot :) It takes 30 minutes to get to the top....)
4. Bask in a Little History
---
If you want to enjoy some local history or you want to escape the sun for a couple of hours, Batangas has a lot of potential. The Malvar Museum is a great little nook to learn about Migual Malvar, last general to surrender to the United States. Another popular site is the Punta de Santiago Lighthouse. The lighthouse still works as a guiding light for vessels and is one of the oldest functioning lighthouses having been built in 1890. If lighthouses are your thing, there are two other ones in the area, Calatagan Lighthouse and Malabrigo Lighthouse. Lastly, the Mabini Shrine may be of interest. Here you can learn about Apolinario Mabini who worked behind the reforms in the administration of the government as a member of Rizal's La Liga Filipina in the Reform Movement and is one of the leading Philippine Revolutionary heroes.
There is so much more you can do and see in Batangas and Anilao. There are natural falls such as Tingga Falls and Ilijan Falls, a visit to Mainit Hot Springs, or trek some of the other mountains in the area. You can also unleash your inner Tiger Woods and play golf or indulge in one of the annual festivals. We have plenty more to do and see on our next trip to Batangas. We hope you enjoyed reading how you can spend a weekend in Batangas and Anilao with this 3 day guide. Been here? Let us know some of your favorite things to do and what we shouldn't miss out on next!