Maui offers a wide range of activities suitable for almost every kind of taste. Enjoy responsibly.
Boating
---
Almost every type of nautical experience is available in the islands, from old fashioned Polynesian outrigger canoes to America's Cup racing sloops to submarines. No matter which type of vessel you choose, be sure to see the islands of Maui, Molokai, Lanai, and Kahoolawe from offshore if you can afford it. It's easy to combine multiple activities into one cruise: Lots of snorkel boats double as sightseeing cruises and, in winter, whale-watching cruises. The main harbors for visitor activities are Lahaina and Maalaea, Maui; Kaunakakai, Molokai; and Manele Bay, Lanai.
Camping
---
Maui's year-round balmy climate makes camping a breeze. However, tropical campers should always be ready for rain, especially in Hawaii's wet winter season, but in the dry summer season as well. And remember to bring a good mosquito repellent. If you're heading to the top of Hawaii's volcanoes, you'll need a down mummy bag. If you plan to camp on the beach, bring a mosquito net and a rain poncho. Always be prepared to deal with contaminated water (purify it by boiling, through fi ltration, or by using iodine tablets) and the tropical sun (protect yourself with sunscreen, a hat, and a long-sleeved shirt). There are many established campgrounds at beach parks, Maui's Waianapanapa Beach, and Hulopoe, on Lanai. Campgrounds are also located in the interior at Maui's Haleakala National Park.
Golf
---
Nowhere else on Earth can you tee off to whale spouts, putt under rainbows, and play around a live volcano. Hawaii has some of the world's top-rated golf courses. But be forewarned: Each course features hellish natural hazards, like razor-sharp lava, gusty trade winds, an occasional wild pig, and the tropical heat. And greens fees tend to be very expensive. Still, golfers fl ock here from around the world and love every minute of it.
A few tips on golfi ng in Hawaii: There's generally wind— 10 to 30 mph is not unusual between 10am and 2pm—so you may have to play two to three clubs up or down to compensate. Bring extra balls: The rough is thick, water hazards are everywhere, and the wind wreaks havoc with your game. On the greens, your putt will always break toward the ocean. Hit deeper and more aggressively in the sand because the type of sand used on most Hawaii courses is fi rmer and more compact than that used on mainland courses (lighter sand would blow away in the constant wind). And bring a camera—you'll kick yourself if you don't capture those spectacular views.
Horseback Riding
---
One of the best ways to see Hawaii is on horseback; almost all islands offer riding opportunities for just about every age and level of experience. You can ride inside Haleakala's Crater, along cattle country, or through an upcountry forest. Be sure to bring a pair of jeans and closedtoe shoes to wear on your ride. When planning sunset activities, be aware that Hawaii, like other places close to the equator, has a very short (5- to 10-min.) twilight period after the sun sets. After that, it's dark. If you hike out to watch the sunset, be sure you can make it back quickly, or else take a flashlight.
Kayaking
---
Maui is one of the world's most popular destinations for ocean kayaking. You can paddle amongst the turtles off the Makena coast, or along roll surf off the coast of Hana, and in the summer, experts can take advantage of the usually fl at conditions on the north shore of Molokai, where the sea cliffs are the steepest on Earth and the remote valleys can be reached only by sea.
Activities at: http://www.visitmaui.net/activities.php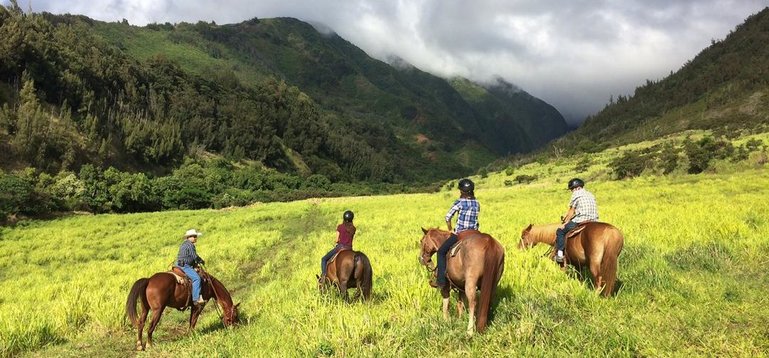 Horseback riding at Maui