"It rains a little bit every day," Jen explained as we compared packing lists for a group trip to Hawaii to celebrate belated birthdays. She was right, just not a little bit. It was December 3rd – We arrived on moist Maui with news of a blizzard warning at elevation on the big island. For two days, our group of eight survived a Kona low-pressure system and localized flooding. We thought about blaming Jim, who had forgotten to bring a raincoat!
The 10+ inches of rain that dumped altered several activities; mountain biking in Makawao was canceled, and the road to Hana literally washed away, closed in multiple spots due to mudslides. The rain finally stopped, and the skies transitioned from gray to peeks of the sun revealing impressive glimpses of Haleakala's peak. After the storm, we walked the beach in Kihei and marveled at the debris that had washed down from the mountain. By day three, we traded slickers for bathing suits!
Hawaii: It's the land of PuPus (appetizers), pineapple, and poke (fresh fish) – it's a place that feels more like a foreign country than part of the United States. The liquid sunshine, volcanic landscapes, waterfalls, sea turtles, roaming roosters, saltwater, and massive waves … all create a vibe that permeates the islands. I found the aloha spirit and soaked it in, plus my new favorite word is Mahalo, Hawaiian for thank you! You will hear it often when you visit. Friendly is hardly an appropriate term for the locals' spirit and patience… remarkable considering the number of tourists invading their islands.
No signs are hanging on any grocery or shop doors that read: No shirt, No shoes, No service. In fact, less is more here. Barefoot and buns are commonplace and encouraged. Ironically, masks are strictly enforced. So feel free to strut into the Foodland with a bright pink Brazilian, but you will need to cover your nose and mouth. For those that want to take it all off, there is a nude beach near Makena State Park. We named the three connected parks: Big Beach, Little Beach, and Schlong Beach! A few of us had to walk by a few "assets" on a hike to reach Puu Alia (the cinder cone summit), with spectacular views of the coastline.
The weather cleared, so we upped our game and notched plenty of highlights island-hopping from Maui, Kauai, to Oahu. We were awed by a close-up Humpback whale breach on our fishing charter when Steve and our crew caught a six-foot, 70 lb. striped marlin. We played in the waves at Makena, where I learned how to swim in and survive the huge shore break. Plus, Steve, Kim, Josh, and I found our very own secret waterfall (Makaleha) on the Nepali coast after a muddy trek through jungle, bamboo forests, and stream crossings! Oh, and the fresh fish, we were regulars at the Foodland Poke bar (spicy ahi tuna was tops) for many meals, and we splurged on fancy birthday dinners for Jen and Steve at Mama's Fish House and at The Eating House 1849. Of course, Hawaii is worthy of more than highlights, and two weeks was barely enough time to explore the islands' treasures.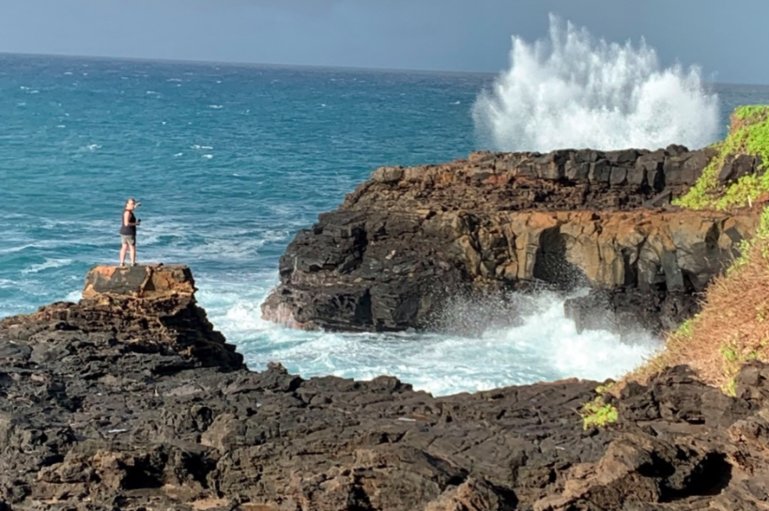 Kauai's rugged coastline
Maui Moments
---
Weather aside, Maui was a wonder, full of elevation changes, winding roads, and a drive up to the famous crater, Haleakala, at an impressive 10,000 feet. At the top, we only imagined panoramic views of the island coastline because the storm left behind layers of clouds. We only saw the lunar landscape close up, under our feet on a short walk on Sliding Sands trail. Nearby, Makawao Preserve also wore a misty veil but still offered up a lovely walk through pine forests and giant Eucalyptus trees. The Waihoo Loop traverses a gorge and rock wall dotted with leftover lava tubes you can actually walk and crawl through.
Sunscreen application ramped up at midweek, and the sun shone on Jen, Jim, Craig, and me for our expensive round of golf at Kapalua's Bay Course. I fell in love with the ocean views and my rental clubs. While we were swinging, Josh and Steve swam and snorkeled with sea turtles, and Kim settled in for a traditional Hawaiian Lomi Lomi massage.
Kauai Style
---
The crush of tourist traffic gone, rugged Kauai mellowed us, as did the waves on Poipu Beach. Our rental house was a short walk to the beach, where it turned the wildlife meter to high as monk seals and green sea turtles conferenced on the sand. In between floats and snorkels, we drove to Kauai Coffee Plantation (the largest producer of coffee in the US) and stocked up on locally grown beans to take back to the mainland. The chill vibe continued over group dinners and sunset cocktails for a few days. Kauai is also home to Waimea Canyon, not as big as the Grand Canyon, but this geologic wonder is 13 miles long and 2500 feet deep. We followed the steep Canyon Trail to dramatic cliff vistas and a cascading waterfall surrounded by a jungle canopy.
Oahu, North Shore
---
Though we flew into Honolulu airport, we purposefully got in rental cars and headed north, away from Hawaii's largest metropolis. From Turtle Bay to Haleiwa and the Bonzai Pipeline, we opted to hang at the beach with the locals and surfers. I cheered on Jen, Jim, and Josh during their surf lesson while they successfully conquered some long ocean rollers, perfect for beginners. Better yet and lucky timing, we stumbled on the HIC Pipe Pro Competition. Mesmerized by the giant waves and agile athletes, we dedicated time on our last two days to watch John John Florence, a two-time world champion, dominate the Bonzai pipes! The announcer's voice echoed down the beach with wave scores and comments like, "He's got a cannon for a backfoot." So right on and hang loose!
Mahalo Hawaii, I saved the best for last! I've adventured in all 50 states now to complete a vital travel bucket list!