The Philippines is a beautiful country and it was on my radar for a long time. The first time I realized I thought of the Philippines as a travel destination was somewhere in 2015. As a marketing student, I was extremely impressed by the #itsmorefuninthephilippines campaign that ran successfully under the tourism ministry of Philippines. As a marketing case study, it was an amazing example of how the biggest asset of a country is its citizens who are spread all across the world!
Given it's proximity to India, I was very inclined to make the most of my trip. I believe in quality over quantity and since I had only 7 days for the trip, I first decided the region I wanted to go. Travelling within the Philippines is time-consuming and can be frustrating if not planned in advance. However, you can always expect clear and concise help from the residents of the Philippines, who are not only friendly but also well versed in English.
Day 1: Travel from Mumbai to Puerto Princesa
---
We travelled from Mumbai to Manila. The entire journey was around 9 hours with an hour of layover at Bangkok. We took an Air Asia flight from Manila to Puerto Princesa on the same day. Since we reached Manila around 12 PM, we took advantage of the entire day to travel to Puerto Princesa on the same day. This saved our hotel expenses in Manila. Also, travelling from Manila international airport to one of the domestic airports is fairly simple due to the free shuttles. The greatest advantage of travelling to your final destination on the same day is the time saved!
Day 2: Puerto Princesa
---
Puerto Princesa was our choice of destination because we wanted to visit the World UNESCO Heritage site, Underground River. That did not stop us from exploring this quaint little town. There are some exquisite places to check out. We hired a two-wheeler for half a day and explored the city ourselves. I would recommend the following:
La Terrasse Restaurant: It was a walking distance from our hotel, Floral Villarosa. The food was great!
Puerto Princesa City Bay Walk: The best place to spend an evening. This place also has an amazing evening market with some great street food.
Day 3: Puerto Princesa Underground River Tour
---
The standard rate for the underground river tour from Puerto Princesa is 1900 Pesos per head. This tour includes pick up and drop off from the hotel, a drive to the port from where a boat takes you to the underground river island and a heavenly lunch. We were provided with life jackets as well as two water bottles each.
Day 4: Puerto Princesa to El Nido
---
The best and cheapest way to go from Puerto Princesa to El Nido is via a shared van. It costs 500 Pesos per head and takes about 5 hours with about 45 minutes for a lunch break. The journey was probably not the most comfortable one but the views along the way made me forget my discomfort. Our hotel was located about 45 minutes away from the mainland. The only way from the mainland to our hotel was via the boat that the hotel sent for us. This journey was heavenly and I did not want it to end!
Day 5: El Nido Island Hopping Tour
---
The El Nido is an archipelago of more than 1500 islands many of which have not yet been explored. The ones that have been explored have been meticulously divided into groups for tours that are standardized. You can read more about this tour here.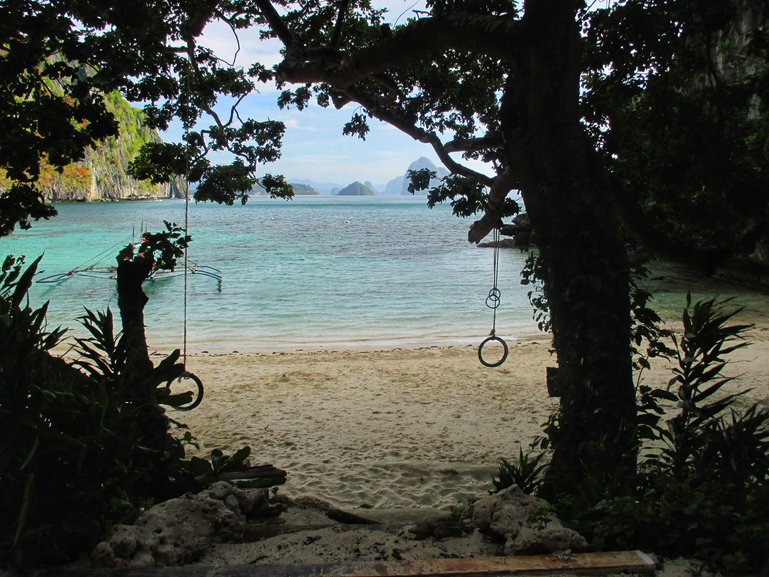 Island Hopping at El Nido
Day 6: El Nido Mainland Exploring
---
While we thoroughly enjoyed the island hopping tour, we did not want to spend another day out in the seas completely wet all the time! So we decided to explore the mainland on our own. We reached mainland at around 9 AM and started off with a scrumptious breakfast. We then hired a two-wheeler and drove down to Lio Beach. This was a beautiful beach away from the mainland. We spent most of the day here and later drove down to a restaurant a few miles away. After that, we went back to the mainland and returned our ride. Then we had a glass of rum/vodka spiked coffee, before heading back to our resort!
Day 7: El Nido to Manila
---
While this is expensive, we still invested in a flight from El Nido to Manila for two reasons: it saved us time and the take-off from El Nido was beautiful! Details to our Airbnb can be found here. We spent the evening shopping in the malls of Manila and having some yummy takeout along with Korean wine!
Day 8: Manila to Mumbai
---
We wanted to ensure that we did not miss our flight back home! Since El Nido is an archipelago, weather changes can be dramatic. It's best you spend a night/day at the city from where you have booked your return flight. We stayed at a charming Airbnb hosted in Makati which is about an hour's drive from the International Airport. We spent the evening exploring the shopping delights in Manila.
While 8 days is not a long time to explore the Philippines, I hope I can give you an idea of the things to cover when in this beautiful country!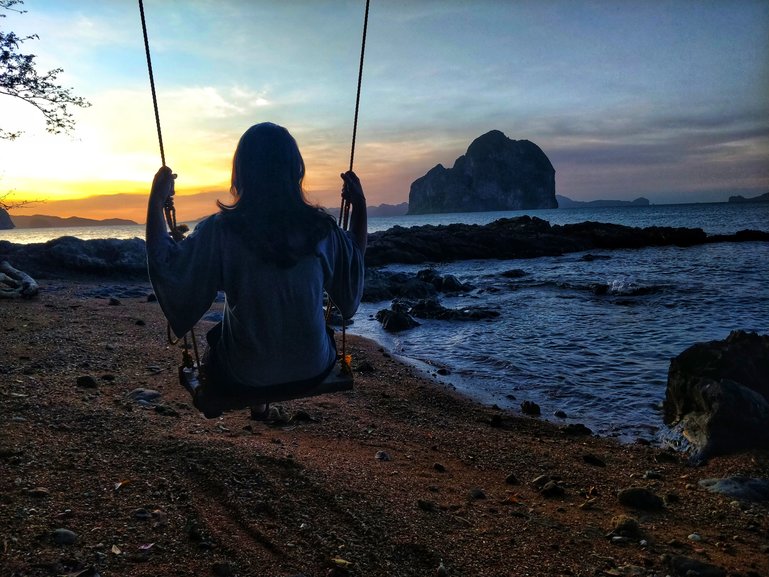 Sunset at El Nido