Held every five years, the first World Expo was in 1851 in London, and the most recent was in Milan in 2015. However, the Dubai Expo 2020 will be the first World Expo to be held in the Middle East, Africa or South Asia, and is said to be the largest event to ever take place in the UAE. Working under the theme of 'Connecting minds, creating the future', the Dubai Expo 2020 will be particularly focused on the sub themes of mobility, sustainability and opportunity.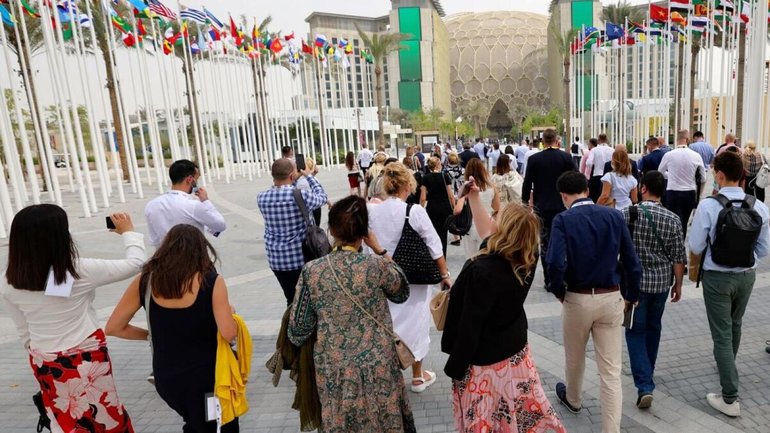 Dubai Expo 2020
"Dubai" The City of Gold is on a constant path of outdoing itself. It attracts millions of visitors each year, offering a myriad of fun, cultural attractions. Outside of the known realm of experiences like visiting its beautiful beaches or the Burj Khalifa, going for a dhow cruise, or indulging in some local cuisine, Dubai has taken things up a notch by hosting the Expo 2020. Initially set to open its doors to the public in October 2020, the event was pushed and now has been rescheduled, bigger and better, to October 2021.
Themed around 'Connecting Minds, Creating The Future', Dubai Expo 2020 is a global platform that aims to bring together networks, economies, cultures and of course, people from all walks of life. Here's all you need to know about this much awaited global phenomena.
Despite being postponed for a year due to the pandemic, the name Expo 2020 is still being used. The Expo will run for six months, from 1 October 2021 to 31 March 2022. With 25 million visitors expected during the six months, it will be the largest tourist event since the pandemic began.
At Dubai Expo 2020, you can explore 192 Country pavilions, treat yourself to dishes from every corner of the world, unleash your inner techie and experience entertainment unlike any other!
Witness history in the making from 1 October 2021 to 31 March 2022 across 192 country pavilions. Wander through the breathtaking architecture of pavilions housing groundbreaking technological advances and immersive experiences, lose yourself in incredible live performances, and travel the world's cultures and cuisines in one amazing place.
Admire the architecture:
Dubai is well known for breaking world records and creating world's firsts when it comes to architecture and innovation. So, it should come as no surprise that the Dubai Expo 2020 will showcase superstars of the architect world.
What Is Dubai Expo 2020?
Expo 2020 is a platform for millions from different countries to come together and share ideas, showcase innovation, encourage collaboration and celebrate human ingenuity. World Fairs are held every 5 years and last for 6 months.
Visit the Mobility, Opportunity and Sustainability Pavilions
---
Located within their corresponding districts, these three pavilions will showcase each of the three sub themes.
The Mobility Pavilion will tell the story of the movement of people, goods and services, data and ideas, and social mobility. The pavilion will also include the world's largest elevator, which can transport over 160 people at a time.
The Opportunity Pavilion will enable visitors to realise the role they play in human development through their actions. Visitors to the pavilion will be guided through three themes; water, food and energy.
The Sustainability Pavilion, also known as 'Terra', will explore our relationship with nature, as well as ways we can change our everyday choices to reduce our carbon footprint and environmental impact. This pavilion features 4,912 solar panels on the pavilion's 130-metre-wide canopy and 18 energy trees.
Travel the world through the different country pavilions:
For the first time in World Expo history, every participating country will have its own pavilion. With more than 190 participating countries, each pavilion will showcase the best of their achievements and will offer visitors a taste of their own country's culture and traditions. Whilst all country pavilions will be sure to wow, discover some of the coolest.
Dubai Expo 2021 Theme – Connecting Minds, Creating the Future
World Expo is a catalyst for social, economic and cultural transformation, a way to bring together the global community to share innovations and work towards a better for future generations around the world. Expo 2021's theme is "Connecting Minds, Creating the Future", a way to build partnerships and inspire ideas that will forge the world of tomorrow. There are three sub-themes that are key pillars to reaping the best of the chosen theme is "Opportunity, Mobility and Sustainability". All ideas and innovations will circle around this theme and subthemes, bringing together an abundance of ideas for a greater, better future.
Things To Do At Dubai Expo 2020
Expo 2020 is going to be nothing short of a utopian fair we've often seen in futuristic movies. Brace yourself as we paint you a picture of the main attractions to keep your eyes peeled for!
Dubai Expo 2020 Pavilions:- For the very first time in World Expo history, each country participating has their own pavilion! Walk in and out of pavilions learning fascinating facts, picking up interesting historic tidbits, and participating in immersive cultural experiences offered at each unique country pavilion.
Theme Weeks:- Delve into the greatest challenges of our time: from climate change to space exploration, each of the 10 weeks focuses on a special theme- addressing challenges and promoting opportunities and awareness through a cultural, social, and environmental lens. Be the change you want to see: implement this in real life at the Dubai Expo 2020!
Innovation & Technology:- With every passing second, technology advances. Reveal your inner techie at the Innovation and Technology centre that focuses on specific areas of interest (Artificial Intelligence, Healthcare Innovations, and more) to help improve the already high-tech super-connected world we live in.
Non-Stop Entertainment:- With street festivals, celebrations, stage shows, and music concerts aplenty, you'll never run short of entertainment at Dubai Expo 2020. Whether you choose to first check out the Beethoven-inspired robo-band or dance and sing along with the Expo's Young Stars, you're promised non-stop entertainment!
A Paradise for Foodies:- You've officially found the best part of Dubai Expo 2020
Dubai is already known as a foodie paradise, but the Expo is about to take this to a whole new level. With more than 200 restaurants spread across the event site, you will be spoiled for choice. From menus prepared by famous chefs, to lunch prepared by robots, and hundreds of different cuisines from around the world, the Dubai Expo 2020 will delight your taste buds. As sustainability is big on the Expo's agenda, there will be a focus on locally sourced produce and plant-based cuisine.
Dubai Expo 2020 the place where taste knows no borders! Try the clean plant-based cuisine of your favorite dishes like pizza, kebabs, and more. More importantly, find out how climate change and strides in technology will change the way we source and cook food in the future. You'll be spoilt for choice at the Dubai Expo with the 50+ kitchens available across 200+ food outlets.
Sports & Fitness:- For the adrenaline-junkies, Dubai Expo 2020 hasn't forgotten about you. There is a myriad of sports and fitness activities, spread across football pitches, cricket nets, exhibition games, tournaments, workshops, and sports clinics. PS: This is also a great place to take the little ones to tire them out for the day!
Shopping:- It's time for you to unleash your inner shopaholic: at Dubai Expo 2020, you can shop for absolutely anything at all: stationary, clothes, food items, toys- you name it! From small shops to big businesses, you'll find them all. Keeping in line with its theme, most products are made of organic or recycled material.
Educative Programs:- Partake in a range of educative programs and talks organized for your benefit. You'll cover a range of topics, including biodiversity, and the environment, inclusiveness, rural growth, knowledge, mental health, agriculture, water, digital communication, and more- all while keeping the general theme intact: crafting a better tomorrow.
When Dubai Expo 2020 is ending?
The world's fair is bowing out in spectacular fashion, with a jam-packed calendar full of events.
Dubai Expo 2020 began on Friday, 1 October
Dubai Expo 202 ends on Thursday, 31 March 2022
What happens when Dubai Expo 2020 ends?
Once the Expo is finished, the site will transition into a smart city, called District 2020 and over 80% of the buildings and attractions will become permanent fixtures. Considering the Paris Expo of 1889 gave us the Eiffel Tower, and Seattle might be without their Space Needle if it wasn't for Seattle's World Fair in 1962, it's safe to say the architectural legacy for the Dubai Expo 2020 will go down in history.
Top 12 Must Visit Pavilions At Dubai Expo 2020
---
Below is the list of the Best Must-See Pavilions at Expo 2020 Dubai, make sure if you visit the Expo, don't forget to visit these awesome pavilions at Dubai Expo 2020!
Japan Pavilion, Expo 2020 Dubai
UAE pavilion, Dubai Expo 2020
Republic of South Korea Pavilion, Expo 2020 Dubai
Pakistan Pavilion, Expo 2020 Dubai
United Kingdom Pavilion, Expo 2020 Dubai
Saudi Arabia Pavilion, Expo 2020 Dubai
Russia Pavilion, Expo 2020 Dubai
Jamaica Pavilion, Expo 2020 Dubai
Switzerland
Alif pavilion
Germany Pavilion Expo 2020 Dubai, UAE
India Pavilion Expo 2020, Dubai
Apart from Expo, there are top places to see in Dubai after visiting Dubai Expo 2020
---
While you're in town for the Expo, make sure you see the best of what Dubai has to offer. You can't miss these sites in Dubai:
Burj Khalifa: The tallest skyscraper in the world (828 meters) has been open to the public since 2010 and has quickly become the symbol of the city. The observation deck from the world's tallest building will give you a stunning view of the city.
Shopping in Dubai Mall or walk around: In the city center, right next to the Burj Khalifa, there is the Dubai Mall. The Dubai Mall is a shopping mall in Dubai. It is the second largest mall in the world after the Iran Mall by total land area, and the 26th-largest shopping mall in the world by gross leasable area, tying with West Edmonton Mall and Fashion Island both of which are older than it. This huge Dubai mall is the most visited shopping center in the world!
The Dubai Fountain: This fountain (the largest water fountain in the world) is one of Dubai's main tourist attractions. The fountain show takes place several times a day on the artificial lake located at the exit of Dubai Mall, at the foot of Burj Khalifa.
Ski then Shop at Mall of the Emirates: Mall of the Emirates is one of the city's most famous malls, with the spectacular (and surreal) Ski Dubai facility inside. The indoor ski slope is complete with chairlifts and a penguin enclosure, all at a continuous temperature of -4 degrees Celsius.
Snap Sunset Pics at Dubai Frame: Sitting slap-bang between Dubai's older neighborhoods clustered around the creek and the city's modern sprawl, this ginormous 150-meter-high picture frame is one of Dubai's latest sights.
Take Afternoon Tea in the Burj al-Arab: The Burj Al-Arab is the world's tallest hotel, standing 321 meters high on its own artificial island on the Dubai coastline. Designed to resemble a billowing dhow sail, the exterior of the building is lit up by a choreographed, colored lighting show at night.
Ski Dubai: this indoor ski slope is a great activity for families and adventure seekers who want to try everything in the city.
Atlantis Hotel / The Palm Jumeirah / Aquaventure Waterpark: Atlantis The Palm Hotel. It's clearly another landmark of the city! Located on the the artificial island of Palm Jumeirah, this luxury hotel architecture was inspired by the myth of Atlantis. This man made island in the shape of a palm tree (visible from space!), is mainly home to luxury villas and upscale hotels. Even if you are not staying at Atlantis Hotel, you can access shops and restaurants in the lobby and enjoy the following attractions.
Global Village: this worldly experience is perfect for all ages and offers the opportunity to experience some of the best shopping and dining from around the world.
Kite Beach: Dubai truly has it all: with a number of activities like surfing and volleyball, you can't miss a day on this beach.
Discover UAE history at Dubai Museum: Dubai's excellent museum is housed in the Al-Fahidi Fort, built in 1787 to defend Dubai Creek. The fort's walls are built out of traditional coral-blocks and held together with lime. The upper floor is supported by wooden poles, and the ceiling is constructed from palm fronds, mud, and plaster.
Walk through History in Al Fahidi Quarter (Old Dubai):- The Al Fahidi Quarter (previously known, and sometimes still referred to as the Bastakia neighborhood) was built in the late 19th century to be the home of wealthy Persian merchants who dealt mainly in pearls and textiles and were lured to Dubai because of the tax-free trading and access to Dubai Creek.
Deira district and its souks: Dubai isn't just about luxury and excess: there are still traditional and authentic neighborhoods to visit!
Deira lies on the northern bank of Dubai Creek, and the winding streets here unveil the melting pot of different nationalities that have come to call Dubai home.
Bur Dubai: Bur Dubai is the other typical district you should definitely visit in Dubai. This neighborhood is also one of the oldest in the city. It's located just opposite Deira, on the other side of Dubai Creek. To get there, you will have to take an Abra, a small traditional wooden boat (1 AED per person).
Drive through Sheikh Zayed Road: Sheikh Zayed Road is the main thoroughfare running through Dubai's modern downtown business district. This wide, eight-lane highway is rimmed with towering glass, chrome, and steel high-rises along its entire length. It's one of the best on-the-ground vantage points for Dubai's famed skyscraper views.
Enjoy World Class Theater at Dubai Opera: For nighttime attractions, look no further. Opened in mid-2016, Dubai's classy new opera building is the centerpiece of the waterfront Opera District in downtown Dubai and set to become the city's major cultural hub and main entertainment venue. The Dubai Opera hosts a year-round program of famous musical theater productions, concerts by world-class musicians, opera, ballet, and classical music, as well as smaller productions, comedy nights, and concerts.
There are never-ending tourist attractions and entertainment spots in Dubai, Google is your best friend to find out the latest happening around you while you're staying in Dubai
Traveling with the green ( ) passport
Take only memories leave only footprints
If you liked this blog and it was helpful to you, then share it with your friends & family!
Stay safe & much love!