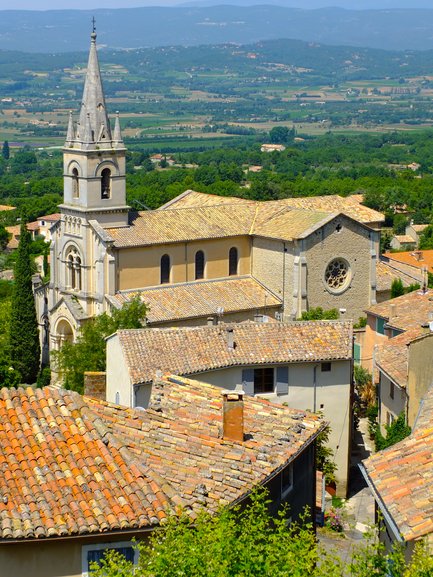 Bonnieux, Provence
Le Fournil is one of our very favourite restaurants and we have been coming here for many years. It is to be found in Place Carnot, a very small square in Bonnieux blessed with an outside terrace set around a fountain. As Jane Austen would have said of the restaurant 'it is happily situated'. The interior of the restaurant is actually cut into the rock face on which the higher part of town and the church at the top of the hill are located.
This is always a busy restaurant because of its location and the simple fact that the food and service are extremely fine. The basis of the cooking and menu here is French classical food of the south done simply and using the freshest of local ingredients. My type of place!
For me I would always reserve a table on the terrace rather than inside in fine weather. There is nothing that contributes to a feeling of well-being than a long French lunch on the terrace accompanied by a chilled local wine. This is a restaurant and location that provides that feeling as good as anywhere you may find in France. There is such a lovely contented hum about the place on a warm summer day with the happy diners being served effortlessly by the easy going waiters and owners.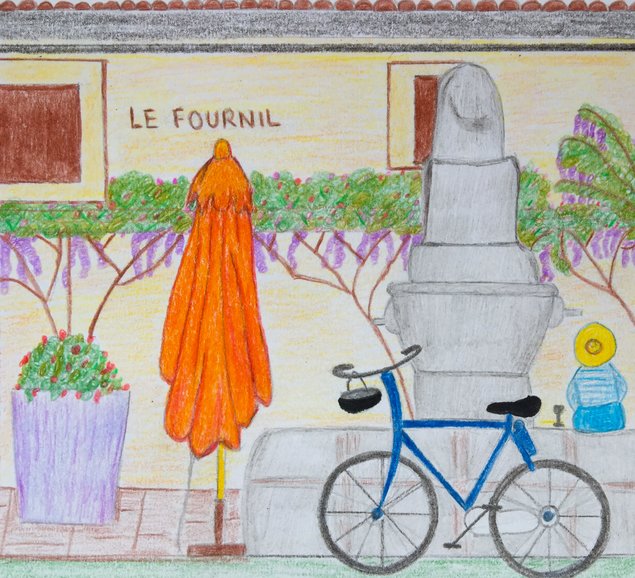 Le Fournil Artwork in my Book
On the winter day of writing this the lunch menu is:
* Roast quail, port jus, celeriac and sweet onions
* Fish of the day
* Ox cheeks braised in red wine, slow roast autumn vegetables
This gives you a flavour of how the local produce is used as per the season and the simplicity of the cooking, nothing fancy and your plate is not presented as confused by the chef being too clever with too many extra ingredients.
On our last visit Niamh had a beautiful piece of cod roasted to perfection with leeks and very smooth buttery cheesy mash potatoes. I had the most tender and flavoursome cut of pork tenderloin with sage sauce and petit pois. The deserts were chocolate and raspberry with local ice cream. A sublime lunch.
We had a bottle of rosé wine from a winery called Chateau La Canorgue that the bottle indicated was a local domain. The waiter explained that it was just off the Route Pont Julian going back towards the old Roman Bridge.
Being in a lovely chilled world of my own coming to the end of the long relaxing lunch I had not picked up on something that in retrospect was actually quite obvious. The charming attentive waiter was giving far more attention to me than to Niamh.
She finally pointed it out to me and I just laughed it off saying that I was not THAT attractive. We ordered coffee and he brought Niamh's and set it down without fuss but serving mine he just slightly spilled the coffee into the saucer. His apologies are just a little too profuse than necessary but I said it was:
'OK, pas un problème monsieur'.
No, he absolutely insisted that the cup must be changed and he was all over me like a rash. He went off to the bar to bring a fresh cup and Niamh just laughed. My eyes had been opened and I just hoped he would not slip me a note with his number on it on returning as I really wanted to spend the rest of the day with Niamh and not have to let him down gently.
Mmm, that was a French lunch.
Niamh and I left together after gushing farewells and headed off down the hill to find Chateau La Conorgue. This turned out to be the chateau where 'A Good Year' starring Russell Crowe was filmed and we had an excellent visit to round off another memorable lunch at Le Fournil.
Le Fournil 5 Place Carnot, 84480 Bonnieux, France http://www.lefournil-bonnieux.com
Chateaux La Canorgue Route du Pont Julien - D149, 84480 Bonnieux, France http://chateaulacanorgue.com/gb/gb/