Spending a single day in a major city is the speed dating of travel. What can you report other than the city is "kind of attractive, and seems to have a decent personality"? However, after our day in Toronto, we had a love at first sight reaction. All four of our children liked it as well, with one of them coming away so enamored it instantly became her favorite city.
If you only have a single day in Toronto, here's a quick game plan. If you have a more civil multi-day visit, these guidelines can give you a start as well.
The Toronto Metro System
---
Like everything in Toronto, the subway system is very clean, modern and convenient. The entire metro system is called the Toronto Transit Commission (TTC) and includes bus and streetcars along with the subway. If in Toronto for a frantic day, grab a day pass, and, if you are traveling as a family, you can get group weekend day discounts. Basically, park your car near your first landmark, and leave it for the day. In my visit to Chicago, I discovered SpotHero which allows you to reserve a parking garage spot ahead of time, usually at discount prices. Toronto offers a SpotHero subsidiary, Parking Panda. We'd give that a shot. Or park at a TTC lot in the outskirts for $7 per day.
CN Tower
---
Sure, the clear floor gives me instant vertigo, but, like the Willis Tower in Chicago, the CN Tower is a must-see. The aerial 360 degree view of the city and Lake Ontario provides irreplaceable context and perspective. We took in the CN Tower first, which we would recommend as we largely beat the crowds. When I did the Willis Tower in Chicago at night, the wait time to the clear platforms was very long. Obviously a different experience in the morning versus evening, but if you have a single day in Toronto, you'll want to maximize time efficiency and thus hit the CN Tower first.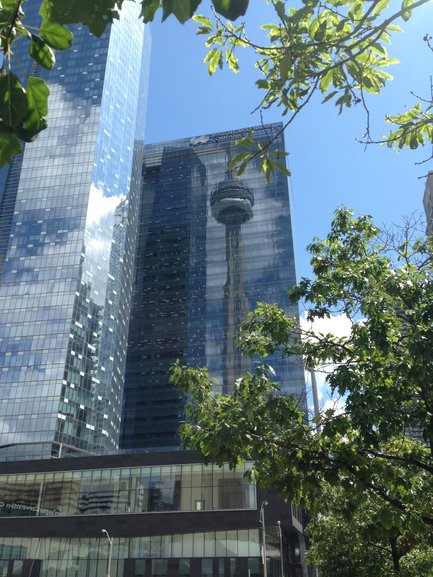 CN Tower
Ripley's Aquarium of Canada
---
Conveniently, Ripley's Aquarium is right next door to the CN Tower. So after you've taken in the landscape of Toronto, Ripley's should be your next stop. The aquarium has all the sea life regions of the world covered, as a major aquarium should. It also focuses on Canadian habitats as well. Aquariums are generally family/child friendly, but Ripley's does a particularly fine job catering to children. Despite being comprehensive, it is manageable to cover in a relatively short time. Our time-pressured group was able to knock off the CN Tower and Ripley's in the morning prior to lunch.
Loose Moose Tap & Grill
---
We did a bit of research as we came out of the CN Tower and eyed lunch. Just a few blocks away was the The Loose Moose Tap & Grill which appeared to have an extensive pub menu. We came away from our lunch sated and very impressed. So impressed, in fact, that after failing to find a Mexican restaurant in another part of town for dinner, we headed back to the Loose Moose for the second meal of the day. Perhaps not our greatest tourist moment, but satisfying nonetheless. The menu was family friendly and was able to offer variety for the somewhat limited tastes of two of our children, while offering interesting options for others. Despite offering a pub atmosphere, for lunch and an early dinner, we did not feel out of place with children. Be forewarned though, Toronto restricts the cooking of hamburgers to at least medium doneness. This took burgers off the menu for three of us. Fortunately, the menu offered a wealth of other yummy options.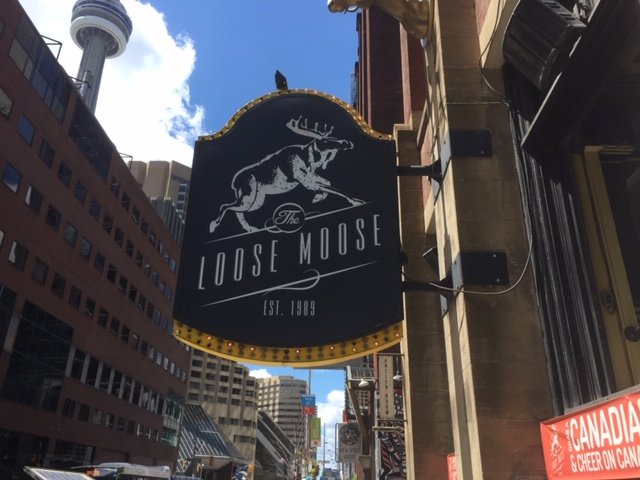 Casa Loma
---
After lunch, Casa Loma was next on our list. We jumped onto the TTC Yellow line stop at Union Station and rode to the Dupont stop. As we climbed the hill, Casa Loma loomed impressively above us. My older daughter is a big fan of the X-Men series. So she was thrilled when we entered Casa Loma and discovered that it was the shooting location for Professor Xavier's School for Gifted Youngsters. In fact, they were shooting an X-Men movie while we were there.
Casa Loma was built in the Gothic Revival style in the early 20th century as a residence by renowned Toronto architect E.J. Lennox, and maintains its grandeur to this day. Beautiful wood paneled rooms and hallways convey both opulence and warmth. You can walk through on your own, or take a self-guided tour of the castle. There are plenty of signs throughout explaining the use and history of each of the many rooms. There is also a short movie about the history of the castle and the family that owned it that you can watch at the start of your visit. Make sure you take the underground tunnel over to the stables and garage where both horse and vintage car lovers will be rewarded.
While it did not exist when we visited, Casa Loma now offers a series of Escape Room adventures featuring live actors. We may have to return for another day in Toronto, just to give one of these a try!
Royal Ontario Museum
---
The grand Royal Ontario Museum is three subway stops down from Casa Loma. If you have more time and want to take a stroll, it is only a 20-25 minute walk. We, however, were in "every minute counts" mode at this point of the day, so we jumped on the TTC. The Royal Ontario is a great natural history museum, and revels in its status as the largest museum in Canada. For those with time limits (us) this proved a challenge. Nonetheless, the museum was well worth the couple of hours we had remaining in our day. The view of the futuristic exterior design of the entrance, called The Crystal, tucked amid traditional historic stone buildings is worth at least a drive by if a natural history museum is not your thing.
The museum is as rich as promised. One great room after another of objects on display for the amateur cultural anthropologist, with coverage of the people's of all continents. There was a great exhibit about the indigenous peoples of Canada. Most striking was an extensive dinosaur fossil exhibit. We spent a lot of time, perhaps too much time, playing the game "is this a real bone or a re-construction." There was plenty to see in the realms of natural science like archaeology, mineralogy and zoology as well. While not quite as epic, and frankly overwhelming, as the Smithsonian (D.C.), the Field Museum (Chicago), or the American Museum Of Natural History (New York), The Royal Ontario Museum holds its own.
Upshot of A Single Day in Toronto
---
Obviously, Toronto requires more than a day to fully appreciate the city. We are well aware that our experience was a mere sampling and largely stuck to the tourist hotspots. Nonetheless, Toronto delivered a spectacular single day experience for our family. It's a great modern international city that is clean and very tourist friendly. We can strongly recommend a visit, whether for a day or a week.