When my boyfriend proposed a trip to Poland, I turned my nose up at first. I had never considered it in my life, I didn't think it was interesting, it didn't attract me. But fortunately I accepted the adventure, and I didn't know I would have liked it so much. We decided to visit Warsaw and start from there because we had the comfortable flight from Bologna, then we would also visit Krakow, considered unmissable. And it really is. We celebrated in Poland Valentine's Day, a great excuse for a trip!
Warsaw
---
We landed in Warsaw in the evening, and immediately got a taste of this beautiful illuminated city. We had rented the library the lonely planet and started looking for a restaurant. All those reported as the best, were now closed, unfortunately we realized that we had rented a version too old of the guide. We were exhausted because we couldn't find where to eat, and we ended up at KFC. The next day we would absolutely make up for it with some typical food, which in Poland turned out to be really good!
Warsaw unfortunately was destroyed in the war and was completely rebuilt, but that does not take away its charm, it is a really very nice city, and....extremely colorful! The most famous square is Rynek Square, as I said, very nice and colorful.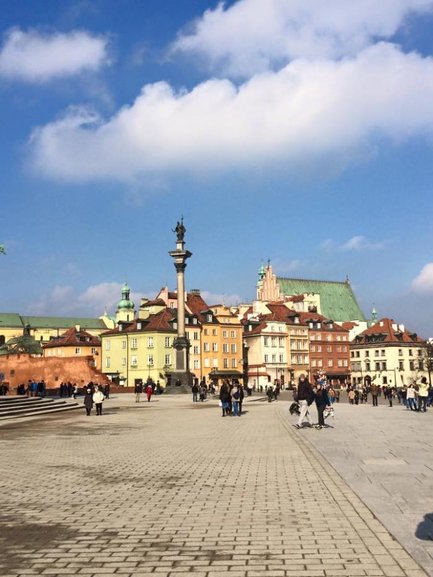 The Palace of Culture and Science is a very popular building in some European cities, and I must say that the one in Warsaw is really impressive! Very nice!
We were staying at the Premiere Class Warszawa, near the train station. The location was quite convenient and the hotel was very nice as well as by the great value for money, indeed, low price for what it offered. I would recommend it. From there, to get to the center we took the metro, but then the rest of the city we walked around it, because that was just the beauty, getting lost in the colorful streets of the city!
To get to the Wilanow Palace instead, we had to take the bus because it is a bit out of town. We went crazy to figure out where to take the bus, because you have to know that in Poland almost no one speaks English, and no one knew how to give us directions. In addition, many downtown streets were closed due to a demonstration, so bus stops were not active. But in the end, we made it! It takes about 20 minutes to get to the palace, and as soon as I found it in front of me, I knew immediately that it tries to be an imitation of Versailles, only more... Yellow! Really, it's a building that seems to want to simulate gold, it's really too yellow! But nothing to say, it's nice. We didn't enter because many rooms were closed, I don't remember why. It was still worth it, even seeing it only on the outside.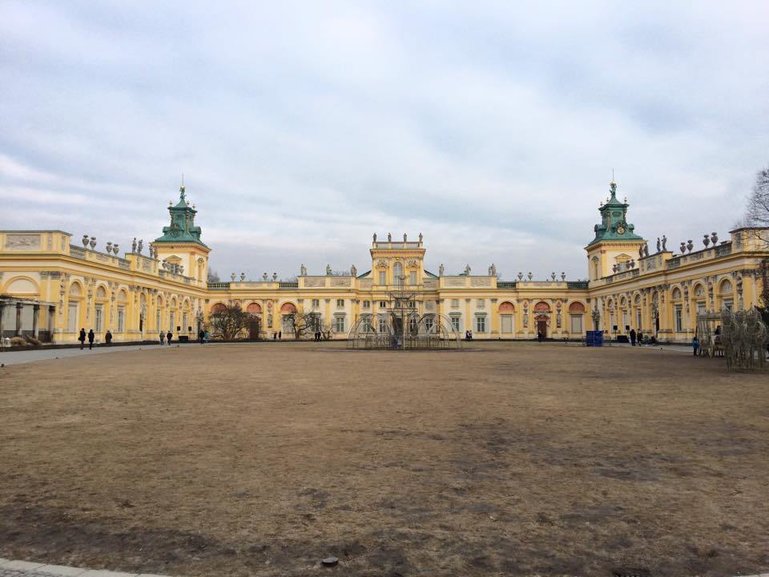 Now let's talk about the food... I was very worried because I was afraid that Poland would offer flavors too strong for my taste, and instead I had to think again, I loved their food! The typical dish are the pieroghi, which are ravioli stuffed with the most varied things, from vegetables, meat, mushrooms. I have tasted them both in Warsaw and Krakow, in various fillings, and I have always appreciated them all. Then other typical dishes are soups, as in almost all of Eastern Europe, including bigos, a soup of meat and spices that uses as a bowl a large loaf of bread, in the sense that you eat in there. In Warsaw we had our Valentine's dinner at Portretowa restaurant, right near Rynek, and were ecstatic. For the occasion, there were also violinists in the restaurant. We ate two dishes each, super big (Roberto failed to finish his second dish, a Polish version of the schnitzel, and this is rare thing for him!), plus water (which was the most expensive thing about dinner because the waiter poured it!) and in all we spent less than 40 euros total! Another heavenly aspect of Poland, the low cost of living and the advantageous Euro-zloty exchange rate, which allowed us to spend very little while not missing anything!
Krakow
---
We arrived in Krakow by taking the train from Warsaw.Unfortunately the day was very cloudy and sometimes rainy, but we enjoyed the visit of the city anyway. This one, unlike In Warsaw, we shot it all on foot, without taking public transport, and I guarantee that it is good. In Krakow the main square is called Rynek Glowny, and it is less colorful than that of Warsaw, but very beautiful. Perhaps I liked More Krakow than Warsaw, I found there more majestic buildings, but it will be because those of Warsaw were destroyed. Krakow seemed more touristy than Warsaw, in fact many more people spoke English.
To see absolutely in Krakow is Wawel, a small hill within walking distance on which the beautiful cathedral and the Royal Castle are located. We were lucky, because when we went there was on display inside a room of the castle the painting "The Queen with the ermine" of Da Vinci, and I wanted to see it absolutely! Wawel is a great symbol for Poles.
Unfortunately, in Krakow we had very little time, we still managed to see the city well, but we will definitely return because from there start the visits to the Auschwitz concentration camp, which we would like to see next time.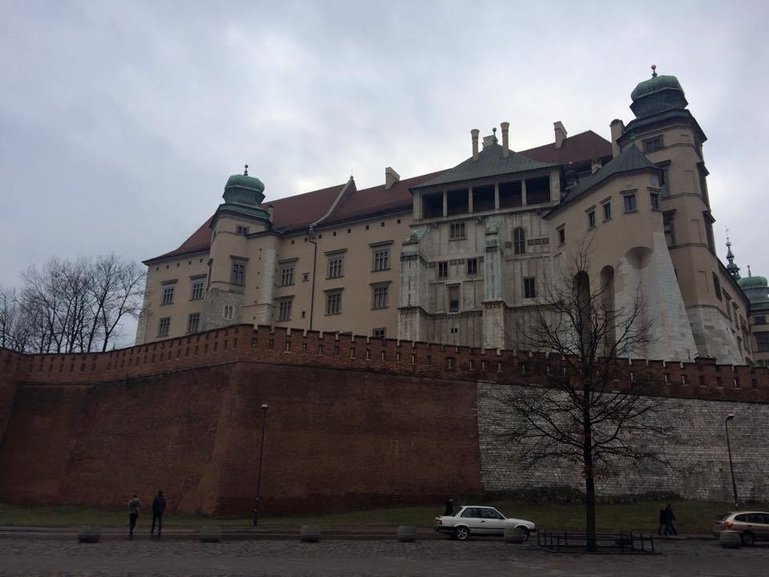 We ate for lunch in a restaurant that actually looked like a bar from the outside, in fact we stopped there for breakfast, but then found out it had some sort of underground dining room where it was a restaurant, and then we decided to have lunch there. It's called Wentzl, it's right in Krakow's main square and we ate really very well, as usual spending little. And it remains one of the most beautiful restaurants where I ate, we had the underground room all to ourselves, there was no one!
In short, thanks to my boyfriend who inspired me to visit Poland, I opened my horizons even more and realized that every country can have something special to offer. A country I would never have considered, it has come to like me so much, to the point of wanting to return soon! Dear Poland, it's just goodbye!