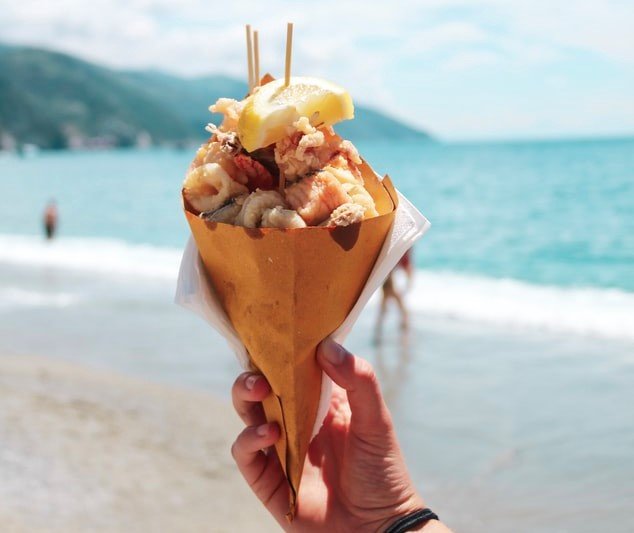 Positive vibes in Italy come from food, the best way to explore a place. So here is a list of things you should definitely eat in Cinque Terre!
1. Ice Cream
---
Among the tastes that make us proud in Vernazza there is certainly their famous ice cream shop. Since 1986, they create homemade flavors inspired to the territory and you can't miss the chance to try them all.
2. Focaccia
---
Focaccia is a type of flatbread originally from Liguria. It is made with flour, salt, yeast, and olive oil. You will find any kind of stuff on it: mussels, onions, tomatoes, etc.
You will be able to find it in any of the villages without troubles!
3. Pasta with Pesto
---
Did you know that pesto sauce is typical of Liguria too? The most famous in the region is the Pesto of Prà, a neighborhood in Genoa. Well if you like pasta, this is one of the things you should definitely eat, you can find in the majority of restaurants!
4. Fried Anchovies of Monterosso
---
The "acciughe" (anchovies) of Monterosso are a variety of this tiny fish that can be found in the marine area just in front of Cinque Terre. The origins of the production date back to more than 30 years ago and local cooperatives are specialized in fish salting. They are exquisite!
5. Farinata
---
Farinata is one of our typical dishes too, it's very simple based on chickpea flour. We usually eat it together with pizza!